| | |
| --- | --- |
| Classify | Chrysanthemum tea |
| Packing | Packed 500 grams |
| Origin | Vietnam |
| Expiry | More than 12 months from date of manufacture |
| Element | 100% dried chrysanthemum flowers, clean |
| Delivery | Nationwide Delivery |
Information and chrysanthemum tea
Like other flowers, chrysanthemums are also used to make tea. Chamomile tea is a herbal tea extracted entirely from chrysanthemum flowers, they have a gentle aroma. Chamomile tea gives us many uses such as: treating colds, antibacterial, reducing blood fat, purifying the body and relieving stress. That's why people now look to chrysanthemum tea to drink every day.
Dung Ha chrysanthemum tea is produced according to the process and ensures food safety and hygiene. The young, budding chrysanthemums are harvested and preliminarily processed. Then it is dried according to modern technology and safely packaged.
Chamomile tea is very good for health, especially for middle-aged or elderly people who are suffering from insomnia. Buy chamomile tea now to overcome frequent insomnia. Currently, Dung Ha Dry Food is providing three popular types of chrysanthemum tea: yellow chrysanthemum tea, white chrysanthemum tea, chrysanthemum bud tea.
What are the ingredients of chamomile tea?
Chamomile tea contains a lot of nutrients, one of which is extremely good for health, which is bisabolol. This is a very good antibacterial and anti-inflammatory agent. So chrysanthemum tea is very good for people who have just woken up, whose resistance is poor.
Bisabolol is also a good skin tone enhancer. Those of you who have melasma and dark skin, use chamomile tea immediately.
In addition, in chrysanthemum also contains apigenin, this substance has the effect of preventing cancer cells and slowing the growth of cancer cells. Patients who are being treated for cancer can combine drinking chamomile tea to cooperate with drugs to treat the disease.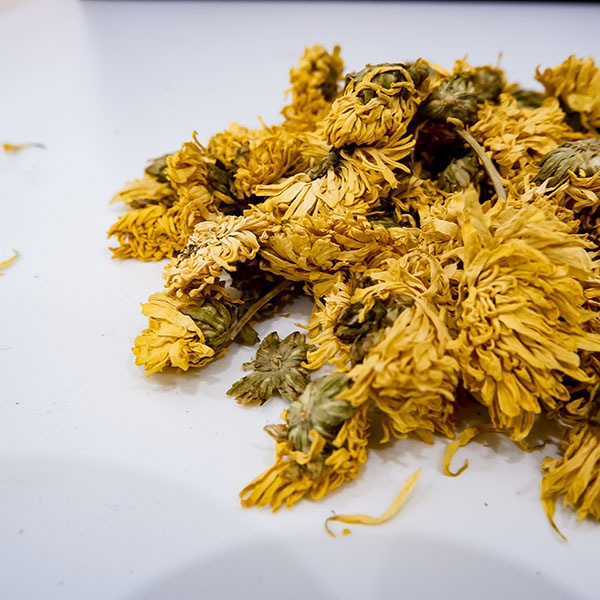 Chrysanthemum flowers
1. White Chrysanthemum Tea
White chrysanthemum tea is also known as white chrysanthemum tea. This plant has a purifying and cooling effect on the body. This type has a more aromatic flavor than yellow chrysanthemum tea, but it has a slightly more bitter taste than yellow chrysanthemum tea, so it is a bit difficult to drink new chrysanthemum tea, but once you get used to it, you will be "addicted" to the tea. white chrysanthemums.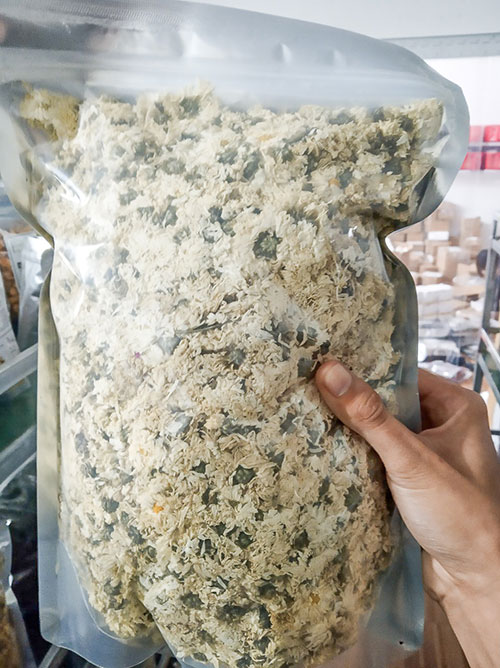 2. Yellow Chrysanthemum Tea
Yellow chrysanthemum tea has a mild aroma, mild bitter taste, very easy to drink. Therefore, this is a type of tea that many people buy and use. Yellow chrysanthemum tea contains a lot of vitamins and minerals needed by the body every day, you should use yellow chrysanthemum tea every morning to provide the body with the necessary nutrients as well as enhance strength. body resistance.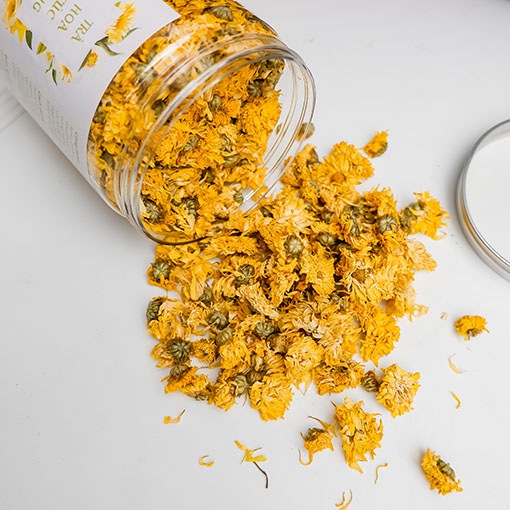 3. Chrysanthemum bud tea
Chrysanthemum bud tea is extracted from yellow chrysanthemum flower buds. This chrysanthemum tea has a light, very delicate aroma. Moreover, they also have very good health benefits.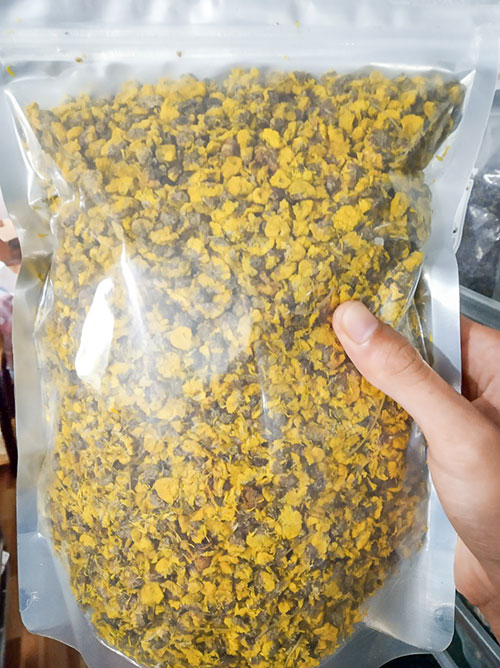 How to choose quality chrysanthemum tea
How to buy good chrysanthemum tea? Surely this is a question that often comes to mind for anyone before buying chrysanthemum tea. Below, Dung Ha will reveal to you a few tips to choose good and quality chrysanthemum tea:
– Do not choose chrysanthemum tea that is too yellow because they may be used with preservatives
– Also should not choose those with too dull color because it is likely that the production process is not professional, leading to the quality of tea not as desired.
-Standard chrysanthemum tea will have a natural scent similar to fresh chrysanthemums, do not choose those that have a strange or too strong smell
How to use chrysanthemum tea properly?
You can use chrysanthemum tea daily to protect your health as well as to take care of your beauty. Making chamomile tea is like making other teas. But to make a good pot of tea, not everyone knows. Each time you make chrysanthemum tea you use 4-5 flowers. Put the cotton in the teapot, then pour boiling water into the teapot.
Soak for 1-2 minutes then pour this soaking water away. You can add a little honey or rock sugar to make the tea a little sweeter. Then add boiling water, wait 2 minutes to enjoy. Sip slowly, you will feel the aroma and sweetness of chrysanthemum tea.
The time to use chrysanthemum tea is also quite important, there are three times you should use chrysanthemum tea: after eating foods rich in fat, after eating salty foods and after sports.
Selling price of chrysanthemum tea in Hanoi
How much does chamomile tea cost? With a wide range of health benefits, chrysanthemum tea is very cheap. The reason why chrysanthemum tea prices are so affordable is because chrysanthemums are grown in Vietnam a lot, so our country does not have to import chrysanthemums from abroad. Currently, Dung Ha dry food is selling chrysanthemum tea for 380,000 VND / 500 gr.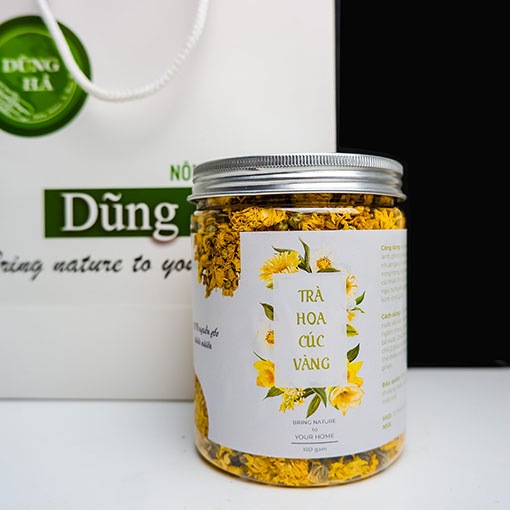 Address to buy prestigious chrysanthemum tea in Hanoi
Where to buy quality chamomile tea? If you are still wondering where to buy quality chrysanthemum tea, come to Dung Ha dry food right away. Dung Ha chrysanthemum tea has a clear origin, delicious and reasonable price, Dung Ha chrysanthemum tea has attracted a large number of customers in Hanoi. Contact us to buy chamomile tea. In addition to chrysanthemum tea, we also have other purifying tea products such as: red tea, dried rose tea, dried butterfly pea tea, Ta Xua Shan Tuyet tea, …