Classify

High quality American pine nuts, especially big – delicious

Packing

Includes 3 types: 225gr, 450gr, 1kg
Vacuum packing

Origin

USA

Expiry

12 months from date of manufacture

Element

100% natural harvested pine nuts, standard American pine nuts

Characteristics

The seeds are firm, the shell is thin, easy to separate, very crispy and fleshy, with a characteristic aroma

Delivery

Nationwide Delivery
What are pine nuts? The characteristics of pine nuts
Pine nuts are one of the most loved and grown nutritious nuts in Europe. Thanks to the high nutrient content, pine nuts are used as the main food in the meal. Pine nuts appear regularly in the daily menu of Europeans.
In each country, pine nuts will have different flavors and nutrients, depending on the characteristics of each country. However, pine nuts in all countries have common characteristics of pine nuts, such as: chestnut-like appearance, beautiful shape, small size, glossy brown shell, and ivory white inside. The length of pine nuts in each country will be somewhat different. If Asian pine nuts are similar to corn kernels and short, European pine nuts are somewhat longer. Asian pine nuts are somewhat more difficult to peel than Europe.
Currently, the most popular pine nuts on the market are American pine nuts and Russian pine nuts. In addition to pine nuts, which are nutritious seeds, at thucphamkho.vn there are many other types of nuts that people love such as: pistachios, salted roasted cashews, sachi seeds, ….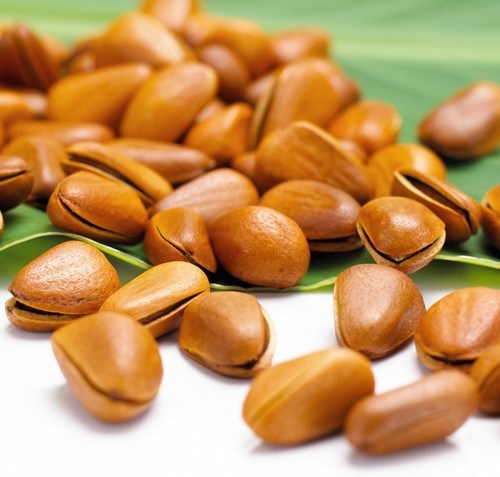 The nutritional information of pine nuts
Pine nuts are not only loved by many women, but they have also been loved by Roman soldiers since BC. Thanks to its huge nutrient content, creating a feeling of fullness for a long time but containing only unsaturated fats and antioxidants,…
How to eat roasted American pine nuts?
In European countries, pine nuts are common nuts used regularly in daily meals. You can separate the split pine nuts for a snack, or refer to the ways Europeans prepare pine nuts such as:
Pine nut coffee
Cook pine nuts porridge
Baking
Making essential oils
Make salads or add to many other dishes.
How to preserve American pine nuts?
Pine nuts contain up to 3% water, so when storing pine nuts, they need to be sealed, stored in a place with little sunlight, the average temperature is from -5 to 2 degrees Celsius. Unpeeled pine nuts will be preserved for a long time. than shelled pine nuts.
Note that shelled pine nuts should not be kept in a place with direct sunlight, warm temperatures, and improper storage will cause the seeds to decrease in quality and quickly spoil.
How much is the current price of shelled American pine nuts?
The price of roasted American pine nuts on the market averages from 360,000 VND/kg to 580,000 VND/kg. Depending on the time, this price may increase or decrease.
Currently at Dung Ha Dry Food is  selling American pine nuts  cheaply from only 480 thousand VND / kg.
Where to buy shelled American pine nuts in Hanoi?
Want to buy American pine nuts in Hanoi, you can refer to Dung Ha Agricultural Products. This is a facility trusted by many housewives and Vietnamese families, because it has a long-standing brand name in the market. This place specializes in providing fresh, clean, safe food, ensuring the most prestigious origin in the North.
In addition to selling pine nuts, Dung Ha Agricultural Products also provides other foods such as: dried mint, dried dandelion, locust, clove price, green artichoke flower
Hotline: 1900 986865