Information about American pistachios at Dung Ha Dry Food
Classify

Pistachios

Packing

Pack 500 gr – Pack 1kg: With vacuum

Xuất xứ

US Import

Expiry

Store for 12 months in a dry place

Element

Pistachios are rich in nutrients, providing more than 30 different vitamins, minerals and phytonutrients

User manual

Peel off the skin and eat directly

Storage instructions

Store pistachios when not in use in a cool, dry place to avoid exposure and direct contact with air.

 

The best way to store it is to cover it and keep it in the fridge

Product price

Current price of pistachios: 195,000 VND/500g

Delivery

Nationwide Delivery
Pictures of American pistachios at Dung Ha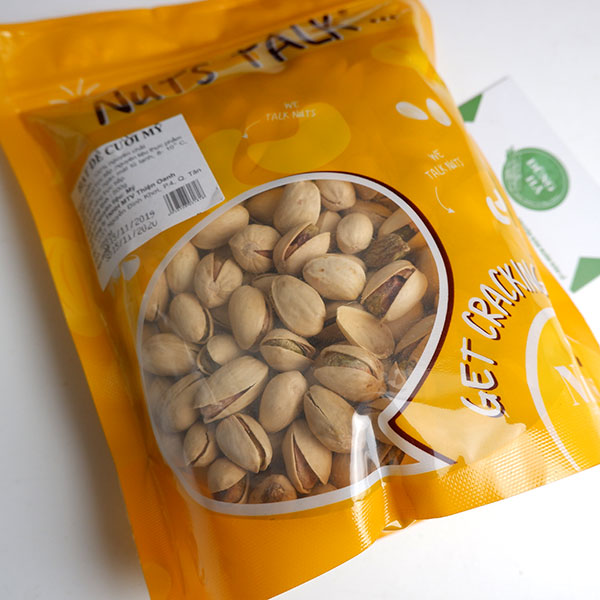 What are pistachios?
American pistachios are also known as pistachios, pistachios or happy berries. Laughing cheap seeds are popular and loved by consumers. Not only is it delicious to eat, but the effect of pistachios on human health is also very good, helping to fight the risk of diabetes, prevent cardiovascular disease, and oxidation. How many calories in pistachios? Pistachios are highly nutritious nuts, providing the human body with nutritional sources as well as minerals and vitamins. Each pistachio contains only about 3-4 calories, so people are safe with the question of whether eating pistachios is fat.
So are pistachios good for pregnant women? What are the specific effects of pistachios? Let's find out together below.
What are the benefits of pistachios?
Eating pistachios is good for health
Pistachios are a nutritious nut that is considered to be very delicious, nutritious, and good for human health. The content of nutrients in pistachios includes: protein, good fats, vitamins and minerals to help the body develop well, always maintain maximum energy.
Support purple to grow well
American pistachios are characterized by very hard seed shells, so they are good for heart health. If you regularly eat pistachios, it will help your body eliminate harmful cholesterol and increase beneficial cholesterol. Not only that, pistachios are also rich in antioxidants that help prevent the risk of some heart-related diseases.
Eat pistachios to lose weight
The fiber content in pistachios is very high, not only that, pistachios also contain less saturated fat. So, eating pistachios helps you lose weight and control weight. At the same time, the protein in pistachios helps the source of energy and fat in the body to be consumed, regaining the physique you dream of.
Good for eyesight
Research has shown that the antioxidant content in pistachios has a good effect on your eyes. Especially for the elderly, eating pistachios can fight the risk of macular degeneration.
Improve resistance, immune system
American pistachios contain high levels of vitamin B6. This is one of the vitamins that are highly effective in improving the health of resistance and the immune system. So, to strengthen the body's immune system, you should add pistachios to your diet.
Pistachios have the effect of tonic blood
The content of vitamin B6 and vitamins in pistachios helps in the formation of hemoglobin. This substance works to bring oxygen from the heart to all parts of the body, so that the body is always healthy. At the same time, regularly eating pistachios helps prevent the risk of some diseases related to anemia.
Pistachios prevent the risk of diabetes
Pistachios contain high levels of amino acids, so they have the ability to prevent the risk of type 2 diabetes. Not only that, phosphorus has the effect of forming amino acids from protein.
Helps the nervous system develop well
The nervous system will be well developed thanks to the vitamin B6 content. Not only that, vitamin B6 is also an essential substance for the formation of myelin. In addition, it also has the effect of transmitting important and necessary information to the nervous system, central brain.
How much are pistachios?
How many pistachios 1 kg is a question that many people are interested in, looking for. Currently, pistachios are sold in many different stores and addresses. So there is a difference in price. However, to find and buy quality pistachios, you should choose to buy them at reputable places and stores that are appreciated by many people.
The price of American pistachios in Dung Ha dry food is 195,000 VND/kg.
Where to buy pistachios in Hanoi?
Although pistachios are sold a lot in the market, it is not easy to buy quality pistachios. Not only that, in the market the situation of fake goods, imitation goods, poor quality goods is rampant, so when choosing to buy you must be very careful. It is best to choose from stores that are rated by many consumers.
Dung Ha Dry Food is confident to be the leading unit in Hanoi specializing in selling delicious and quality pistachios.
In addition to selling pistachios, you can choose from many other dry foods such as: macadamia nuts, sachi seeds, walnuts, …
For any information, please call the hotline:
Hotline: 1900986865
Website: https://thucphamkho.vn/