Peanut tea information at Dung Ha Dry Food
| | |
| --- | --- |
| Classify | Dried butterfly pea tea |
| Packing | Packed 500 grams |
| Origin | Vietnam |
| Expiry | More than 12 months from date of manufacture |
| Ingredient | 100% dried butterfly pea flower, grade 1 |
| User manual | Use as a daily tea |
| Storage instructions | Place in a cool, closed place, avoid direct sunlight as well as a lot of exposure to air |
| Product price | Quality dried butterfly pea tea price: 350,000 VND / 500 grams |
| Delivery | GNationwide Delivery |
Picture of butterfly pea tea at Dung Ha Dry Food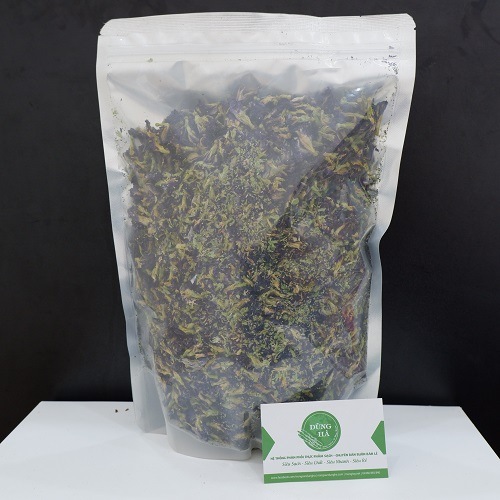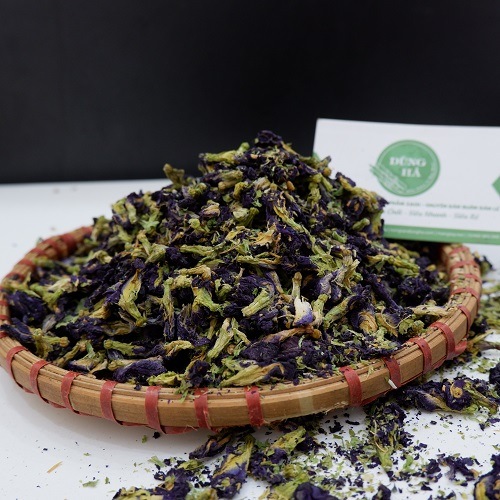 What is Butterfly Pea Tea?
Dried butterfly pea tea is also known as Lam Ho Diep tea. Butterfly pea flowers to the stage of development, the strongest growth will be collected and dried to form butterfly pea flower tea. Fragrant butterfly pea flower tea, attractive purple color. Butterfly pea flower has strong vitality, persistence, ability to grow and develop even in harsh environmental conditions and climates, hot sun. Not only is it a kind of tea for us to relax and refresh, but the effects of butterfly pea tea for people are also many. So what are the benefits of butterfly pea tea? Do not miss the useful information below this article.
What are the benefits of butterfly pea tea?
For a long time, we have known the image of the butterfly pea tree in many regions of our country. In Southeast Asia, butterfly pea flowers are also grown in Thailand. Butterfly pea plants can be grown by seed or by cuttings. Butterfly pea flowers are purple-blue. After harvesting, it will be dried and made into dried butterfly pea tea. This is considered one of the teas with many effects. Let's explore more.
What are the uses of butterfly pea tea? Butterfly pea is one of the flowers that contain high levels of antioxidants, preventing the risk of many dangerous diseases such as:
Butterfly pea tea helps blood vessels circulate, increasing blood circulation.
Helps bright eyes, good effects for people with cataracts, retinal wound recovery. Therefore, for those who have visual impairment, nearsightedness or astigmatism, they should supplement with butterfly pea flower tea every day.
Repel the risk, the attack of harmful acid radicals to the body.
Fight the risk of some dangerous diseases such as: chronic diseases, cardiovascular diseases, cancer.
Prevents the aging process of the skin, reduces and fades wrinkles.
Helps to increase skin elasticity, increase collagen to help skin bright, smooth, and healthy.
In addition, people also use butterfly pea flowers as a food coloring agent to process many different delicious and eye-catching dishes.
How to make, how to make delicious butterfly pea tea
The way to make butterfly pea tea is very simple, similar to making tea with other flowers such as rose tea or chrysanthemum tea. Before making tea, you need to prepare some of the following items:
Butterfly pea tea.
Teapot.
Hot water.
We make butterfly pea tea according to the ratio for every 1g of tea you use 200ml of boiling water. In the first step, you put the tea in the kettle, then add a little water to rinse it. Drain this water and add boiling water as usual. Stew the tea for 5 minutes then enjoy. You can drink butterfly pea tea at any time of the day. On hot summer days, if you want to quench your thirst, you can filter the flowers to get the water, then let it cool and add ice to drink. If drinking cold, when brewing, you should mix more flowers to make the tea more concentrated. You can also be creative, adding a few ingredients to make honey butterfly pea tea or mint butterfly pea tea which is also very attractive.
In addition, butterfly pea tea is also brewed to create color for food processing. The method is also very simple, you just brew the tea to create color. Then let it cool and soak the food to be processed in this water. When the color is absorbed, we can take it out. Normally the butterfly pea flower color is blue, if you want to get purple color, you can add sour agent or add a few drops of lemon juice.
How much does butterfly pea tea cost?
Currently, butterfly pea tea has become a familiar name to consumers. Not only is it used to enjoy, relax the body, bring good health, but butterfly pea tea is also chosen by housewives to buy a lot to prepare attractive and special dishes.
So how much is butterfly pea tea per kg? The price of butterfly pea tea is ranging from 330,000 to 380,000 VND/500gram depending on the number of establishments and shops selling them.
At Dung Ha dry food store, we are selling butterfly pea tea for 350,000 VND/500 grams. In addition, for the convenience of using as well as a gift for important occasions, we have launched a box of butterfly pea tea with a weight of 100g each.
Where to buy butterfly pea tea?
Although there are many places selling butterfly pea tea. However, to find a reputable and quality buyer is not an easy thing. Choosing the wrong products is not only bad but also causes side effects, affecting health in the long run. Therefore, the most secure thing is that you should learn about reputable, quality-tested places.
We – Dung Ha dry food is proud to be one of the leading units in providing quality dry food in Hanoi in particular and nationwide in general. Not only blue bean tea, but you can also choose from many different types of tea such as: chrysanthemum tea, rose tea, asparagus tea,… Commitment to ensure in each product, hygiene and safety food.
If you are in need of buying butterfly pea tea, please contact us immediately for advice.
Hotline: 1900 986865
Website: https://thucphamkho.vn/