Information about salted roasted cashews at Dung Ha dry food
| | |
| --- | --- |
| Classify | Salt roasted cashews |
| Packing | Canned 500g |
| Origin | Long Thuy, Phuoc Long Town, Binh Phuoc |
| Expiry | More than 12 months from date of manufacture |
| Element | 100% high quality selected cashew nuts |
| User manual | Use as a snack |
| Storage instructions | Place in a cool, closed place, avoid direct sunlight as well as a lot of exposure to air |
| Product price | Quality salted roasted cashews price: 150,000 VND/500grams |
| Delivery | Nationwide Delivery |
Pictures of roasted cashews with salt at Dung Ha dry food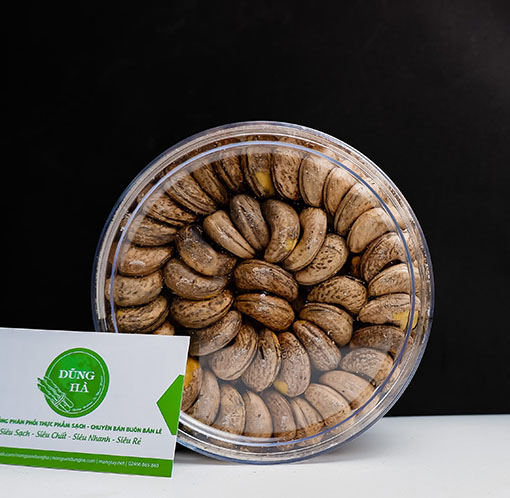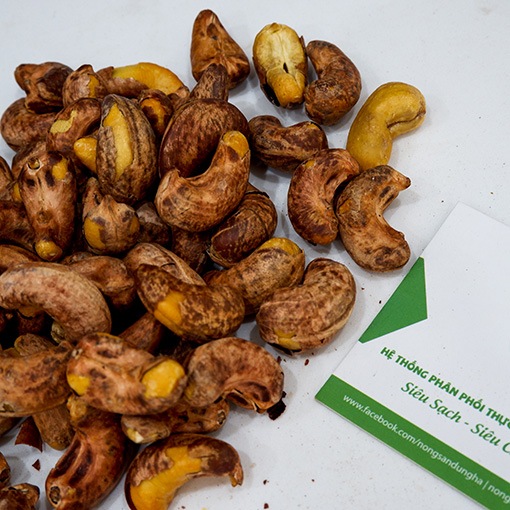 What is salt roasted cashews?
Salted roasted cashews is the finished product made from cashew nuts. Cashew nut, also known as cashew nut, is an industrial crop in some southern provinces of our country. Binh Phuoc salted roasted cashews is a name that is mentioned and favored by consumers with standard grade 1 salted roasted cashews, ensuring delicious, fatty and safe for health.
Not only loved in the Vietnamese market, roasted salted cashews are exported to many different countries around the world. So what are the effects of roasted cashews with salt? Are salted roasted cashews good? Is it fat to eat salted roasted cashews? Are salted roasted cashews good for pregnant women? Lots of different questions about salted roasted cashews. Let's find out together within the framework of this article.
What is the effect of salted roasted cashews?
Salt-roasted cashews are one of the most commonly used nutritious nuts. The nutritional composition that cashew nuts provide to the human body is very high. Therefore, according to the advice of health experts, cashews should be added to meals to provide necessary nutrients as well as maintain human health.
At this point, you must also partly answer the question of what effect does eating salted cashews have? Let's learn more about the effects of cashews.
Salt-roasted cashews are good for heart health
Roasted cashew nuts with salt in Binh Phuoc are nutritious nuts that have the effect of preventing the risk of some dangerous cardiovascular diseases for humans. The nutritional components in cashews help regulate cholesterol and stabilize blood pressure. At the same time, different types of minerals and vitamins such as vitamin B6, vitamin E, potassium, folic acid reduce the risk of heart disease.
Good support for blood
What are the uses of salted roasted cashews? The copper and iron content in cashews has a good effect on the maintenance and formation of blood cells. Helps the nervous system, blood vessels, immune system, bone and joint system to develop stably and healthy.
Salt roasted cashews support eyesight
Roasted salted cashews also have the same effect as carrots on vision health, helping to keep eyes bright. The high content of zeaxanthin and lutein have been evaluated as antioxidants. So, adding cashews to your daily diet will help your eyes stay healthy. Not only that, you will be surprised by the effect against cataracts in the eyes.
Cashews keep skin healthy
Essential oil extracted from cashew nuts helps your skin look younger and smoother. Cashew oil contains zinc, selenium, iron, magnesium and phosphorus. Besides, some proteins and phytochemicals in cashew nut oil are also highly effective for the skin. In addition, according to research results, cashews also have a cancer prevention effect thanks to their selenium content.
Prevent the risk of diabetes
Cashew roasted with silk shell salt does not contain bad cholesterol and is low in sugar. Therefore, it is very beneficial for people with diabetes. Not only that, eating cashews also prevents the cause of type 2 diabetes.
Salt roasted cashews for weight loss
Are salted roasted cashews fat? It is a question that many women are interested in. You can rest assured because salted cashews, if used correctly, have a weight loss effect. This is the result that has been verified and published by the Journal of Nutrition. Not only that, the content of good fats such as: Omega 3, Omega 6 in cashew nuts helps the metabolism process take place faster, consuming excess fat in the body.
Roasted cashew nuts with salt 1kg how much
How much is the price of roasted salted cashews of type 1, and roasted cashews with salt in Binh Phuoc? How much is Quan Dat salted roasted cashews? Currently, the price of roasted cashew nuts with salt does not differ too much in the market. In addition to 1kg bags, 500g salted roasted cashews are chosen by many buyers.
You can buy salted roasted cashews at many different locations and shops with the price of 500g salted roasted cashews ranging from 140,000 to 160,000 VND.
At Dung Ha dry food, the place to buy quality Hanoi salt roasted cashews is priced at 150,000 VND/500g.
For customers who buy in bulk, you can contact us directly to calculate the wholesale price of roasted cashews.
Buy salted roasted cashews in Hanoi
Currently, due to the needs of consumers, there are many places to sell salted roasted cashews in Hanoi. However, to ensure quality, you should buy salted roasted cashews at reputable establishments that are highly appreciated by consumers.
Please contact us immediately if you are looking to buy cashews in Hanoi, buy cashew nuts in Ho Chi Minh City as well as other provinces to receive enthusiastic support and advice. Quan Dat salted roasted cashews at our store are always committed to ensuring output quality, being strictly inspected, ensuring food safety and quality as well.
In addition to buying roasted cashews with salt in Binh Phuoc, you can buy many other types of dry goods such as: macadamia nuts, pistachios, walnuts, …
For product information, please contact:
Hotline: 1900986865
Website: https://thucphamkho.vn/