Dried shiitake mushroom information sheet:
| | |
| --- | --- |
| Classify | Special type of shiitake mushroom: big, delicious |
| Packing | Packing 1kg |
| Origin | Vietnam |
| Expiry | More than 12 months from date of manufacture |
| Element | 100% fresh mushrooms |
| User manual | Used to prepare food |
| Delivery | Nationwide Delivery |
Photos of

shiitake mushroom

at Dung Ha dry food: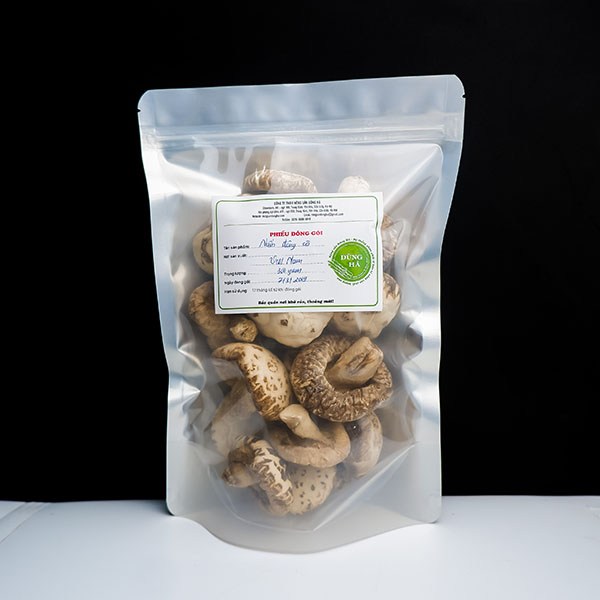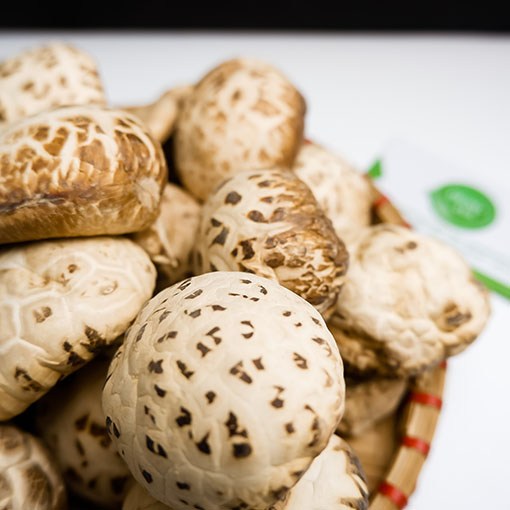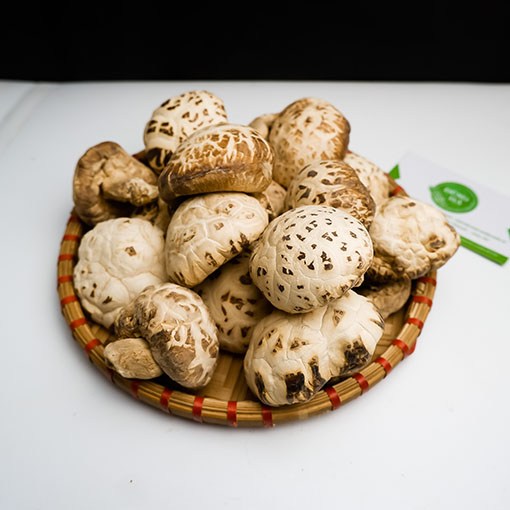 What is shiitake mushroom?
Shiitake mushrooms, also known as shiitake, incense, incense, impregnated incense, etc., are considered to be "vegetable queens" that are extremely beneficial to health. This is a fungus commonly found in China, Vietnam, Korea, and Japan. In the United States, shiitake mushrooms are often grown on farms, living as parasites on wood.
Shiitake mushrooms are light brown in color, darker when ripe, umbrella-shaped, with a diameter of 4-8 cm. Stem cylindrical, mushroom flesh is white.
According to research results, shiitake mushrooms are a nutrient-rich food, on average, every 100g of mushrooms will contain about 12-14g of protein. Regular use of shiitake mushrooms will help strengthen the body's resistance, immune system, regulate energy metabolism, inhibit cancer-causing cells, reduce blood cholesterol, aid digestion, prevent secretory stones and gallstones.
This is a food recommended by medical experts for people with high blood pressure, dyslipidemia, diabetes… You can refer to some delicious dishes made from shiitake mushrooms such as: shiitake mushrooms. Stir-fried shiitake mushrooms, braised vegetarian shiitake mushrooms, stir-fried shiitake mushrooms with beef…
Don't miss: Northwest dried shiitake mushroom foot pack 500 grams
What do dried shiitake mushrooms do?
How to prepare dried shiitake mushrooms:
To prepare delicious shiitake mushrooms in the right way, we follow these steps:
Step 1: Buy shiitake mushrooms and wash them, then soak the mushrooms for about 30 minutes to a few hours until they feel soft enough, then take them out. The softer the mushrooms, the more delicious the dish will be.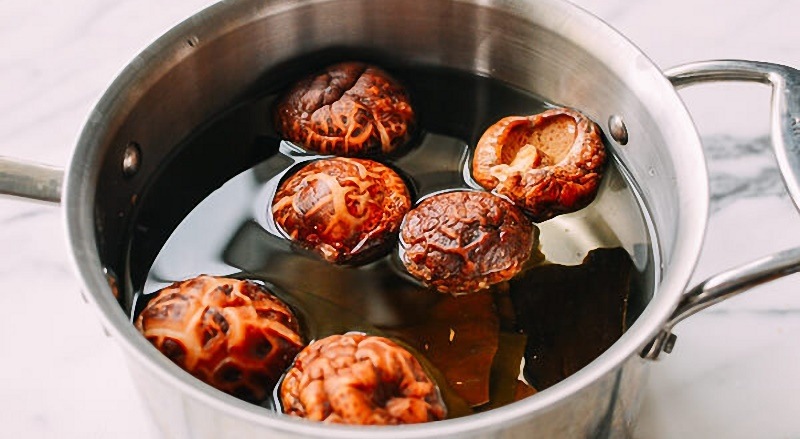 Note, before soaking mushrooms, you should not slice them, so the mushrooms will soften faster and save more time.
Step 2: Before processing, the mushrooms should be completely drained, so when cooking, the mushrooms still retain their texture and shape, are not mushy, and have a grainy texture. Or you can use paper towels to absorb the water if you need to cook right away.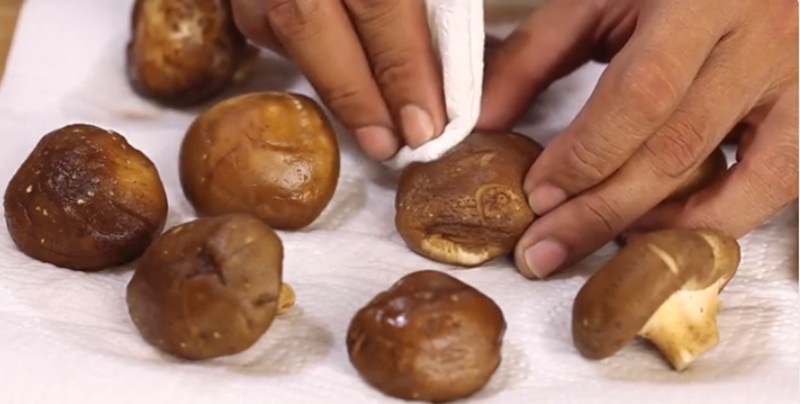 So we have completed the preliminary processing of dried shiitake mushrooms!
So what delicious dishes do shiitake mushrooms make?
Let's start cooking right now!
Shiitake mushrooms stuffed with minced pork: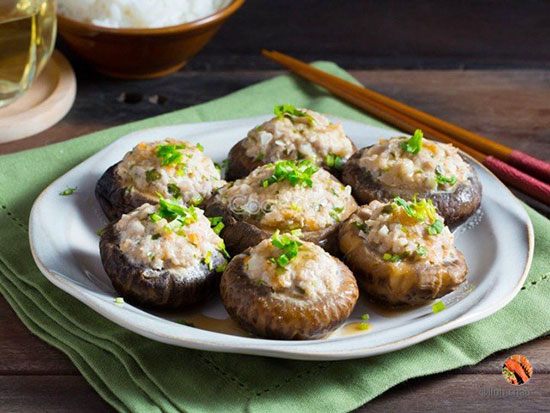 Ingredients for cooking shiitake mushrooms stuffed with minced pork:
10 pieces of dried shiitake mushrooms (depending on the number of users, the number of mushrooms can be flexible).
200 grams of minced pork.
70 grams of dried shrimp.
Cornstarch.
3 bulbs.
Shredded cilantro.
Condiments: soy sauce, sugar, cooking wine, sesame oil, little pepper.
How to cook shiitake mushrooms stuffed with minced pork:
Step 1: Buy shiitake mushrooms, wash them, then soak in warm water for about 30 minutes – 2 hours until the mushrooms are soft. Cut off the unused portion. Leave the broth for later.
Step 2: Dried shrimp and pork are washed and minced. After minced, garlic and tapioca are mixed with meat and marinated shrimp for about 20-30 minutes.
Step 3: Stuff the marinated shrimp mixture into the mushrooms, then steam for about 10 minutes.
Step 4: Add spices to the water soaked in mushrooms before, put on the stove with a little cornstarch and stir until the mixture is thick.
Step 5: Drizzle some sauce over the mushrooms, add some chopped cilantro. We can eat this dish hot with rice, it will definitely not disappoint you.
Stir-fried Chinese cabbage with mushrooms: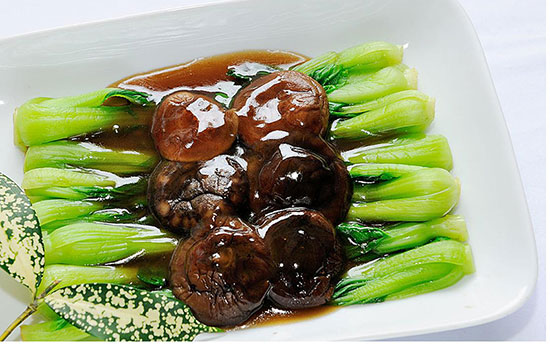 Ingredients for stir-fried bok choy with shiitake mushrooms:
1 bunch of cabbage.
100 grams of shiitake mushrooms.
1 bulb of garlic.
Seasoning seasoning: monosodium glutamate, oyster sauce, sesame oil, hot pepper.
How to cook sauteed bok choy with shiitake mushrooms:
Step 1: Buy shiitake mushrooms, wash them, then soak in warm water for about 30 minutes – 2 hours until the mushrooms are soft. Cut off the unused portion. Mushrooms can prune flowers at will.
Step 2: Chop the garlic.
Step 3: Heat oil in a pan, add garlic and fry until the aroma appears, then stir-fry the mushrooms, finally add the bok choy and stir well.
Step 4: Season to taste, stir for another 2 minutes until the vegetables are just cooked, then turn off the stove.
Step 5: Put the vegetables on a plate to add a little pepper to increase the attractiveness of the dish.
How much does it cost to buy dried shiitake mushrooms on the market today?
Currently, with a lot of demand for shiitake mushrooms, there are countless agents, distributors, and retail stores on the market for this product. However, the price of dried shiitake mushrooms is currently in the range of 320,000 – 350,000/kg.
At Dung Ha dry food store we are selling shiitake mushrooms for 320,000/kg.
We are confident to be the seller of the best quality dried shiitake mushrooms with the best price in the market.
Instructions for making super delicious dishes from enoki mushrooms at https://trangvangnongnghiep.net/huong-dan-7-cach-che-bien-nam-kim-cham-ngon-tuyet-hao-an-la-me.html
Where to buy and sell dried shiitake mushrooms in Hanoi?
Wondering where to buy quality dried shiitake mushrooms? Do not hesitate, come to us- Dung Ha dry food. We are always proud to be the leading dry food supplier in the country, receiving the support and attention of the majority of consumers. Dung Ha commits not to use stimulants, chemicals, growth drugs that are not licensed by the Ministry of Health to harm human health.
In addition to selling dried shiitake mushrooms, at our store we also sell a number of other dried products such as: Northwest dried bamboo shoots, dried sour ears, dried coriander seeds, dried bean scum, cashew nuts, dried flowers, …
Contact to buy: 1900986865
Website: https://thucphamkho.vn/