Information about ginseng at Dung Ha dry food:
| | |
| --- | --- |
| Classify | Dried Ginseng |
| Packing | Packed 500g and 1kg |
| Origin | Vietnam |
| Expiry | More than 12 months from date of manufacture |
| Delivery | Nationwide Delivery |
Pictures of ginseng at Dung Ha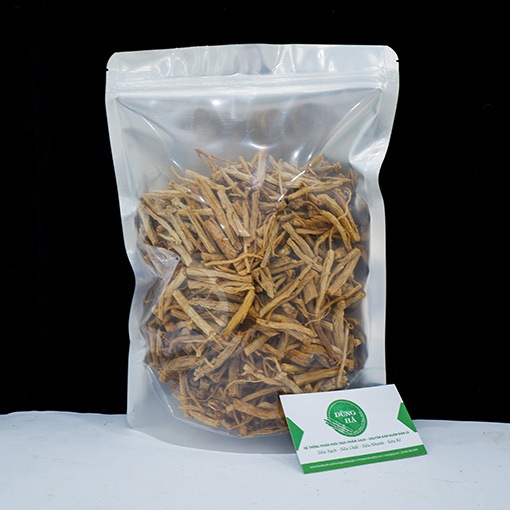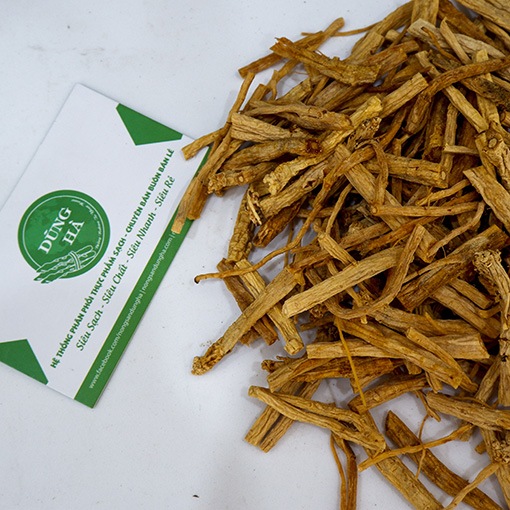 What is Dandelion?
Dang ginseng (Codonopsis pilosula (Franch) Nannf) is also known as party ginseng. This is a species of plant in the bellflower family. Dandelion is considered a valuable medicinal herb. So what is the effect of ginseng? Dang ginseng has many uses for human health, which are: helping the digestive system work better, strengthening the body's immune system, enhancing blood activity, helping to reduce blood sugar, and reducing cough effectively. ..
Information about types of ginseng
There are many different types of ginseng. Therefore, when choosing to buy, we must understand clearly to avoid buying the wrong product.
Vietnamese ginseng
Many people often confuse Vietnamese Dandelion with Chinese Dandelion. Vietnamese Dandelion has a feature that makes it easy to distinguish it from Chinese Dandelion that is its taste is not sweet. Vietnamese Dang ginseng was discovered and grown in the Northeast, Northwest, Lam Dong, Dak Lak, and Kom Tum areas.
Chinese Ginseng
Chinese Dandelion is easy to recognize because it has a sweet taste, small size and long, flexible, if you try to break it, it will not break. In general, Chinese Dandelion is very beautiful because it is about 25-30 cm in size.
Fresh ginseng
This is a type of ginseng that is abundant in Vietnam. In terms of size, fresh iso ginseng has many different sizes ranging from small to large. Fresh ginseng after harvesting is washed, has a slightly yellowish white color and especially has a very specific aroma. Dang ginseng is similar in shape to Korean ginseng. Therefore, it is quite popular and many collectors. Fresh Dang ginseng is not only used to soak wine, soak with honey, it is also used as a raw material for processing delicious dishes such as stir-fry, mannequin or kimchi…
Dried ginseng
Dried Dandelion is one of the most widely used medicinal herbs by consumers. The size of dried iso ginseng varies widely depending on living conditions. Dried Dandelion has a very good effect on users, 100% grown naturally, without using fertilizers or any stimulants or chemicals, so you can be completely assured when choosing to buy.
Ginseng wine
What is the effect of ginseng wine? It has the effect of helping to strengthen the immune system, the body's resistance. Below, we will introduce to you how to soak ginseng in a delicious and nutritious standard.
Ingredients to prepare for soaking iso ginseng:
Dried Dandelion: 1kg.
Delicious white glutinous wine type 1: 3 liters.
A glass vase.
How to soak ginseng wine:
We perform the following steps:
Step 1: After buying, dry ginseng is washed, to remove all dirt and then picked up to dry. Put the dried ginseng on the pan, cook on low heat for about 5 minutes until the aroma appears, then turn off the heat and let it cool.
Step 2: Put the ginseng in a glass jar. Then slowly pour in the wine. Then close the lid and store in a cool dry place. After about 30 days of soaking ginseng, it can be used. Note, the longer soaked ginseng is, the richer and more delicious the taste. Therefore, if you do not need to use it right away, you can soak the ginseng for about 3 months.
Every day, we only need to use   1-2 small cups of iso-ginseng wine, which will have extremely good effects: help stabilize blood sugar, blood circulation, …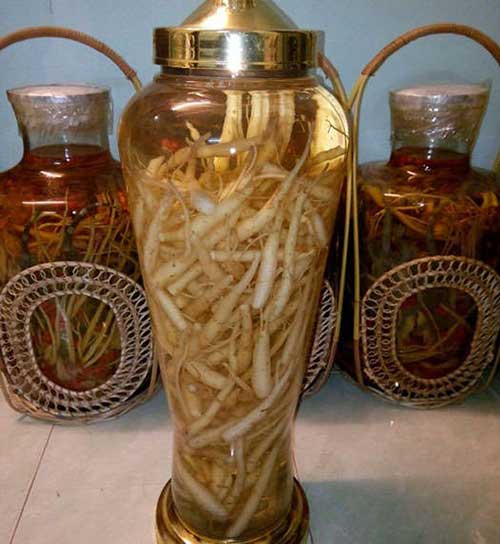 Dandelion soaked in honey
Ingredients to prepare to make iso ginseng soaked in honey:
Dried Dandelion: 1kg.
Honey: 1 liter.
Glass bottle.
How to make iso ginseng soaked in honey
We go through the following steps in turn:
Step 1: After buying ginseng, also wash it, remove dirt and bacteria. Then drain to dry.
Step 2: Cut isogonum into short strands about 5 cm.
Step 3: Put the ginseng in the jar and then slowly pour in the wine. Close the lid tightly and store in a cool dry place. Dandelion soaked in honey can be used after 3 – 6 months. If you want the ginseng to have a stronger flavor, you can soak it for a longer time.
One thing that you need to pay attention to when soaking honey soaked ginseng is: from time to time check to see if the soaking jar is foaming. If there is, you should remove the foam, to avoid the case that the water is sour and has an odor.
How much is the price of dried ginseng per kg?
Dang ginseng is a precious medicinal herb, so it has a relatively high price in the market. And depending on each location, region, and different stores, there will be ginseng with different prices. Normally, it will range from 380,000 to 430,000 VND/kg.
Currently, at Dung Ha dry food, the price of quality dried ginseng is 400,000 VND/kg. Ensure the most prestigious in Hanoi market as well as nationwide.
Where to buy dried ginseng?
You are finding it difficult to choose a good place to buy iso ginseng. You are very afraid of poor quality ginseng, fake goods, imitation goods floating on the market.
Come to us – Dung Ha dry food. We are confident to be one of the famous brands specializing in selling quality ginseng, saying no to fakes, stimulants, and chemicals. Our products are always harvested and processed completely according to the safety mechanism, which is recognized by the Ministry of Health.
In addition to selling quality ginseng, Dung Ha also has many other dried products that you can refer to such as: Tam That flower buds, dried ginger, dong quai, prickly pear, dried beef…
For any questions and product details, you can contact us directly to receive enthusiastic consultation.
Hotline: 1900986865
Website: https://thucphamkho.vn/