Information of

kudzu powder

in Dung Ha dry food:
Classify

kudzu powder

Packing

Packed 500grams

Origin

Vietnam

Expiry

More than 12 months from date of manufacture

Element

100% made from pure kudzu powder,

safe for users
Image of

kudzu powder

in Dung Ha dry food: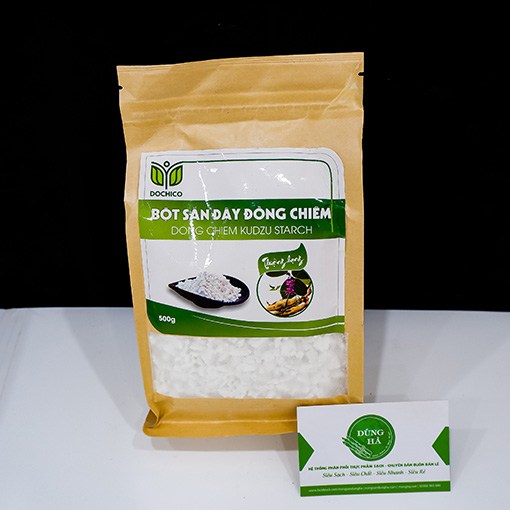 What is kudzu powder?
Kudzu powder is a familiar and familiar flour that is popular with consumers. This is a powder used with many different uses, such as: cool tapioca flour, body heat, kudzu powder for weight loss, tapioca flour for baking, tapioca flour for tea, … In addition, there are many other effects. To bring about those effects, kudzu powder must be pure, ensuring quality right from the stage of cassava harvesting to the processing and preliminary processing of finished products. Pure white kudzu powder, smooth and beautiful.
Many people often wonder if eating kudzu powder is fat? Can pregnant women drink kudzu powder? Then what should not be eaten with kudzu powder? The following article will share the most useful information to readers about: the use of kudzu powder, mix and use kudzu powder properly to help you answer the questions above!
What is the use of kudzu powder?
Kudzu powder has many different uses, let's find out right away!
Kudzu powder for weight loss
Surely for women who have the need to lose weight and get in shape, the recipe of kudzu powder with lemon for weight loss is no longer strange. The ingredients are very simple, yet very effective. Let's all try.
Materials to prepare:
Kudzu powder: 2 tablespoons.
Lemon juice: 2 drops.
Boiled water to cool.
Making:
Just put 2 tablespoons of pure kudzu powder in the cup. Then, add cooled boiled water to dissolve. The next step is to add lemon juice and stir well. As long as you stick to using 1-2 cups a day, after a while, you will see noticeable effects.
Kudzu powder helps the digestive system work healthy
Kudzu powder has the effect of neutralizing the acid in the intestinal wall. Thereby can prevent the risk of some diseases of the digestive tract such as diarrhea, flatulence, bloating.
Not only that, the high content of antioxidants (plavonodot) in kudzu powder helps the digestive system work healthier, better, reduce intestinal volvulus and contractures.
Kudzu powder helps to cool down, purify the body, treat heat rash, pimples
Kudzu powder when added to the body has a cooling effect, cools the body well. Therefore, has the ability to reduce heat rash, pimples on the body. Especially on hot summer afternoons, drinking a cup of pure kudzu powder also helps to regain energy.
For those who suffer from heatstroke or heatstroke, we can give a glass of water mixed with kudzu powder to improve the condition. Not only that, when we have alcohol poisoning or food poisoning, we can also use kudzu powder to solve it.
Kudzu powder for face
A face mask with kudzu powder works to help fade and clean stubborn pigmentation on the skin. Let's have a look together now!
Materials to prepare:
Pure kudzu powder: 2 tbsp.
Fresh milk without sugar: 3 tbsp.
Bowl and broom.
Making:
Put kudzu powder and unsweetened fresh milk in a bowl, then stir well to form a paste.
Use a brush to brush the mixture on the skin with pigmentation.
Then relax the skin for about 20 minutes and then wash your face with warm water.
Persist in applying for a certain period of time, the effect will surprise you.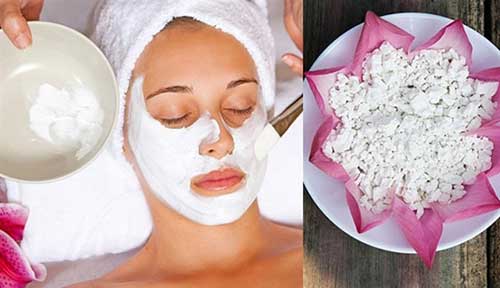 Mix kudzu powder properly delicious
There are many different ways to make kudzu powder. And depending on the use to mix kudzu powder with different ingredients.
Mix ripe kudzu powder
The operations are very quick. You just need to prepare 2 tablespoons of kudzu powder and then put it in a cup with a little water and stir well to dissolve the kudzu powder. Once done, take a cup of boiled water and pour it in, slowly pour it in while stirring with a spoon until the powder is clear.
Wait for the dough to cool a bit then we can enjoy. Eating ripe kudzu powder is both strange and delicious, very nutritious and cool.
Mix kudzu powder with condensed milk
Mixing kudzu powder with condensed milk to drink every morning brings a lot of effects to women such as: Help slim waist, firm breasts,… The way to mix it is very simple, you remember to write it down. Right now the recipe in my beauty notebook:
Materials to prepare:
kudzu powder: 2 tablespoons.
Condensed milk: 1 tbsp.
Hot water: 150ml.
Mixing:
You just need to put the kudzu powder into the cup and then add hot water and stir until the powder dissolves. Next add 1 tablespoon of condensed milk and stir well and use.
Note: kudzu powder mixed with milk should be taken in the morning 30 minutes before breakfast to maximize the effect.
Mix kudzu powder to eat raw
When mixing kudzu powder to eat raw, you just need to use 2 tablespoons of kudzu powder in a cup and add a little water to stir well. When the dough is smooth, add water and sugar, stir and enjoy. In the hot summer weather, you can add a few small ice cubes or put it in the refrigerator to increase the deliciousness.
There are also a lot of questions that ask why kudzu powder is delicious? There are many delicious dishes made from kudzu powder, especially tea dishes such as green bean tea, lotus seed tea,…
What is the current price of kudzu powder? How much per kilogram?
Currently, due to the buying demand of consumers, there are many addresses selling kudzu powder. However, in order to bring about high efficiency when used, people must choose to buy kudzu powder in places where the product has a clear origin, ensuring the right pure kudzu powder, not mixed with impurities, food safety and hygiene.
Depending on each store, the price of kudzu powder also has some changes and certain differences. However, the price will range from 90,000 to 120,000 VND/500gra.
At Dung Ha dry food, we are selling pure kudzu powder for 90,000 VND / 500 grams.
Where to buy kudzu powder in Hanoi?
In Hanoi today, finding kudzu powder is not difficult. You can buy kudzu powder at supermarkets, agricultural stores, green groceries, etc. However, no matter where you choose to buy it, you still need to know the basic knowledge to distinguish kudzu powder. quality with fake kudzu powder to ensure safety for the whole family.
Dung Ha dry food is confident to be one of the leading prestigious brands in Hanoi that customers can safely choose to buy. Committed to all products with clear origin, quality is always clearly checked from harvesting to processing and preservation. The resale price is very affordable. Will definitely make customers happy.
In addition to selling kudzu powder, we also have a number of other powdered products such as: black turmeric powder, celery powder, anise powder, oatmeal, dried garlic powder…
Dung Ha always hopes to be able to accompany millions of Vietnamese consumers on the green road, protecting health.
If you have any questions, please contact us directly at the following line:
Hotline: 1900986865
Website: https://thucphamkho.vn/