| | |
| --- | --- |
| Classify | Pure dried garlic powder, 100% natural |
| Packing | Packing 500g – 1Kg |
| Origin | Thuan Hung – Khoai Chau – Hung Yen |
| Expiry | More than 12 months from date of manufacture |
| Element | 100% garlic is peeled, dried, crushed into fine powder. |
| Characteristics | Garlic powder is usually smooth, has a characteristic light yellow color of garlic |
| User manual | Garlic powder is mainly used as a seasoning to marinate seafood, meats for cooking or as ingredients to make chili sauce, ketchup, snack, cold food, …. |
| Storage instructions | In a cool place, avoid direct sunlight, keep the packaging tightly closed |
| Product price | Price of garlic powder 90,000 VND/500g |
| Delivery | Support delivery within Hanoi within the day |
Photos of garlic powder at Dung Ha: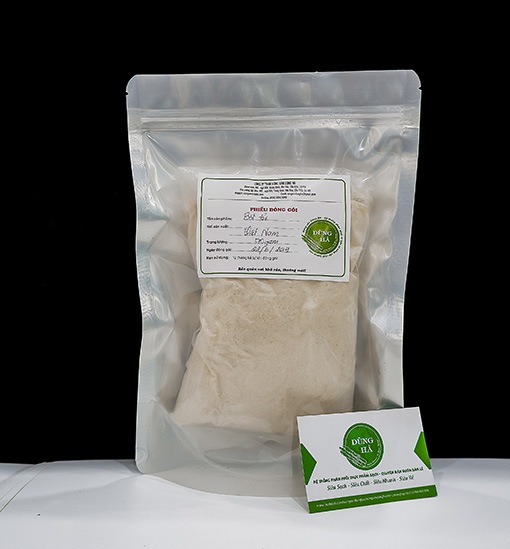 Garlic powder packed at Dung Ha Garlic powder details
Dung Ha pure garlic powder
Garlic powder – a spice powder that is loved by many people. Garlic powder is extracted pure from our garlic bulbs. Garlic powder is used as a spice for Vietnamese dishes, in addition, garlic powder is also used for beauty, garlic powder is also used to cure diseases,… Currently, Dung Ha is selling pure garlic powder, garlic powder substance. Dung Ha is very smooth, the powder is yellow, we are always committed to the quality of garlic powder products, no preservatives, no coloring additives.
What is garlic powder used for? As mentioned above, garlic powder has many uses such as: seasoning dishes, beauty, garlic powder for healing,… But garlic powder is mainly used in cuisine. Dried garlic powder is an indispensable spice in stir-fried dishes, marinated meat, fried seafood, grilled dishes,… Garlic powder has the effect of eliminating the smell or fishy smell of meats, helping to improve the taste. of the dish becomes more attractive.
Nutritional information in dried garlic powder
Although dried garlic powder is just a spice, but they contain a lot of nutrients that benefit the body such as: protein, lipid, carbohydrates, calories, … The nutrients in garlic powder have a stimulating effect. every activity of the cells in the body and can help strengthen the resistance. Below, Dung Ha will list the content of nutrients in 100 grams of pure garlic powder.
What is the effect of garlic powder?
In medicine, pure garlic powder is recommended to prevent the risk of cancer. In addition, garlic powder also has the effect of protecting the heart, regulating blood pressure, enhancing resistance, against radioactive substances. ,… Below, Dung Ha will specifically list some uses of garlic powder :
Prevention and treatment of fungal skin diseases.

Protect cells from harmful agents and free radicals that damage cells.

Antibacterial, against viral diseases such as sore throat, flu, …

Garlic powder is likened to an antibiotic in the treatment of diseases related to ENT.

Garlic powder has the effect of reducing cholesterol and lipids in the body

The effect of regulating blood pressure, increasing resistance to blood vessels


Another special use of garlic powder is that garlic powder is used to treat blood clots.
How to use garlic powder?
In the cuisine
Pure garlic powder has the effect of making the taste of the dish more interesting and attractive. People often use garlic powder as a substitute for fresh garlic, because of the fact that fresh garlic is not always available at home and fresh garlic cannot be stored for long. Moreover, you do not need to take the time to peel and crush the garlic anymore, you should use garlic powder instead, it will be much more convenient!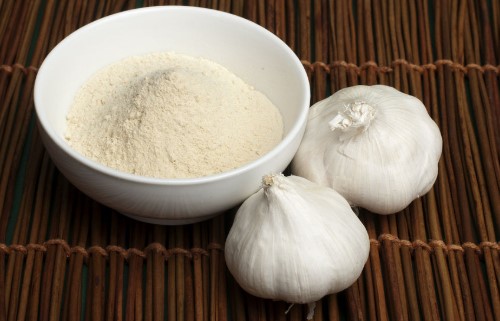 In beauty
In beauty, people often use garlic powder to overcome the phenomenon of dry skin. In addition, garlic powder also has the effect of erasing wrinkles, removing acne, and bringing back smooth and shiny skin for women. Garlic powder is also used by women to soften and smooth hair.
How to store garlic powder?
Garlic powder is a type of dry food, they can be used for a long time, but you need to know how to store garlic powder properly. You should use a glass jar to store garlic powder, pay attention to close the lid tightly to avoid steaming and mold damage. Store the glass jar in a cool dry place or you can store it in the refrigerator.
The current selling price of garlic powder is how much 1 kg?
Garlic powder is being sold a lot in the market, the price of garlic powder on the market is fluctuating from 120,000 VND to 250,000 VND/kg. Currently, Dung Ha Dry Food is also selling garlic powder, Dung Ha garlic powder product is pure dried garlic powder, which has passed food safety verification by the Ministry of Health. Dung Ha sells pure dried garlic powder at the price of 200,000 VND / kg.
Where to buy dried garlic powder in Hanoi?
"Where is garlic powder sold? ", many people wonder where to buy garlic powder in Hanoi, do not know where to buy quality garlic powder to ensure health safety for themselves and their families. In Hanoi, you can visit Dung Ha Dry Food – a reputable dry food supplier in Hanoi.
Coming to Dung Ha dry food, you will be able to buy a lot of clean, safe and hygienic dry products. In addition to dried garlic powder, we also provide other dry powders such as: lemon powder, tapioca powder, asparagus powder,… Hurry up to order early to receive many incentives.