Information of dry dates at Dung Ha Dry Food:
| | |
| --- | --- |
| Classify | Dates are dry |
| Packing | Packing 1kg |
| Origin | Vietnam |
| Expiry | More than 12 months from date of manufacture |
| Element | 100% selected dates, dried |
| User manual | Used as medicine and beauty care |
| Storage instructions | Place in a cool, closed place, avoid direct sunlight as well as a lot of exposure to air |
| Product price | Quality dried dates price: 200,000 VND/kg |
| Delivery | Nationwide Delivery |
Photos of dried dates at Dung Ha dry food: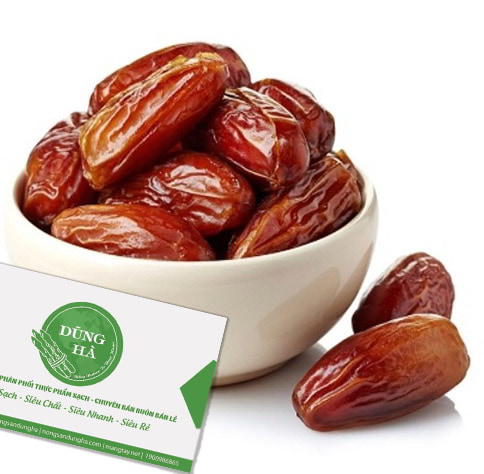 What is a date?
Dates are also known as Mountain Dates, Muong Muong. The height of each date palm tree is about 2 – 3 m, the stem is upright, the date is oval in shape and the flesh is thick, succulent, each fruit is about 2 -3 cm wide. What is the effect of the date? Dates are a fruit with many good uses for the health of the user: good for the heart, good for pregnant women, treating nausea, dizziness, drunkenness, strengthening resistance, health.
There are many different types of dates: Vietnamese dates, Hosna dates, Egyptian dates, Dubai dates, Deglet Nour dates, Iranian dates…
Effective remedy from dry dates
Dates are very famous from time immemorial with excellent uses. Especially for alcoholics, using dates will be very effective. According to scientific research, in dates have tannins and antioxidants, which have a cooling effect, good liver detoxification. To be able to treat alcoholism, every day you just need to use decoction of date juice to drink.
Here are some remedies with dates that we would like to share with our readers:
Dry dates help strengthen physical strength, fight fatigue
Raw materials include:
Dried dates: 4 fruits.
Ripe bananas: 2.
Fresh milk: 1 cup.
The way to do it is very simple. You just need to mix the banana and date mixture. Then add the milk.
To cook dishes from dates to help clear the lungs, nourish the face, only reveal, and give birth, we do the following:
Materials to prepare:
6 dried dates.
1 piece of cover.
200 grams of juniper.
250 grams of pork leg.
Making:
Step 1: The ingredients after buying are washed and dried.
Step 2: Put a pot of water on the stove to boil.
Step 3: Put all the ingredients in the pot. Then season to taste.
Wait for the soup to cook, then scoop it out into a bowl and enjoy. People with hoarseness, dry throat, dry skin eating this soup can greatly improve the situation.
Dates help protect hair and skin
Some people often experience a skin condition after having an itchy, allergic rash. In this case we can treat it by using a mask of dates. In addition, dates also work to prevent hair dryness and protect hair. We can use a little date oil after washing our hair.
How to remove makeup with dates:
Ingredient:
Fresh dates: 4 fruits.
Dried dates: 2 fruits.
Fresh milk: 1 tbsp.
Rice flour: 1 tbsp.
Cornmeal: 1 tbsp.
Water: 30ml.
Making:
Fresh dates are cut into thin slices. As for the dried dates, you remove the seeds and grind them. Bring the water to a boil and add the dates. Continue to cook the mixture for another 5 minutes, then turn off the heat. Then turn off the stove to cool.
Use a filter to filter the water, discard the part. Then, add cornstarch, rice flour, and milk, mix well, and water. Note, you have to stir the mixture so that there are no lumps. Turn off the heat to let the mixture cool and then pour into the jar to use gradually. Use the same way as a makeup remover, apply evenly to the neck, face, and massage evenly. Then wash your face with cold water.
What is the current price of dry dates? How much per kilogram?
Currently, on the market there are many different types of dates from different stores and suppliers. Depending on the type, the price of dates will vary. Therefore, before buying, you need to find out the information as well as the origin to choose the best quality dates.
In general, the price of dry rub is in the range of 190,000 – 230,000 VND/kg.
At Dung Ha dry food, we are selling dried dates for 200,000 VND/kg. Committed to quality products at affordable prices.
Where to buy dry dates?
You are looking to buy dried dates but have not found a reputable place in Hanoi. Do not hesitate any longer without immediately finding Dung Ha dry food. We are proud to be the best date selling address on the national market in general and Hanoi in particular. Before being sold, our products have gone through the rigorous testing process of the Ministry of Health, committed to the best quality products to consumers.
In addition to selling dried dates, we also have many other dry goods that you can choose to buy such as: walnuts, cassava seeds, raisins, cashews, dried licorice…
Dung Ha hopes to be able to serve all of our customers with the utmost dedication. For any enquiries, you can contact us directly at:
Hotline: 1900986865
Website: https://thucphamkho.vn/