Information of dried sweet grass at Dung Ha Dry Food:
| | |
| --- | --- |
| Classify | Dried sweet grass |
| Packing | Packed 500g and 1kg |
| Origin | Localities across the country |
| Expiry | More than 12 months from date of manufacture |
| Delivery | Nationwide Delivery |
Pictures of dried sweets at Dung Ha Dry Food: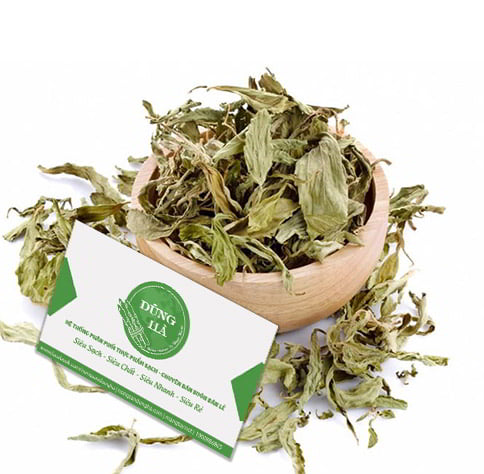 What is sweet grass?
Sweet grass is a plant that is native to South America. Stems of stevia are about 30cm high and leaves are 2.5cm long. If we look at the external features, it is difficult to recognize that this is a plant. What are the effects of stevia plants? It is grown to produce stevia sugar. In addition to being used as a sweetener, stevia also has therapeutic, antifungal, antibacterial and antioxidant effects.
Today, stevia is well-known as an herb that is used by many people because of its effective uses. According to research, stevia has a high content of vitamin C, folic acid and essential amino acids for the body. Therefore, at present, sweet grass is chosen to buy and use a lot. You can still comfortably enjoy sweet foods but still ensure a low calorie intake by using stevia.
After being harvested and preliminarily processed and dried, stevia will be made into dried stevia for a longer shelf life.
What disease does sweet herb cure? Sweet grass helps us in the treatment of a number of diseases such as: stevia cures diabetes, lowers blood pressure, prevents and slows down the process of pancreatic cancer, stevia reduces weight…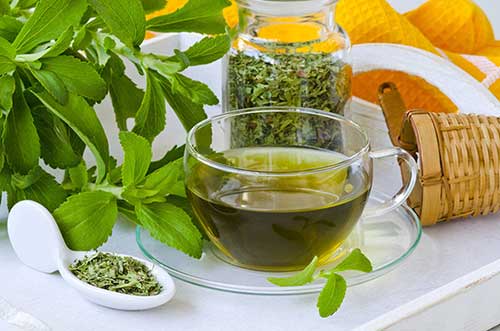 Don't Miss: Quality Dried Artichoke Flowers Packed 500gram and 1kg
How to properly use dried stevia
Sweet grass is a raw material for processing many delicious and greasy dishes with very few calories without fear of fat or weight gain. According to statistics, there are more than 5,000 types of drinks and foods globally that are using stevia as ingredients. For example, we can name it like:
Cream.
Yogurt.
Sauce.
Desserts.
Confectionery.
Soft drink.
Gum.
Bread.
Make tea.
Depending on each dish, we will use stevia in different forms such as: Use fresh leaves, use dried leaves or use as syrup.
1. Use fresh stevia leaves
We can use stevia leaves to enhance the flavor of drinks and dishes. When enjoying tea, to have a sweet and cool taste, not too dark, we can add a few leaves of stevia on top to be both beautiful and to increase the deliciousness of the tea. Or in some dishes, to make the dish have a natural taste, the chefs also occasionally added a few leaves of stevia.
In addition, you can use stevia to drink, brake like a regular tea with a cooling effect and reduce pressure. Make the body healthier and more comfortable.
2. Use dried stevia leaves
Dried stevia can be stored for a longer time. Therefore many people choose to use dried stevia. A note when using dried stevia is: stevia is very sweet, so when you add it to a dish or drink, just give it a little, otherwise the dish will be too dark.
3. Use stevia syrup
The way to make stevia syrup is very simple. Dried stevia leaves after pureeing just need to be boiled with water. Wait for the mixture to become a paste like syrup. We put it in a glass jar and keep it in the fridge. Sweet syrup can be used to make sauces to accompany food or as ingredients to sweeten drinks.
The current price of dried stevia? How much is 1 kg?
The current price of stevia in the market is not too high. Depending on the store, the area of ​​the selling price will be slightly different. However, people still have to pay attention to choose reputable and quality buying addresses to avoid poor quality and unhealthy products when using.
In general, the selling price of dried stevia will range from 140,000 to 200,000 VND/kg.
At Dung Ha dry food store – the address of selling dried stevia is priced at 150,000 VND / kg with absolute quality.
Where to buy dried stevia?
So how to find a good store to buy dried stevia. Before choosing to buy. You need to understand the quality of the product as well as have certain understanding to distinguish between good stevia and bad stevia. From there, choose a suitable buying point.
Dung Ha is confident to be one of the most prestigious and quality dried stevia sales units on the Hanoi market. All stages of production from harvesting to processing and storage meet Health standards. Saying no to poor quality products to help you shop with peace of mind.
In addition to selling dried stevia, you can also buy some other dried products such as: dried locusts, thorns, dried artichoke flowers, dried grapefruit pulp, red beans…
Dung Ha dry food wishes to be a companion with millions of Vietnamese consumers. If you have any questions about this product, you can contact us at the address below:
Hotline: 1900 986865
Website: https://thucphamkho.vn/