| | |
| --- | --- |
| Classify | Pure fresh green dried artichoke flowers |
| Packing | Packing according to customer requirements (about 300gr – 1kg) |
| Origin | Vietnam (Northwest, Da Lat,…) |
| Expiry | 12 months from date of manufacture |
| Delivery | Nationwide Delivery |
Photos of Dalat dried artichoke flowers at Dung Ha Dried Food
What is artichoke flower?
Artichoke flower is a flower originating from Southern Europe with the scientific name Cynara scolymus. Artichoke plants have a height of 1.5-2m with mature trees, leaves and flowers average 50-80cm long. Artichokes have been grown in Vietnam since the early 20th century in places with stable climates such as: Tam Dao, Sapa, Ha Giang and grown most in Da Lat.
Da Lat artichoke flower is very good for health, it is used in food processing and medicine. In addition, in Da Lat is also very famous for extremely rare herbs that have miraculous effects on the health of users such as: dried mint, dried ginseng, yellow tea, flower buds of Tam ventricular, bud. Or other foods are also good for health such as: black ginger, sachi seeds, shiitake mushrooms, …. To buy these foods you can consult at stores selling clean agricultural products in Hanoi.
Artichoke plants have a height of 1-1.2m, some trees can grow up to 2m tall. Stems are tall, stiff and straight, stems covered with white like cotton, with longitudinal notches. The cluster of flowers is pyramidal, large, growing at the top of the tree, the flowers are purple or purple red, the outer leaves of the flower are wide, thick, and pointed. The base of the flower cluster is covered with fluff and the flower gills are tubular.
The stem of the flower is dark brown, with a white crest. The petiole is short and large, the upper surface of the leaf is green and the lower surface is white. Dried artichoke flowers are used for soaking in alcohol, soaking in sugar, soaking in honey to make drinking water and cooking dishes.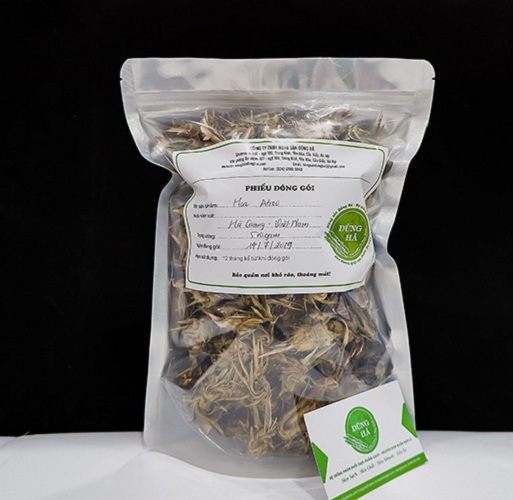 How to use dried green artichoke flowers soaked in alcohol
Dried artichoke flowers are washed, then drained. Keep the flower intact including petals, pistil, sepals and seeds. Put the flowers in a wine-soaked vase and let the wine soak for about 4 months. After 4 months, artichoke wine will have a slight sour taste and a sweet taste similar to wine.
You can also soak artichoke wine at the rate of 400g of seeds and 4-5l of white wine for 4 months. Artichokes soaked in alcohol are very good in treating sore throats, bronchial tablets, nocturia, jaundice, high blood pressure, digestive system support and arteriosclerosis.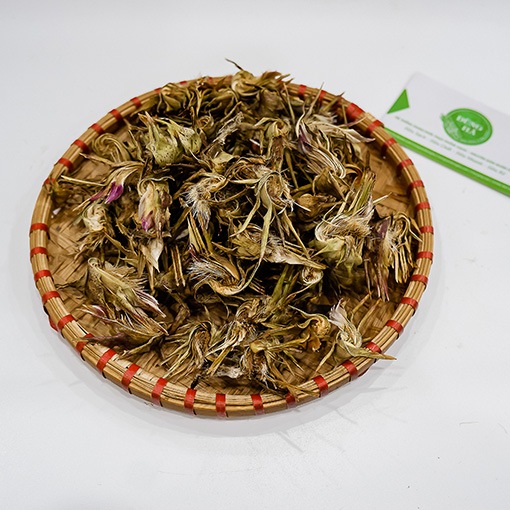 How to use dried green artichoke flowers soaked in sugar
The artichoke flowers purchased are washed and drained. Separate flowers and calyx. Use the flower to push the pistil at the bottom. The pistil can be dried to make drinking water or soaked with alcohol, while the petals are rinsed with salt water and then boiled in boiling water to cool.
When the petals are dry, bring the petals to soak with sugar, with a ratio of 1kg of flowers to 800g of sugar. The jar for soaking must be clean, dry, and do not contain water. Put the flowers in and add the sugar layer like that until the end, then close the lid, keep in a cool, dry place.
After 5 days, when the sugar is completely dissolved, you can drink it immediately or boil it as a syrup. Artichoke perfume has a sweet and cool taste that will make your whole family love it. In addition, artichoke flowers soaked in sugar also have the effect of treating cough and sore throat.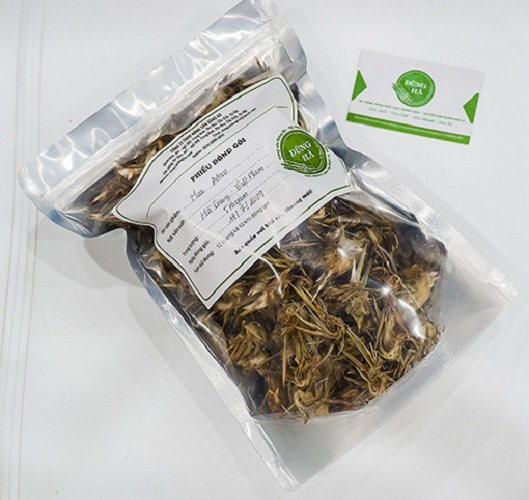 How much is the price of Da Lat dried artichoke flowers 1kg?
With the miraculous use of dried artichoke flowers, many people will wonder how much artichoke flowers cost? At Dung Ha dry food, the price of dried artichoke flowers is on average from 350,000 to 400,000 VND/kg.
Buy Da Lat dried artichoke flowers in Hanoi – a prestigious address for selling artichoke flowers
In order to exploit all the uses of artichoke flowers, the most important step you need to do first is to choose a place to supply artichoke flowers with origin, fresh flowers, and quality assurance. So where can we buy artichoke flowers to make sure? You can refer to Dung Ha dry food. Here is the place to provide fresh food, dry food, fresh clean, safe with clear origin. This is the place where you can buy the most prestigious and quality dried artichoke flowers in Hanoi.
In addition to selling artichoke flowers, Dung Ha Agricultural Products also sells other very healthy dry foods such as: shelled pine nuts, dried bitter melon, you can refer to more at: Dung Ha Dry Food
Hotline: 1900 986865
Address to buy dried artichoke flowers:
Address 1: No. 11 Kim Dong – Giap Bat Street – Hoang Mai District – Hanoi
Address 2: A11 – Alley 100 – Trung Kinh Street – Yen Hoa Ward – Cau Giay District – Hanoi
Address 3: No. 02/B Quarter 3 – Trung My Tay 13 Street – District 12 – Ho Chi Minh City