| | |
| --- | --- |
| Classify | Northwestern forest shiitake, dried naturally in the sun |
| Packing | Packing 1Kg |
| Origin | Vietnam |
| Expiry | More than 12 months from date of manufacture |
| Characteristic | Dai, fragrant, thick |
| Delivery | Nationwide Delivery |
Pictures of dried forest shiitake mushrooms at Dung Ha Dry Food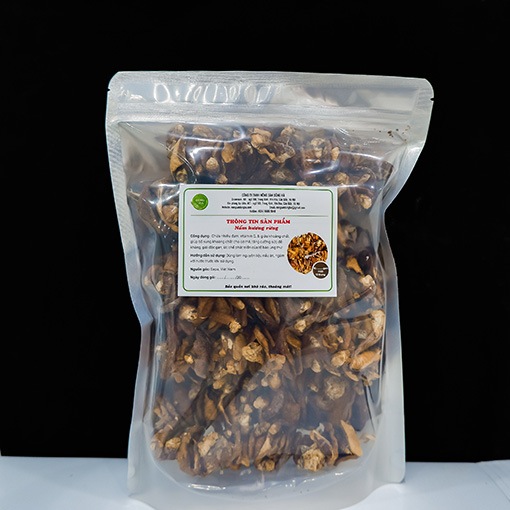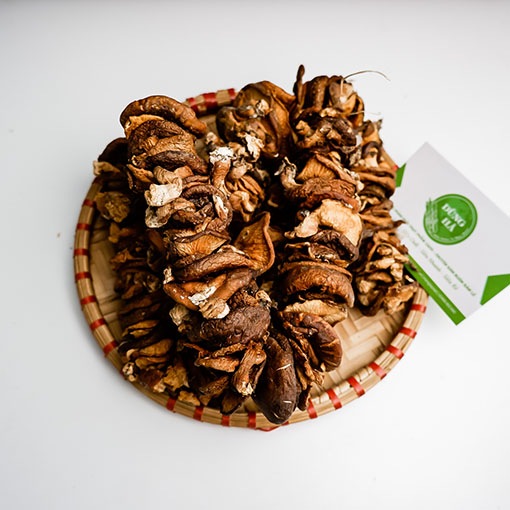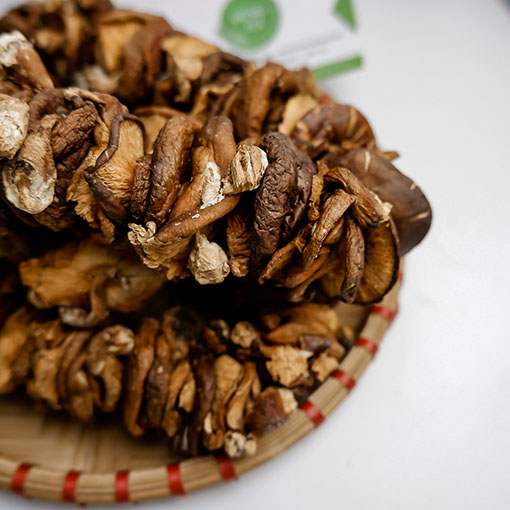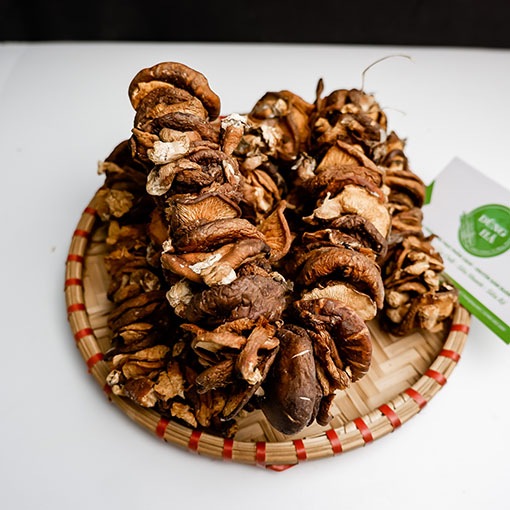 Information about wild shiitake mushrooms
Referring to the specialties in the Northwest, the first dish that everyone thinks of is wild shiitake. Northwestern forest shiitake mushrooms are used to prepare many delicious and nutritious dishes. The dishes made from dried forest shiitake mushrooms have a very specific aroma, which has contributed to the diversity of the culinary culture of the Vietnamese people.
Wild shiitake is also known as shiitake mushroom. This is a nutritious and healthy food. Wild shiitake mushrooms have an umbrella shape with a size of about 5-10 cm, the base of the mushroom is cylindrical and lighter in color than the top of the mushroom. Shiitake mushrooms originate from East Asia, including the Northwest region of Vietnam. Among the types of forest mushrooms in the Northwest, Sapa forest mushrooms are the most famous in our country.
Sapa forest mushrooms have a very attractive aroma. Anyone who has ever enjoyed the dishes made from wild shiitake mushrooms will always remember that characteristic flavor. Coming to Sapa, you will enjoy dishes made from fresh wild shiitake mushrooms. If you want to bring back forest shiitake as a gift, you should buy dried forest shiitake, because dried forest shiitake can be preserved for a long time and the special thing about dried forest shiitake is that even though they are dried, they are still retains the delicious taste not inferior to fresh wild shiitake mushrooms.
Proper processing of wild shiitake mushrooms
Dried forest shiitake contains a lot of nutrients, and dishes made from dried forest shiitake are also very nutritious. However, you need to process the dried wild shiitake mushrooms properly. So how do you use dried forest shiitake mushrooms properly to ensure nutrients and keep the original aroma of mushrooms?
Before using dried forest shiitake mushrooms to prepare dishes, you need to soak the dried forest shiitake mushrooms with water for 30 minutes to expand and soften when cooking, then cut the mushroom legs and wash them thoroughly. dry. Dried forest shiitake will be more nutritious if you know how to cook shiitake in combination with red meats. Some dishes made from dried shiitake mushrooms are both delicious and good for health such as: Chicken stewed with shiitake mushrooms, pork feet stewed with shiitake mushrooms, shiitake mushroom soup, fried shiitake mushrooms with meat, …
The secret to choosing standard and delicious dried forest shiitake mushrooms.
To choose good forest shiitake mushrooms, not everyone knows how to choose. Below, Dung Ha will reveal to you how to choose delicious dried forest mushrooms.
Delicious forest shiitake mushrooms have the following basic characteristics: small and thick body, shiny yellow color. The baffles under the mushroom caps are even and lined up seamlessly. Delicious dried wild shiitake mushrooms after soaking in water will be very tough and bloom evenly, the water soaked in mushrooms will have a golden color and a mild aroma.
Choose non-chemical forest shiitake: the way to identify non-chemical forest shiitake is also very simple. The first is that you must recognize the natural aroma of mushrooms, mushrooms with natural aromas will be mushrooms that do not contain chemicals.
To smell the mushroom clearly, you need to press the mushroom cap with your hand to release the mushroom aroma. The second feature is the color of the mushroom cap. Mushroom caps with a yellowish-white color will be mushrooms without chemicals. The third identifying feature is identification through the shape of the fungus. Mushrooms do not contain chemicals, the mushroom legs will be long and the mushroom caps will spread very wide.
Note when choosing dried forest shiitake mushrooms: You should not choose mushrooms with strange odors or mushrooms that have been damp. Because these are poor quality mushrooms, past the expiry date or chemically used when fresh, the shelf life is short. Choosing quality forest shiitake mushrooms is something you need to pay special attention to to avoid adverse health effects.
What is the current price of dried forest mushrooms?
Dried forest shiitake, a famous specialty of the land of Sapa, is a nutritious food that many Vietnamese housewives buy a lot. The selling price of dried forest shiitake mushrooms on the market today is ranging from 300,000 to 600,000 VND/kg. To buy delicious and quality dried forest shiitake mushrooms, you should go to stores that supply reputable quality agricultural products. That's what you should do to ensure food quality as well as ensure the health of your family.
Where to buy dried forest shiitake mushrooms in Hanoi – where to buy wild shiitake mushrooms?
Dung Ha dry food is one of the leading reputable dry food suppliers in Hanoi. Coming to Dung Ha, you will be able to buy delicious and chewy quality dried forest shiitake mushrooms, standard forest shiitake mushrooms with the flavor of Sapa forest mushrooms. In addition to dried forest shiitake, there are also other types of dry food such as: shiitake mushrooms, lonely garlic, dried radish, dried sour ears, dried dates, …
Besides, Dung Ha dry food also provides Ha Giang specialties, Northwest specialties,…
Refer to the list of dry goods available at Dung Ha Dry Food here: thucphamkho.vn/do-kho