| | |
| --- | --- |
| Classify | Dried plums |
| Packing | Packing 200g, 500g and 1Kg |
| Origin | Vietnam |
| Expiry | More than 12 months from date of manufacture |
| Delivery | Nationwide Delivery |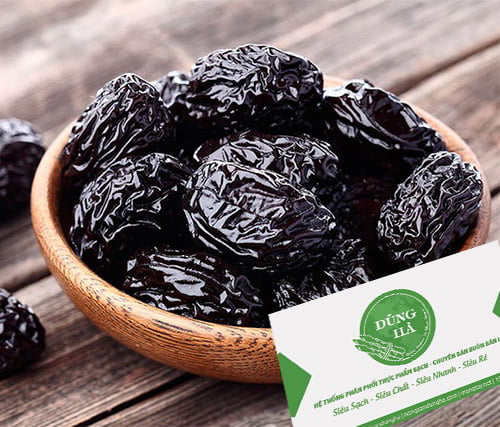 Information about dried plums at Dung Ha dry food:
Dried plums are actually dried plums, after being dried, their skin will be wrinkled and black. Dried but prunes have the same nutrient content as fresh plums. Dried plums are a favorite snack of many people because they have a sweet and sour taste, very easy to eat.
Not only is a snack chosen by many people, prunes also bring us many uses. So why do so many people choose prunes? What are the uses of prunes? then let's find out with Dung Ha right now!
Nutritional composition in prunes
In prunes contain a lot of nutrients, these nutrients give us a lot of great uses, let's find out what nutrients are in prunes! The nutritional composition of 28 grams of dried plums is as follows :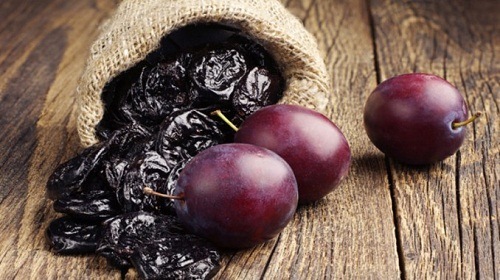 67 Calories
18 gr Carbs
2 gr Fiber
11 gr Sugar
4% RDI Vitamin A
21% RDI Vitamin K
3% RDI Vitamin B2
3% RDI Vitamin B3
3% RDI Vitamin B6
6% RDI Potassium
4% RDI Dong
4% RDI Manganese
3% RDI Magnesium
2% RDI Phosphorus
The benefits of dried plums bring
1. Constipation treatment
Prunes are used to treat constipation thanks to the fiber content in prunes. Fiber prevents constipation and makes digestion easier. In addition, in prunes also contains sorbitol, this is a substance that has a laxative effect.
2. Reduce inflammation
In prunes contain polyphenol antioxidants, with twice the content of other fruits. Polyphenols have anti-inflammatory, antiseptic, and cell-protective effects. This antioxidant activity also works to reduce arthritis, acute pneumonia, and reduce the risk of heart disease.
3. Lower blood sugar
Prunes are also recommended by nutritionists for patients who have lost control of their blood sugar thanks to their Carbs content. The fiber in prunes also helps lower blood sugar. Because prunes are a dried fruit, the amount of sugar in prunes is also less than that of fresh plums, so when you eat prunes, you will somewhat reduce the risk of diabetes.
4. Helps strengthen bones
According to some studies, it has been shown that prunes have great uses for the development of bones and joints. The nutrients in prunes have the effect of preventing the risk of osteoporosis. The nutrients that help protect bones and joints in prunes include Vitamin K, Magnesium, Phosphorus, Potassium,… These minerals have the effect of stimulating the hormones to develop bones and joints.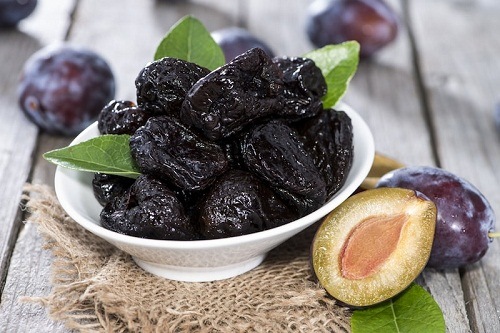 5. Beneficial for the heart
Eating plum regularly also helps the body protect the heart as well as protect health. In the composition of dried plums have the ability to lower blood pressure and reduce cholesterol in the body. These are two important factors that help the body prevent the risk of cardiovascular diseases.
6. Good for the eyes
Dried plums contain very high levels of vitamin A, so you should eat prunes regularly to protect your eyes and help your eyes become brighter. For patients with night blindness, blurred vision after birth, macular degeneration, cataracts, they should use prunes.
What is the current selling price of prunes?
Currently, Dung Ha Dried Food is selling quality prunes and the price of dried plums in Dung Ha is 180,000 VND/kg.
Where to buy quality dried plums in Hanoi?
Dried plums are a favorite snack item for many people. However, you need to pay attention to choose to buy quality dried plums, without preservatives to ensure the health of yourself and your family. In order to meet the needs of customers, now Dung Ha Dry Food is selling quality prunes, we are always committed to product quality.
Contact the hotline of Dung Ha Co., Ltd. to order delicious dried plums. In addition to prunes, we also offer users a number of other dried products such as: cross frame, dried dates, dried apricots, dried persimmons, dried dandelions.