Dried Snow Mushroom Information Sheet:
| | |
| --- | --- |
| Classify | Dried Snow Mushrooms |
| Packing | Packing according to customer requirements (from 200gr – or more) |
| Origin | Vietnam |
| Expiry | More than 12 months from date of manufacture |
| Element | 100% naturally grown snow mushrooms |
| Delivery | Nationwide Delivery |
Pictures of Dried Snow Mushrooms at Dung Ha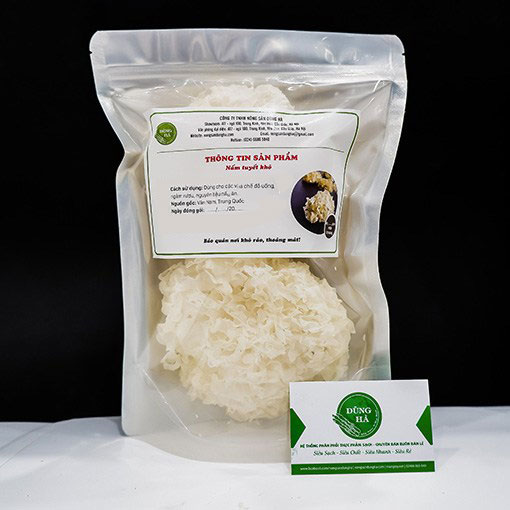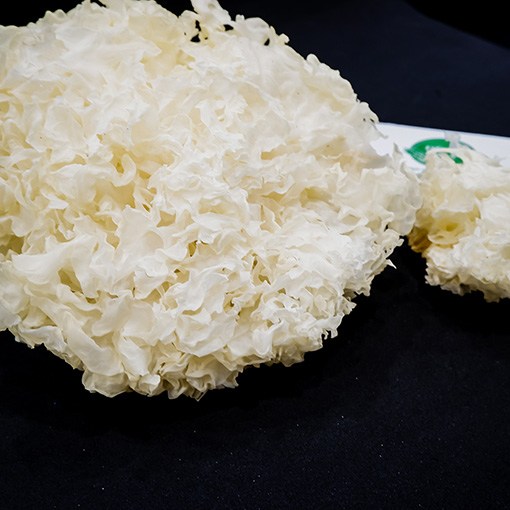 Dried snow fungus,  also known as silver ear, white ear, white wood ear, snow ear, white wood ear … This is a type of food that is used a lot and favored in all Asian dishes, especially in Asian cuisine. Vietnam and China. In addition to being used for cooking, dried snow mushrooms also have many great uses for the health of users. Therefore, it is widely sought and used by consumers. So what are the characteristics of snow mushrooms? Let's find out together!
Mushrooms after being harvested and not dried will have a clear white color, looking very similar to jelly (some people at first look very similar to oats). Mushroom meat is very tender. The average diameter of each mushroom ear will fall between 5cm and 10cm. For mushrooms after being dried, the mushrooms will have a light yellow color. However, currently on the market there is a type of sulfur-burning snow fungus. Initially, the mushroom is also white, but after a while, the color will turn yellow and then the end will be red. The type of eyebrow has the characteristic that when soaked with water, it will not expand, when cooked, it is difficult to be soft, not delicious.
Don't miss : Standard quality dried wood ear, packed in 1 kg
How to properly prepare snow mushrooms
For fresh snow mushrooms:
Fresh snow mushrooms are quite soft, filamentous, so when washing with water, if you don't act quickly, it will be easy to lose the substance and sweetness in the mushrooms. Therefore, you need to pay attention to this when preparing mushrooms. In addition, after washing the mushrooms, remember to quickly absorb the water with a paper towel.
Soak mushrooms in warm water (maybe meat broth or wine). Soak for at least 30 minutes, then decanter, then rinse and blot with paper towels.
For the dried snow fungus:
Before preparing dishes with dried snow mushrooms , we must soak or bare the mushrooms with hot water. If bare, the time will be faster, if soaked, will soak for about 30-45 minutes, when the mushrooms are soft, then drain off the water. After that, still have to dry the fungus with a paper towel. 
How to make, cook, and cook delicious dishes with dried snow mushrooms 
Snow mushroom chicken soup
Ingredients for preparing Snow Mushroom Chicken Soup:
 600g chicken.
2 snowflakes.
1 liter of water. 
4 chicken eggs.
Seasoning seasoning: sugar, pepper, salt, seasoning, tapioca…
How to make Snow Mushroom Chicken Soup:
Step 1 : Dried snow mushrooms, after buying, are washed, then soaked in hot water until the mushrooms are soft and fully expanded, then take them out. Then cut off the unused root. 
Step 2 : The chicken is also washed and then lifted the pot to boil. Then let it cool and shred.
Step 3 : Boil the chicken broth just now, mix the tapioca flour with water and pour it into the pot of broth, until it thickens, add the shredded chicken. Then add seasoning to taste.
Step 4 : Break the eggs into a bowl, stir well, pour into the soup, then stir well. Finally, add the snow mushrooms and bring to a boil. After the soup pot is sticky, we turn down the heat, continue to cook for another 2-3 minutes and then turn off the stove.
Step 5 : Ladle the soup into a bowl, sprinkle some more pepper to increase the attractiveness of the dish
So together, we have completed a delicious snow mushroom chicken soup for the family on weekends.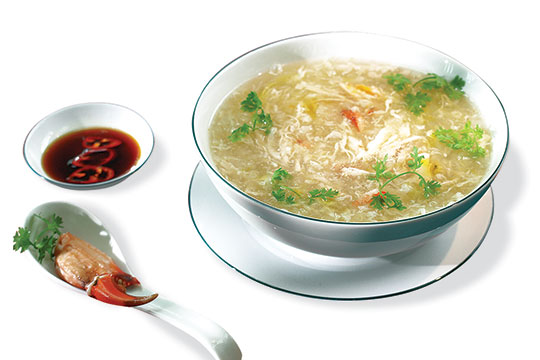 Snow mushroom jujube lotus seed tea
Ingredients for the preparation of brown lotus seed tea, jujube and snow mushrooms:
Dried Snow Mushroom 1 flower
Rock sugar 1 small bowl
Lotus seeds 1 small bowl
Jujube 1 handful
1 year humiliation
1 handful of goji jigsaw 
How to make snow mushroom jujube lotus seed tea:
Step 1: After buying, wash the snow mushrooms, then soak in warm water for about 30-45 minutes when the mushrooms are soft. Cut off the unused root.
Step 2: Next, separate the mushrooms into small filaments, bring to a boil in a pot, then reduce the heat to simmer for another 20-30 minutes.
Step 3: Put the lotus seeds into the same stew pot (note, if the lotus seeds are fresh, then wash them directly, while the dried lotus seeds must be soaked first to soften the lotus seeds, cooking will be faster).
Step 4: Next, you pour the jujube in and boil for another 2 minutes. Then pour in rock sugar depending on the taste of each person that we give more or less. The last step is to add goji berries and cook for about 2-3 minutes more.
That's it, the snow-covered jujube lotus seed tea is done , friends. This tea can be served cold or hot, depending on your preference. In winter, we can enjoy it hot, and in summer, we can put it in the refrigerator for a few hours to eat better. Or you can use some small ice cubes, it feels great. Be sure to try making this dish for the whole family to enjoy.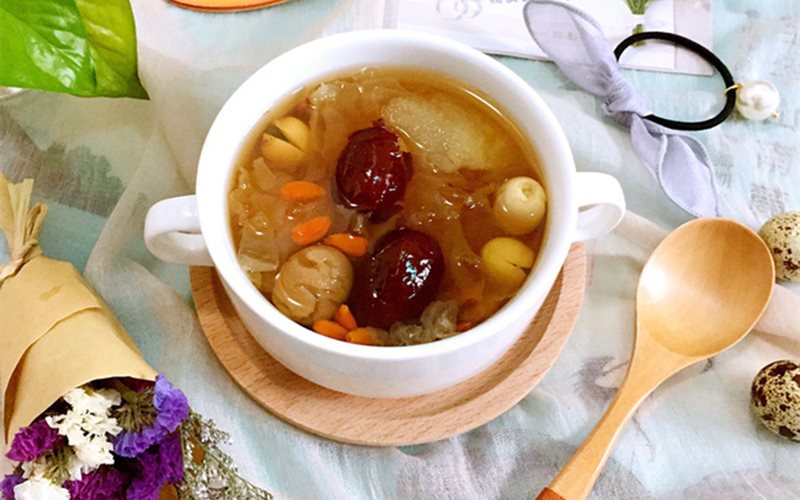 What is the current selling price of dried snow mushrooms? How much per kilogram?
Currently, on the market, there are many shops selling dried snow mushrooms with different prices. However, the price of dried snow mushrooms will range from 280,000 to 400,000 VND/kg. Depending on the area, each time will have different prices for snow .
At Dung Ha Agricultural Products, we are selling dried snow mushrooms for 360,000 VND/kg. We are completely confident to bring to your kitchen the best quality products at an affordable price.
Where to buy dried snow mushrooms in Hanoi?
Due to the needs of consumers, dried snow mushrooms are sold in many places. However, to choose to buy dried snow mushrooms with quality, safety and cleanliness, choosing to buy at reputable establishments is something that everyone needs to pay attention to. We – Dung Ha Agricultural Products are committed to being one of the leading brands in supplying quality dried snow mushrooms in Hanoi as well as nationwide. Make sure not to use any chemicals or stimulants that are not on the list of the Ministry of Health. 
So you are looking to buy snow mushrooms ? 
Quickly visit Dung Ha Agricultural Store or visit the website for enthusiastic support and advice from staff.
In addition to selling dried snow mushrooms , we also sell a number of other dry products such as: brown rice , macadamia fruit ,  forest shiitake mushrooms , dried wood ear mushrooms, shiitake mushrooms , bitter melon…
Hotline : 1900 986865
Website: https://thucphamkho.vn/