Information about black pepper in Dung Ha:
| | |
| --- | --- |
| Classify | Grade 1 black pepper (seasoning for delicious dishes) |
| Origin | Vietnam |
| Pack | Pack 300gr – Pack 1kg |
| Element | 100% Black pepper grade 1: Spicy, fragrant, safe |
| Expiry | 12 months from date of manufacture |
| Delivery | Support shipping nationwide |
Image of black pepper at Dung Ha dry food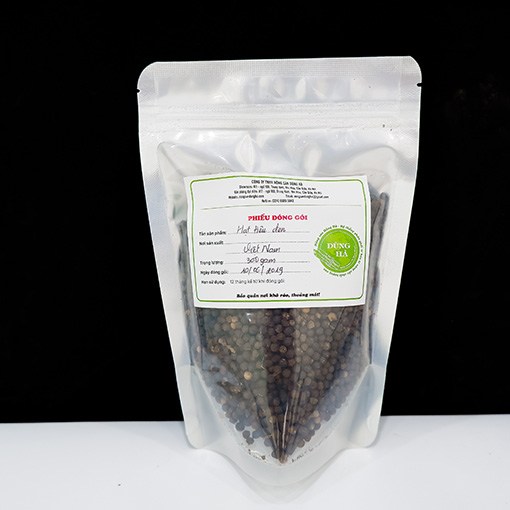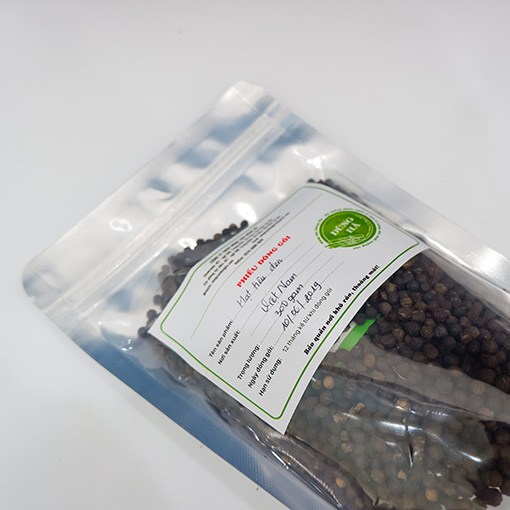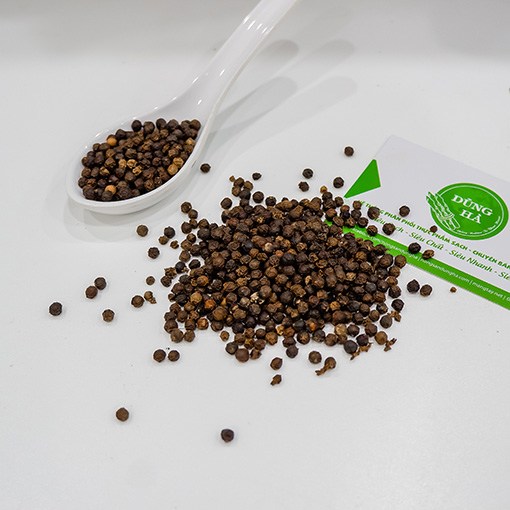 What is black pepper?
Black pepper is also known as black pepper. This plant was first grown in India, then spread and widely grown in tropical countries such as: Indonesia, Vietnam, Thailand, Malaysia… In Vietnam, black pepper is grown in different regions. Southeast, Quang Tri, Central Highlands. Currently, our country is honored to be the world leader in the production and export of black pepper.
Black pepper is an annual crop that produces seeds. This is a common spice, indispensable in most dishes. It creates an attractive, attractive aroma that we cannot refuse. In addition to being used as a spice in dishes, black pepper is also known to be an extremely beneficial remedy for health.
There are many different types of pepper depending on the time of picking and preliminary processing such as white pepper, green pepper, black or red pepper. But the most used is still skull and black pepper.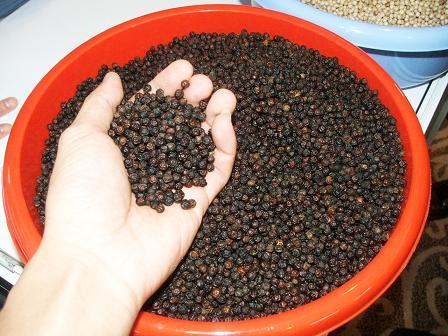 Don't miss: Phu Quoc Skull Pepper Specialty
How to process, roast and dry fragrant black pepper in the right way
Why roast pepper?
In order for black pepper to be preserved for a long time and retain its characteristic aroma – pungent nose, the most effective and easy way to do it is to roast the pepper. Pepper after roasting, we grind it, this way will help the pepper taste more fragrant, using in combination in dishes will increase the attractiveness and richness.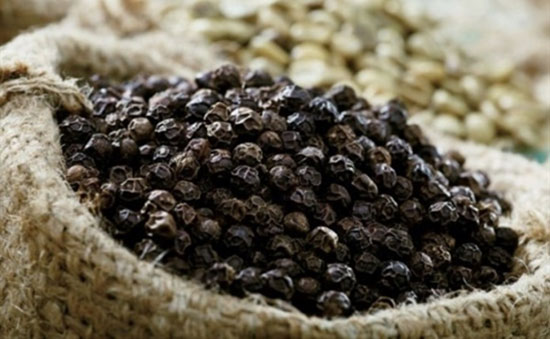 How to roast black pepper:
Before roasting, we need to have a careful selection, only choosing black pepper that has not been damaged, is still whole, has no musty or white smell. Doing this after roasting the pepper will be more fragrant and evenly colored. The way to roast is very simple, we just need to put the pan on and roast it for about 5-10 minutes until it has a strong aroma. After roasting, it needs to be cooled, after 1 or 2 hours, we can put it in a jar or close a bag so that the pepper can be preserved longer.
If stored properly, black pepper will keep for a long time. However, pepper will easily lose its aroma and spoil if it is not packed and stored carefully. There are many delicious, attractive and nutritious dishes made from pepper: salmon with pepper sauce, chicken feet with pepper sauce, pork with pepper sauce…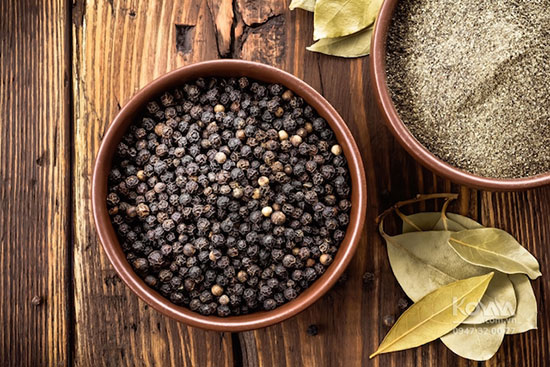 One dish that is not mentioned when it comes to it is: Beef with black pepper sauce. Let's discover how to cook beef with pepper sauce!
Beef with black pepper sauce:
Ingredients for preparing beef with black pepper sauce:
300 grams of beef.
Black pepper
1 onion.
2 bell peppers: yellow and red.
Garlic, ginger.
Seasoning seasoning: seasoning seeds, monosodium glutamate, sugar, oyster sauce…
How to make beef with black pepper sauce:
Step 1: Buy beef, wash it, cut it thinly, pound it with a pestle to make the meat softer. Sprinkle flour, tapioca starch on the meat and mix well for 10 minutes for the meat to infuse. Note, we can add a little cooking oil to keep the moisture for the beef.
Step 2: Thinly sliced onions, similar to bell peppers also cut into long pieces, garlic peeled and chopped, ginger is cut into long strands.
Step 3: Lift the oil pan on the stove, wait when the oil is hot, add the beef, fry for about 5 minutes for the beef to come out. Note, you have to turn over quickly because beef is very quick to cook and tough.
Step 4: Use that oil pan, add half of ginger, half of garlic, stir well, fry until fragrant. Then add the onions and bell peppers and stir well. Season to taste and then transfer to a plate.
Step 5: Using another pan, saute the remaining garlic and ginger. Then add beef, black pepper, oyster sauce, soy sauce, not white, cook on the stove for about 3 minutes, then turn off the heat.
Step 6; Remove to a plate and enjoy.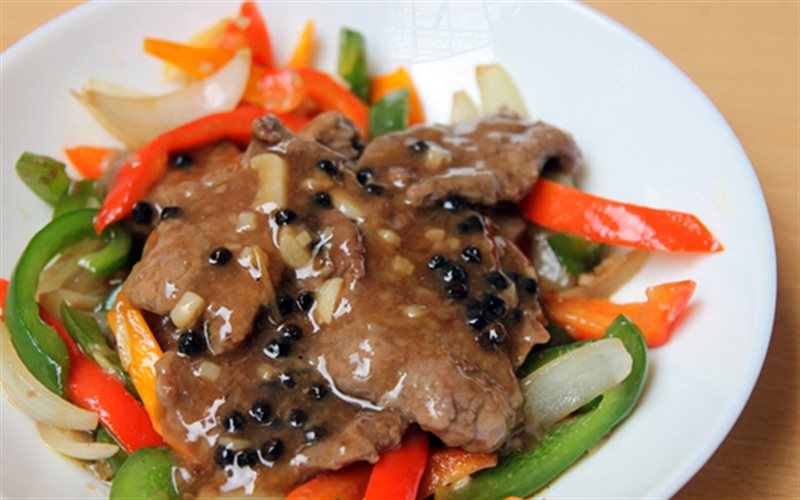 Thus, together, we have completed a delicious beef with black pepper sauce. Hope you have a delicious meal with this dish!
How much is the price of black pepper on the market today?
Currently, on the market, there are many shops and establishments selling black pepper in Dak Lak, so there will be different prices depending on each store and each region. However, black pepper will range from 160,000 – 200,000/kg.
At Dung Ha dry food, the price of black pepper is 160,000/kg.
We are committed to being one of the brands that provide quality products at affordable prices.
Buy and sell quality black pepper in Hanoi:
Do you want the dishes in your family's daily meals to be more attractive?
Are you looking to buy quality standard black pepper?
Come to us, Dung Ha dry food. We are proud to be one of the leading dry food suppliers in the country, receiving the support and love of millions of housewives. Dung Ha commits to say no to chemicals, stimulants, growth drugs not on the list of the Ministry of Health that are harmful to consumers' health. Always bring customers the best products, the best experience with the enthusiastic advice of the staff.
In addition to selling black pepper, we also supply a number of other dry foods such as: shiitake mushrooms, dried dandelion flowers, dried cashews, doi seeds, dried apricots
Dung Ha wishes to walk with you on the path of the future.
Hotline: 1900 986865
Website: thucphamkho.vn