Information of dried apricots at Dung Ha Dried Food:
| | |
| --- | --- |
| Classify | Dried apricots |
| Packing | Packing 1kg |
| Origin | Vietnam |
| Expiry | More than 12 months from date of manufacture |
| Element | 100% apricots selected, then dried |
| User manual | Use as a snack |
| Storage instructions | Place in a cool, closed place, avoid direct sunlight as well as a lot of exposure to air |
| Product price | Quality dried apricots price: 200,000 VND/kg |
| Delivery | Nationwide Delivery |
Photos of dried apricots at Dung Ha Dried Food: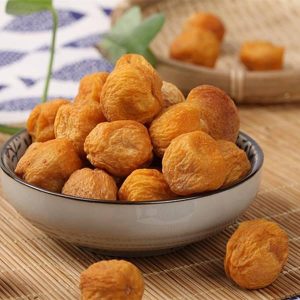 What is a apricot ?
Apricot is a familiar fruit, familiar in daily life. Apricots contain high levels of nutrients and vitamins. Apricots have many different uses: cooking, medicine, beauty. Not only that, apricots are also used as a very good cooling drink in the summer. Especially, on hot days, when you are uncomfortable, you can immediately add a cup of apricot juice to improve this situation.
Dried apricots are a product that is processed from fresh apricots to ensure a longer shelf life while keeping the nutrients inside.
The effect of dried apricots
Dried apricots are similar to fresh apricots, bringing many benefits to human health. In the following article, we will learn more about it!
Dried apricots treat constipation
It has been specifically shown that apricots contain a lot of fiber. Therefore, eating apricots is very good for the digestive tract. Helps the digestive system work more efficiently. So, for people who are suffering from constipation, dried apricots are a food that should be added to the meal, can replace without taking some drugs.
Dried apricots with vitamin A
Vitamin A is especially necessary for the development of the human body. Especially for the eyes, vitamin A has the effect of helping to brighten the eyes and reduce myopia. In addition, vitamin A also works to strengthen the immune system, resistance, and prevent free radicals. In addition, in dried apricots, there is a substance called beta-carotene that helps prevent some diseases related to the cornea.
Dried apricots are good for the cardiovascular system
Dried apricots contain a lot of fiber, which is especially good for increasing good cholesterol and reducing bad cholesterol for the body, helping the heart develop in a healthy way. In addition, in apricots also contains potassium to help the organs function normally, always in balance.
Dried apricots help bone and joint development
The manganese, calcium, copper, and phosphorus in apricots help the bone and joint system to develop in a strong and supple way. Eating dried apricots regularly will help keep muscles and bones healthy, preventing the risk of osteoporosis.
Dried apricots are good for the skin
Dried apricots contain high levels of vitamin C and vitamin A to help your skin stay young, bright, and shiny. At the same time, eating apricots helps prevent the aging process, oxygenation of the skin. Helps to keep skin regenerated, young and healthy.
Apricots prevent the risk of cancer
Carotenoids and antioxidants help prevent cancer-causing agents. These two substances are components found in apricots. Therefore, to prevent the risk of some cancers, you can add dried apricots to your daily snack.
Dried apricots lose weight
According to research, an average of 100 grams of dried apricots has only about 45 calories. Therefore, it is especially suitable for those who are in a weight loss regime. The amount of fiber in apricots will make you feel full for a long time, limiting appetite, helping to lose weight.
Dried apricot juice
Dried apricots make juice with a very good heat-clearing effect. In the summer, when the body is tired, you can immediately add a cup of dried apricot juice to regain strength and balance the body. In addition, dried apricot juice also has an effective anti-cold effect.
Dried Apricots Improve Metabolism
Apricots contain potassium and sodium, which help maintain a stable fluid in the body, distribute energy to all organs in a regular and adequate manner, and avoid fatigue. lack of energy. In addition, it also stimulates metabolism with the environment, forming strong muscles.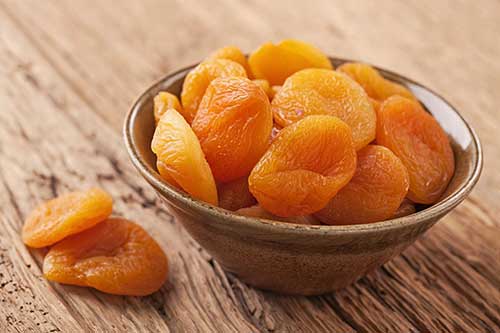 Dried apricots cure fever
Eating dried apricots has the effect of reducing fever and treating fever effectively. A cup of apricot juice is considered a nutritious dose for people who are suffering from fever or illness, which has the effect of replenishing nutrients and vitamins and the body.
How to use dried apricots
Here are some remedies from dried apricots that you can refer to and use.
Remedies from dried apricots help clean the lungs, treat cough:
The method is very simple, you just need to use dried apricots and then put them on the stove with a little water to get a similar paste. Pour into a glass storage jar. Mix a little apricot with honey to drink every night, you will see a noticeable effect.
Or you can also combine dried apricots with some ingredients in the following dosages: 12g dried apricots, 4g licorice, 6g dormitories, 8g chlorophyll, 12g semi-summer, 12g a delivery, 12g Khuong Sinh , 12g almonds. Blend all of the above with water and drink it. Persist in use for 30 days.
Remedies from dried apricots to treat dry mouth and heat in the mouth
Ingredients to prepare:  12g dried apricots, 12g buckwheat, 12g sand base, 12g astragalus, 12g natural flower pollen, 4g licorice.
Method:  Mash all the ingredients into a powder, then make each about 8g each. Take 2 capsules twice a day, morning and evening.
Remedies from dried apricots treat dysentery and long-term fluid retention
Ingredients to prepare:  12g dried apricots, 12g nutmeg, 12g ginseng, 12g reishi, 12g death, 12g commercial honey, 12g reishi, 6g poppy, 6g myrrh, 4g licorice.
Method: Grind all ingredients into a powder, mix well. Use 8g per day, 2 times a day.
Remedies from dried apricots treat worms from the mouth and nose
Materials to prepare: water 300ml; 5 dried apricots, sugar.
How to make:  Just put water, dried apricots, sugar in a pot on the stove and boil for about 15 minutes. Used to drink in the evening.
What is the current price of dried apricots? How much per kilogram?
Dried apricots are now sold quite a lot on the market from retail stores, agents or supermarkets, we can all buy them. However, you still have to consider carefully before choosing to buy to choose the most delicious and quality products.
The price of dried apricots is currently ranging from 100,000 to 130,000 VND/500 grams.
At Dung Ha dry food store, you can buy dried apricots for 100,000 VND/500 grams; 200,000 VND / 1 kg.
Where to buy dried apricots in Hanoi?
Dried apricots are not too strange on the market, but you should still be careful in choosing to buy. Dung Ha dry food is a prestigious address that you can trust to buy dried apricots. Commitment to high quality, ensuring food safety and hygiene in all stages of processing. All the items that we deal in are thoroughly tested for food quality before being sold.
In addition to selling dried apricots, we also sell a number of other dried products such as: hung longan, raisins, dried dandelion, dried dates, price of cassava seeds.
Dung Ha hopes to always serve customers with all her heart. Any questions about dried apricots as well as prices you can contact directly on the line:
Hotline: 1900986865 
Website: https://thucphamkho.vn/