Information about dry bitter melon (bitter melon) in Dung Ha
| | |
| --- | --- |
| Classify | Dried bitter melon (bitter melon) Vietnamese standard product, special type |
| Pack | 500g/pack, 1kg/pack (according to customer's request) |
| Element | 100% fresh bitter melon sliced and dried |
| Expiry | More than 9 months from date of manufacture |
| Source | Ha Giang |
| Delivery | Support shipping nationwide |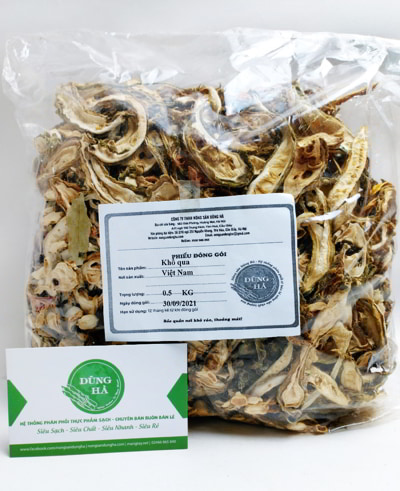 What is dry bitter melon (bitter melon)?
Bitter gourd is also known as bitter melon, cycad, … It belongs to the family of gourds, the scientific name is Momordica charantia L. Bitter melon is a climbing plant, belonging to a small plant. Bitter gourd stems are small, 3-6mm in diameter. Leaves are green, averaging 5-10 cm long, averaging 4-9 cm wide, leaf blades covered with small hairs.
Bitter gourd is a climbing plant with pale yellow flowers that grow under the leaf axils. When growing, the fruit is light green, with a rough outer skin. Bitter melon fruit when ripe will turn pink yellow, with light green seeds. Bitter melon (bitter melon) is native to Asia, it is loved by Vietnamese people because of its effects.
What disease does bitter melon cure? Remedies from bitter melon.
Bitter gourd contains a lot of minerals and nutrients that are good for the body. In addition, bitter melon is also loved by the ancients to use bitter melon to cure diseases. The remedies from bitter melon are safe, simple and effective at home to treat diseases such as:
Treatment of eye pain, boils, heat trouble causing fever and dry mouth, hypertension, atherosclerosis, heat trouble, sweating and loss of strength, gas, dysentery, bloody stools, gas taste pain, fever, hypertension and dizziness, fatty blood, dysentery, colds and flu, diarrhea in children, diabetes with retinal complications, cough and body heat, detoxification and heat elimination.

Treat pimples, heat rash


Bitter gourd tea helps to quench thirst and cool down
To treat the above diseases, we just need to use dried bitter melon and bring it to drink, using it regularly for a while, your disease will improve markedly. With skin diseases, we can boil bitter melon as water for bathing.
How to make bitter melon tea (bitter melon)
Dried bitter melon for a moderate amount of green tea, steeped in a teapot with boiling water from 20-35 can be used. Bitter gourd tea is very good in refreshment, detoxification, and body heat.
In addition to bitter melon tea, you can refer to other types of cooling tea such as: Nhat Bach flower tea, oolong tea, chrysanthemum tea, …
How to make dry bitter melon juice
Take a sufficient amount of dried bitter melon and boil it with 250ml of water for about 10 minutes. You can use this water to drink or take a bath. Bitter melon water helps clear heat, detoxify, brighten eyes, very good for people with liver diseases, red eyes. In addition, it also helps to treat acne, boils, and heat rash on the skin.
Fresh bitter melon can also process many delicious dishes such as bitter melon stuffed with meat, bitter melon soup, fried bitter melon with eggs, … This is a rustic dish that is loved by many Vietnamese people because of its delicious and nutritious taste. its nourishment.
Cases to avoid when using bitter melon
Bitter melon is a very good food that is recommended to use, but besides that, there are still cases where it is not recommended to use bitter melon such as:
People with stomach problems
Diarrhea, cold stomach,…
Allergy to ingredients containing vicine
Pregnant and lactating women
Women with headaches, chronic headaches
People with low blood pressure.
How much is the current price of dried bitter melon?
Buy bitter melon at locations such as: retail stores, supermarkets, clean food stores, … If you want to buy dried bitter melon you can go to stores specializing in dry goods, clean food stores, ….Currently, the price of dried bitter melon is ranging from 150,000-200,000 VND/kg.
Where to buy dried bitter melon – where to buy dried bitter melon?
Today, the demand for using bitter melon as a safe and effective remedy is increasing day by day. Bitter gourd is more and more popularly used, taking advantage of the increasing demand, many profit-hungry businesses have mixed and sold bitter melon of unknown origin, prestige, and quality, making buyers bewildered.
If you want to buy reputable, quality bitter melon, you can refer to Dry Food in Dung Ha, here specializing in providing dry food products with clear origin, 100% quality assurance, including If you find out that the goods are of poor quality, you should exchange and return them first.
See also: dried artichoke flowers, dried flowers
Hotline: 1900 986865
Or you can visit the addresses of Dung Ha Agricultural Products here:
Branch 1: No. 11 Kim Dong – Giap Bat Street – Hoang Mai District – Hanoi
Branch 2: A11 – Alley 100 – Trung Kinh Street – Yen Hoa Ward – Cau Giay District – Hanoi
Branch 3: No. 02/B Quarter 3 – Trung My Tay 13 Street – District 12 – Ho Chi Minh City