Information about Huong Nhu at Dung Ha dry food:
| | |
| --- | --- |
| Classify | Dried purple Huong Nhu |
| Packing | Packed 500g and 1kg |
| Origin | Localities across the country |
| Expiry | More than 12 months from the date of packing |
| User manual | Used as a daily drink Used as a decoction |
| Storage instructions | Place in a cool, closed place, avoid direct sunlight as well as a lot of exposure to air |
| Product price | 150,000 VND/kg |
| Delivery | Nationwide Delivery |
Photos of Huong Nhu at Dung Ha dry food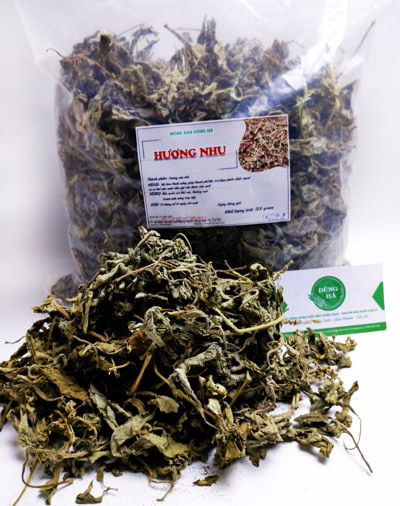 What is Huong Nhu?
Huong Nhu is also known as red é, purple é. According to science, people call basil as Ocimum sanctum L. This is a species of plant in the mint family Lamiaceae. Basil plants tend to grow wild or are grown for food. Basil leaves can be used as a vegetable. In addition, thyme is the name that people most often refer to as a medicine to treat diseases.
All parts such as: basil leaves, basil flowers, branches, basil stems have effective treatment effects. By the time of flowering, the farmers will harvest and cut into small pieces and then dry them to form dried basil.
The aroma of medicinal basil has a very characteristic, pleasant aroma. That is also the reason that many people use basil to wash their hair. So what is the effect of incense? In the framework of the article below, we will learn about the effects of basil.
What is the effect of incense?
Since ancient times in medicine, people have studied and shown that basil has a slightly temperate, non-toxic taste. Using basil has the effect of dissolving toxins. In the past, some ancient books mentioned incense belonging to metal and water. Therefore, the use of basil helps the body and blood to always be regulated.
Not only that, basil has the effect of eliminating heat troubles, clearing waste gas, treating depression, sun sickness.
In addition, basil is also beneficial for the digestive system, diuretic, treatment of orange cheeks, lower gas, and emphysema. For those who often suffer from abdominal pain, cholera, can use basil as an effective remedy. For those who unfortunately bleed, cut their hands and feet, you can use basil leaves to stop bleeding, treat wounds to heal quickly.
Besides, we must mention the effect of basil on hair: basil leaves treat hair loss, so people often use basil leaves to wash their hair. In addition to treating hair loss, it also works to help smooth, shiny hair, create a natural fragrance for the hair. Thus, you have been able to answer the question: "What effect does basil have on hair?"
How to use basil
Basil leaves reduce fever, relieve colds and colds
Method 1: you prepare the following ingredients: basil 500gr, white beans 200gr, post sketch 200gr. All the ingredients are golden, then wait to cool down and grind to a fine powder. Divide evenly into several doses, each use about 8-10g. Drink 2 times a day after meals. Just keep using 2-3 days, the condition will improve.
Method 2: dried basil 100g, then grind it finely and drink it with boiling water every day. Drink regularly 2 times a day, 8g each time.
Drinking basil will stimulate sweating, help reduce fever, relieve colds. You can combine both taking medicine and steaming to make the disease heal faster. The types of leaves that you can combine with: lemongrass leaves, grapefruit leaves, wormwood, eucalyptus, ginger leaves, bamboo leaves, basil leaves, perilla, apple sticks. Each type only needs to use 15g, wash, boil and steam the body.
Put on the stove to boil for 5 minutes, then use a piece of cloth or banana leaf to cover the pot, then cover the pot and cook under low heat for about a minute and then turn off the heat. This water can be used for body steaming or bathing.
Frankincense for headache, fever
Method: use a mortar to crush the basil, then add warm water, stir well and squeeze out the juice with a towel. The residue you use to apply to places on the body such as: temples, head, forehead to relieve headaches, fever. The portion of water used for drinking. If you sweat too much, you can combine basil with fresh tapioca puree, filter the residue and take the water to drink.
Frankincense for hair loss, hair growth
Method: prepare the ingredients: basil, grapefruit leaves, locust. The dosage of each type is 10g. Burn the herbs on the brazier. Then bring to a boil with 1 liter of water. Wash your hair with basil leaves about 3 times a week, you will quickly own a long, smooth, shiny hair.
How much is the price of dried basil per kg?
Currently, dried basil is more and more popular and used by many people. Therefore, there are many addresses and shops selling dried basil. And depending on the location, the price of dried basil will have a certain difference. Normally, the price of dried basil usually ranges from 150,000 to 180,000 VND/kg.
At Dung Ha dry food store we are selling basil at the price of 75,000 VND/500gr, equivalent to 150,000 VND/kg. Committed to ensuring product quality No. 1.
Where do you sell quality incense in Hanoi and Ho Chi Minh?
You are wondering, choosing a place to sell safe quality dried basil in Hanoi and Ho Chi Minh. To ensure the safety and health of users, you should buy basil at qualified stores that are highly appreciated by consumers. Avoid buying fake goods, imitation goods, poor quality goods.
So why hesitate any longer without visiting Dung Ha dry food to be able to choose the most secure product in terms of both price and quality.
In addition to selling dried basil, you are also free to choose to buy dry products such as: prickly pear, passion fruit, dried mint, …
If you have any questions, please contact the hotline for advice:
Hotline: 1900 986865
Or you can visit Dung Ha Agricultural Products facilities here:
Store 1: No. 11 Kim Dong – Giap Bat Street – Hoang Mai District – Hanoi
Store 2: A11 – Alley 100 – Trung Kinh Street – Yen Hoa Ward – Cau Giay District – Hanoi
Store 3: No. 02/B Quarter 3 – Trung My Tay Street 13 – District 12 – Ho Chi Minh City
Website: https://thucphamkho.vn/