Product information Dried cloves:
| | |
| --- | --- |
| Classify | Dried cloves |
| Packing | Canned 1kg |
| Origin | Vietnam |
| Expiry | More than 12 months from date of manufacture |
| Element | 100% dried cloves |
| Delivery | Nationwide Delivery |
Photos of dried cloves at Dung Ha dry food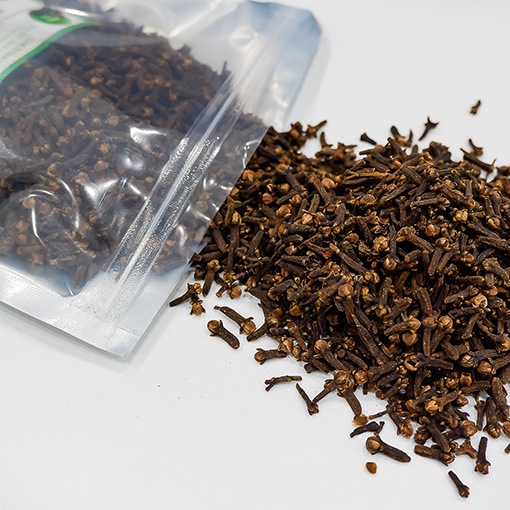 1. What is cloves?
Clove is a tree of the Kim Nuong Peach family about 15-20m high, growing wild in the forest but today it is bred, planted to harvest wood and take flowers as medicine, used as a cooking spice. Clove flowers when dried look like nails and have a very fragrant, very characteristic scent, so they are called Cloves.
Dried cloves are used quite popularly in culinary cultures in many places, in addition to being used in medicine, as a very good medicinal ingredient.
2. Discover some remedies from cloves
What is the effect of cloves in medicine, let's go to find out some remedies from cloves that are especially effective.
Treatment of mouth ulcers: Dried cloves are ground into a fine powder, then soaked in boiling water to cool for about 4 hours, using a cotton swab dipped in a solution of soaked cloves to apply to the ulcer.
Cloves Treatment of toothache: Crush cloves into a powder with a little mothball, add honey to mix well, store in a glass jar and use it for daily use.
Treatment of joint diseases: Put cloves and camphor in 90 degree alcohol soaked for 1 week, then filter the residue to get water to soak and massage into painful joints daily, twice a day.
Treatment of bad breath, sneezing, runny nose, sinusitis: Use dried cloves wrapped in cotton, sometimes inserted into the nose to inhale. Just combine clove powder mixed with a little salt to suck it, it will relieve cough effectively
Treatment of underarm odor:   Combination of Clove, single rose and plaster. Grind it into a fine powder and mix well. Apply a little powder daily to the armpits continuously for 1 week to see noticeable results.
In addition, cloves also support the treatment of some diseases of the digestive tract, respiratory tract, …
How to choose and store cloves properly
– Depending on the needs, we can choose dried cloves or powdered cloves, but to be assured of the nutritional value as well as the quality of the product, it is recommended that you buy dried cloves, then you can make your own. Powdered very easily, and the storage time will be longer.
– Dried clove buds can be stored well for about 1 year, while powdered cloves have a shorter shelf life of only about 6 months.
– Store in a glass jar, in a cool, dry place, away from direct light.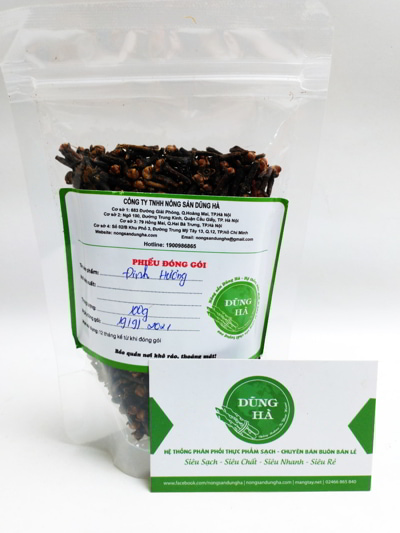 What is the current price of dried cloves?
The price of dried cloves on the market today ranges from 300,000 VND to 400,000 VND / kg, depending on the supplier as well as the store. Prices also change depending on the time of year. However, customers should learn about reputable stores and suppliers to buy quality dried cloves as well as the best price.
Currently, Dung Ha Dry Food is selling dried cloves for 385,000 VND / 1 kg. Dried cloves products at the store are guaranteed of the best quality and the best price.
Where to buy dried cloves in Hanoi – Address to sell cloves
Due to the large supply of cloves, there are many products of unknown origin on the market today, as well as the quality of cloves is not guaranteed. The above factors, Dung Ha dry food is always achieved, is always guaranteed not only in dried clove products but also in all other dry products. So you can buy with confidence in our store.
If you want to buy dried cloves in Hanoi, you can go directly to 2 stores at: 683 Giai Phong and A11 – Alley 100 Trung Kinh – Hanoi to see samples and buy directly. Or in other provinces, you can contact Hotline: 1900986865 or website: thucphamkho.vn to purchase online. We will ship the goods anywhere to the customer's hand as quickly as possible.
You can refer to some other dry goods at the store: price of jaggery, pine nuts, anise powder…