Classify

Banh Mi Dong Dong 70,000 VND/500g

Noodles in Lang So 40,000 VND/500g

Packing
500g/ 1 pack
Origin
Vietnam
Expiry
36 months from date of manufacture (see product packaging)
Delivery
Nationwide Delivery
Pictures of vermicelli in Dung Ha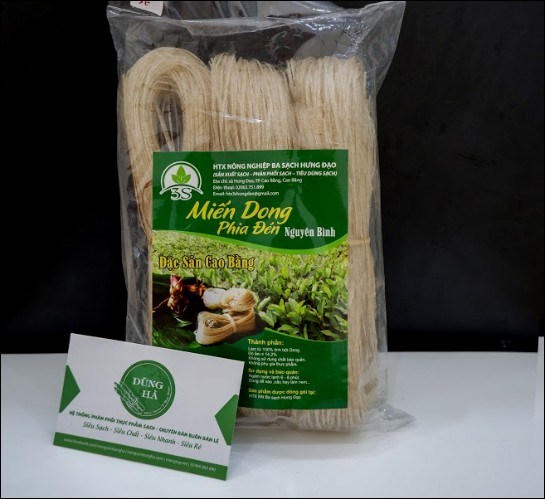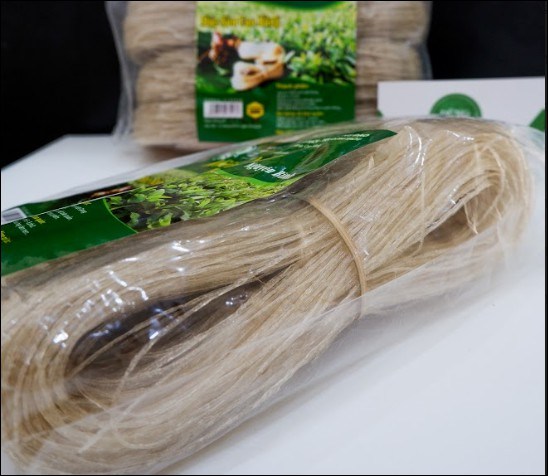 What is vermicelli made from? Origin of vermicelli
Dong vermicelli is a type of dry food with thin fibers, difficult to break and tough, made from dong tubers, quite similar to galangal roots. This type of tuber is commonly grown in the North and is very easy to grow. From dong tubers, people will preliminarily process them into dong starch and then go through several stages to make vermicelli finished products.
On the market today, there are quite a few famous brands of vermicelli such as: Cao Bang vermicelli, also known as vermicelli in the direction of Nguyen Binh, vermicelli in So village , vermicelli in Binh Lieu , vermicelli with talent , etc. keeping the traditional identity, handmade production, not following the industry, so the quality of vermicelli is very good, still highly appreciated by the market.
Is it good to eat vermicelli? Does eating vermicelli make you fat?
Currently, pieces of dong are a familiar dish to many people, in rice trays, in banquets, or especially in restaurants. Not only is it a familiar folk dish, but the effect of vermicelli on the body is very good. Here we go to find out!
Weight loss vermicelli: The ingredients in vermicelli contain healthy proteins, do not contain high amounts of fat, and are low in calories, so it is very suitable for people who are in the process of losing weight and keeping fit. The starch of the dong tuber is cool, so almost anyone can use it.
In addition, vermicelli has a very good effect on a number of diseases of blood pressure, heart disease, and obesity…
A lot of advantages, isn't it, both convenient to use, and beneficial to health. not picky users. So there's no reason why we shouldn't use vermicelli, right?
Don't miss: dried nectarine (honeydew) – A specialty of the Northwest mountains
Suggest delicious dishes from vermicelli
Dong vermicelli is really easy to combine with other foods to create authentic Vietnamese dishes such as fried vermicelli with chicken hearts , fried vermicelli with dried bamboo shoots , or eel vermicelli, swan vermicelli… attractive to users.
How to stir-fry vermicelli with chicken hearts:
Materials needed:
– Noodles : about 200g
– Chicken intestines: 2 sets of intestines
– Bean sprouts, carrots
– Dried onions, fresh green onions, laksa leaves
– Spices, pepper…
Implementation steps:
B1: Clean chicken intestines, cut into bite-sized pieces, then marinate with spices.
B2: Soak dong noodles in water and cut into pieces about 15cm. Wood ear, shiitake mushrooms soaked with rice water until bloom, then washed, chopped, peeled and sliced ​​carrots, bean sprouts washed and drained, scallions, laksa leaves washed and chopped, dried onions peeled chopped shell.
B3: Heat the cooking oil in the pan, then add the dried onions and fry until fragrant, then add the chicken intestines to the island. When the chicken intestines are cooked, add the shiitake mushrooms and wood ear mushrooms and stir-fry with the chicken hearts.
B4: After the chicken is cooked, add the vermicelli to the island and stir over high heat, add the carrots, add the seasoning to taste, finally add the green onions and laksa leaves, and the bean sprouts on the island for 1 more time and then turn off. a kitchen.
Serve it on a plate while it's still hot, it's delicious. Very simple, right. Good luck !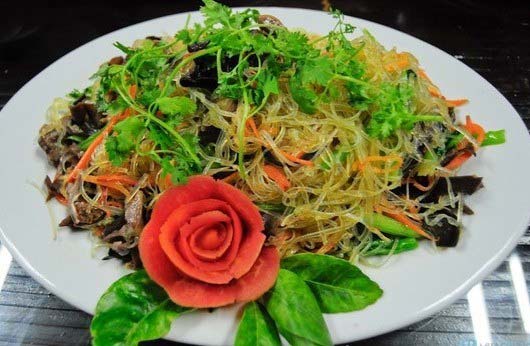 How much is vermicelli 1kg?
The selling price of vermicelli is based on the origin, each brand of vermicelli will have different prices. At Dung Ha Dry Food store, two products of the best quality dong are being sold on the market today, which are black vermicelli in Nguyen Binh with the price of 70,000 VND/500g and the price of So village vermicelli : 40,000 VND/ 500g. The vermicelli products at the store are guaranteed to be the best quality, made from 100% tapioca starch, ensuring a clear origin for each type of product.
Customers avoid confusion with many other types of vermicelli on the market today, distinguish between vermicelli and other common types of vermicelli to be able to buy vermicelli with the best quality. 
Where to buy the best vermicelli?
Buying quality standard vermicelli noodles are clear, chewy, delicious vermicelli that won't be broken or broken over time. To evaluate the address to buy delicious vermicelli, only customers who use it will have the most accurate reviews. Dung Ha Agricultural Products has earned the trust of customers for many years, proud to be the address to buy delicious vermicelli in Hanoi , in Ho Chi Minh City and other provinces, we can also ship goods to your hand. client. We always bring to our customers quality, safe and healthy vermicelli products with the most guaranteed price. 
Not only vermicelli products gain the trust of customers, but many other dry products , or regional specialties are also supplied to the market by Dung Ha dry food with the best quality, conquering the most demanding customers. Please pick up the phone and call Hotline: 1900 986865 for the most enthusiastic service.
See more: shelled green beans , peeled, delicious and nutritious