Son La lonely garlic product information in Dung Ha:
| | |
| --- | --- |
| Classify | Dried lonely garlic |
| Origin | Son La – Vietnam |
| Pack | 500g; 1kg/pack (according to customer's request) |
| Delivery | Support shipping nationwide |
Son La lonely garlic image at Dung Ha dry food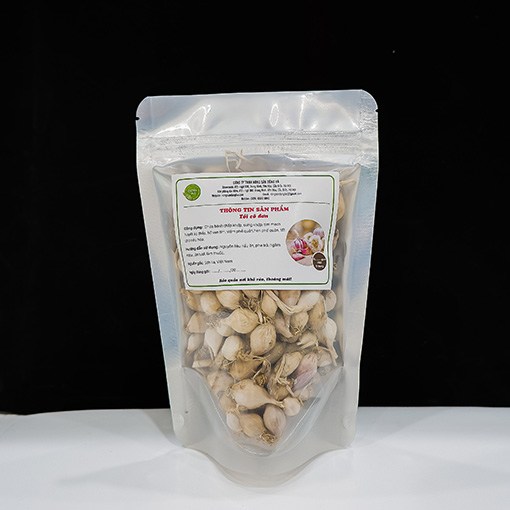 What is Son La Lonely Garlic?
Lonely garlic is also known as orphan garlic, single garlic, single garlic, single clove garlic. The special thing about this type of garlic is that there is only one clove, which is different from the usual garlic on the market. Lonely garlic is a defect, genetically modified in the development process. This is a valuable medicinal herb that is popular with consumers, bringing a lot of beneficial benefits to health.
Lonely garlic is usually only available in bad years. So it is very scarce. This is also the reason that currently on the market the price of lonely garlic is quite high.
Don't miss: Thai An Black Garlic – number one quality
Son La lonely garlic – Nutritional food
According to scientific research, 100g of lonely garlic will include the following nutritional content: 150 calories, 6.36g protein, 33g carbs, vitamins like C, B1, B2, B3, B6, calcium , manganese, magnesium, folate, potassium, phosphorus and some other good nutrients… Lonely garlic is also a raw material for people to process into black garlic.
Sorting lonely garlic
Lonely garlic in the past was originated in China, then brought back to Vietnam and planted in Phu Yen (Son La) and islands (Ly Son). This is a plant that thrives in cold and dry climates. Lonely garlic is divided into many different types: Chinese lonely garlic, Vietnamese lonely garlic. Each type is divided into many types for customers to freely consume, choose such as: type 1, type 2, type 3.
Lonely garlic soaked in honey:
Ingredients for preparing lonely garlic soaked in wine
500 grams of lonely garlic.

500ml honey mint.

750ml sticky rice wine.

2l glass jar.
How to soak lonely garlic with honey:
To make lonely garlic soaked in honey, we follow these steps:
Step 1: Choose to buy delicious lonely garlic, the same size. After that, peel the skin off, then cut it in half.

Step 2: Then red garlic into the jar, then add wine and honey after. Finally, close the lid tightly to avoid evaporation.
We only need to soak for a period of 20-30 days to be able to use it.
Use lonely garlic soaked in honey
Eating lonely garlic soaked in honey is very good for health, helping to increase resistance, the immune system, and fight disease-causing bacteria.
For those who are suffering from coughs, colds, respiratory diseases, we just need to regularly use lonely garlic soaked in honey every day 6 cloves, each time about 2 hours apart. After a while it will heal.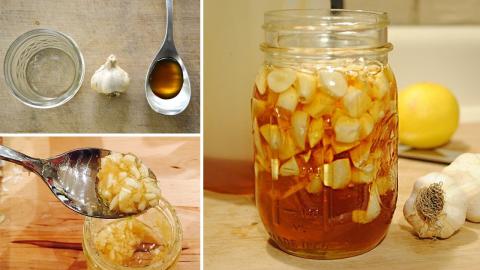 Lonely garlic soaked in wine
Ingredients for preparing lonely garlic soaked in wine
Lonely Garlic: 200 grams.

White wine; 400ml.

Glass bottle.
How to soak lonely garlic wine:
Go through the following steps:
After buying garlic, peel it off, slice it thinly, or smash it. Note, do not leave the tubers whole, because when stepping on the garlic will release aliin, after soaking time, it will turn into allicin. This is a very healthy substance.

Wash the glass jar, then add the garlic. Then add the wine, remember to close the lid tightly and store it in a dry area, away from moisture.

Lonely garlic soaked in alcohol only needs a short period of 7-10 days to be used.
Using lonely garlic soaked in alcohol:
Lonely garlic soaked in wine is also a very healthy food. It is used to treat rheumatism.
For people with rheumatism, we use lonely garlic soaked in alcohol according to the following dosage:
Every day, it is necessary to use 1-2 small cups of garlic wine, 2 times a day after each meal. Just persistently using it for a while, the condition will definitely improve significantly.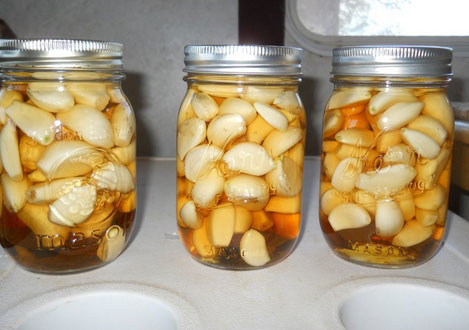 What is the current price of lonely garlic? How much is 1 kg?
Currently, on the market, there are many types of lonely garlic with different prices, depending on the quality, each store, and region. However, the price of lonely garlic in Son La will range from 350,000 to 450,000 VND/kg.
At Dung Ha Farm, we are selling Son La lonely garlic for 380,000 VND/kg. We are committed to providing our customers with the best quality products at affordable prices.
Where to buy Son La lonely garlic?
Are you wondering where to buy quality lonely garlic?
Find where to buy to avoid poor quality products, fake goods, impregnated with harmful stimulants that affect health.
Come to us – Dung Ha Agricultural Products, we are confident to be one of the leading brands in selling quality Son La lonely garlic, ensuring a clean source of garlic, food safety and hygiene from the purchasing stage. , processing and preservation. Therefore, consumers can buy and consume with peace of mind.
In addition to selling lonely garlic, we also provide a number of other dried products such as: dried forest shiitake, dried radish, dried bamboo shoots, black ginger, shiitake foot, turmeric starch…
Dung Ha always hopes to be the first choice of customers.
Website: https://thucphamkho.vn/