| | |
| --- | --- |
| Classify | Dried Grapefruit Pulp |
| Packing | Canned 300g |
| Origin | Vietnam |
| Expiry | More than 12 months from date of manufacture |
| Element | 100% pure pomelo pulp, completely dried and soaked in flour |
| Delivery | Nationwide Delivery |
Photos of dried pomelo pulp at Dung Ha dry food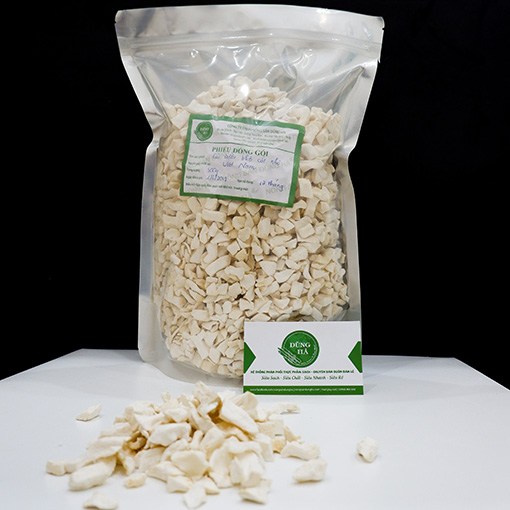 What is dried grapefruit pulp?
Dried pomelo pulp is the part of grapefruit that has been preliminarily processed to remove bitterness and is dried. Dried pomelo pulp is often used to make tea. Before making tea, you should soak the dried pomelo pulp with water for about 2 hours to make the pulp expand and soften. Dried pomelo pulp at Dung Ha Agricultural Products is delicious, crispy and spongy.
Pomelo pulp cooked with tea is the most popular way to prepare it, this is a favorite dessert of many people and the main ingredient for this dessert is pomelo pulp. After being peeled off from the grapefruit, it is necessary to make the pomelo pulp all the more bitter.
Making pomelo pulp is a complicated and time-consuming process. Instead of manually processing pomelo pulp to cook pomelo tea, Vietnamese housewives chose to buy dried pomelo pulp.
How to cook delicious grapefruit tea at home with grapefruit pulp
Grapefruit tea is a delicious and nutritious dessert that is loved by many people. Grapefruit tea has a very good cooling effect, on hot summer days, there is nothing better than enjoying a glass of grapefruit tea plus a little ice. Below Dung Ha Agricultural Products will guide you to cook simple but super delicious green bean pomelo tea at home
Preparation materials:
Dried grapefruit pulp
Coconut
Grapefruit flower essential oil
White diameter: 200 gr
Tapioca flour: 120 gr
Peeled green beans: 100 gr
Implementation steps:
Step 1: Prepare the ingredients for making pomelo tea
Soak dried pomelo pulp with warm water for about 30 minutes so that pomelo pulp expands and becomes more crispy when enjoying
Next, soak the peeled green beans in warm water for about 2-3 hours, then steam them and let them cool
Step 2: Processing pomelo pulp
After soaking with warm water, we take out the pomelo pulp to drain and marinate the pomelo pulp with 100 grams of white diameter. Time to marinate pomelo pulp with sugar is 30 minutes. Then put in the pan and stir the pomelo pulp over low heat
Stir a few times and then add 1 tablespoon of filtered water, continue to stir until the water is dry, then the sugar has also soaked into the pomelo pulp, then turn off the stove.
Step 3: Mix tapioca flour into grapefruit pulp
Immediately after turning off the stove, take 50 grams of tapioca flour and sprinkle it evenly on the pomelo pulp, use chopsticks to stir it so that the tapioca is evenly absorbed into the pulp.
Put some pomelo pulp in a large bowl and mix it with 50 grams of tapioca starch and stir well until the pulp is not wet.
Step 4: Boil pomelo pulp
After mixing pomelo pulp with tapioca starch, we need to boil pomelo pulp
First, you need to prepare a pot of boiling water, then slowly drop the pomelo pulp into the boiling water and cook for about 4-5 minutes, until they float, then take them out. You need to pay attention to divide the ratio of water and pomelo pulp equally, if the amount of pomelo pulp is too much, you should divide it into 2 times so that when boiling they do not stick together.
After taking out the bowl, prepare a bowl of ice water and a ladle with holes to soak the pomelo pulp with ice, this step will help make the pomelo pulp more crispy and delicious.
Step 5: Complete how to cook pomelo tea with dried grapefruit pulp
Boil 600ml of grapefruit juice
Mix 100 grams of sugar and the rest of the tapioca with warm water, then pour into the pot of boiling water above
Stir well with your hands until the dough turns white, then pour the pomelo pulp into the island
Then pour in the green beans and stir gently to avoid breaking the green beans
Next, add grapefruit flower essential oil and stir again and turn off the stove
So you have finished the super delicious and super nutritious grapefruit tea dessert. Finally, you just need to scoop the tea into the cup and add a little coconut milk to the grapefruit tea to make the pomelo tea more greasy. You can use grapefruit tea with a little ice.
See also: dried prickly pear, skullcap pepper.
What is the current selling price of dried pomelo pulp?
In the market, there are many shops selling dried pomelo pulp, each store has a different price of pomelo pulp and each season has a different and unstable price. The more summer, the higher the demand to buy pomelo pulp to cook tea, so the price of dried pomelo pulp is also higher. Currently, Dung Ha Agricultural Products is selling dried pomelo pulp at a stable price of 650,000 VND/kg
Where to buy dried pomelo pulp to cook tea in Hanoi?
To choose to buy good quality dried pomelo pulp that is safe for food, please come to Dung Ha Dry Food, we are proud to be a supplier of clean food, dry products, and specialties. the most prestigious area in Hanoi.
In addition to dried pomelo pulp, we also provide some other dried products such as: dried bamboo shoots, dried sour ears, dried radishes.
See more list of dry goods currently for sale at Dung Ha Dry Food here: https://thucphamkho.vn/do-kho/