Information of dried persimmons at Dung Ha dry food:
| | |
| --- | --- |
| Classify | Dried persimmon |
| Packing | Packing 1kg |
| Origin | Vietnam |
| Expiry | More than 12 months from date of manufacture |
| Delivery | Nationwide Delivery |
Photos of dried persimmons at Dung Ha dry food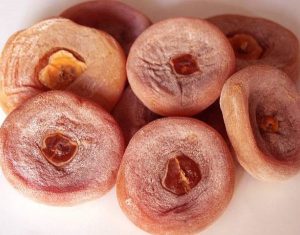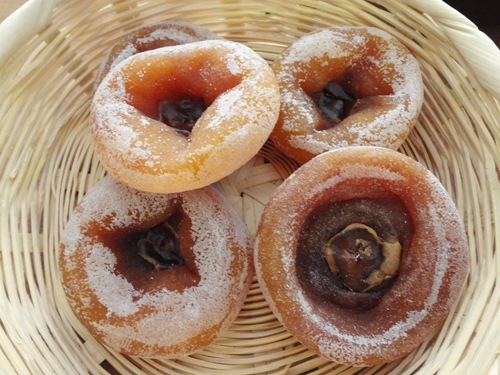 What is dried persimmon?
Dried persimmon is known as one of the irresistible delicious dishes, a specialty of the land of Da Lat that anyone who visits here once to try must also be praised. Da Lat dried persimmon is the finished product that is harvested and processed, preliminarily processed from fresh persimmons. Dried persimmons are processed into two types: one whole, one sliced and dried. Dried persimmons have a concave in the middle, round, slightly flattened fruit. Eating dried persimmons, we will clearly feel the sweet, supple taste like the beauty of the land of Da Lat.
How many calories in dried persimmon? What are the nutrients in dried persimmons? On average, it is estimated that 126 kcal is ingested when eating 100 grams of dried persimmon. This is a very healthy food, containing many nutrients such as: water, fiber, calcium, protein, iron, pectin and vitamins A, C, …
What is the effect of dried persimmon?
In addition to being a delicious snack, dried persimmon also has many uses when used.
For some people with intestinal disorders or stomach pain can be treated by using dried persimmon.
Or in case of burns or injuries, if you want to scar quickly, use dry persimmon to apply to the damaged skin.
The sugar content in dried persimmons helps patients with cardiovascular problems.
Not only that, eating persimmon also helps diuretic.
Every day, you just need to maintain regular eating 3-4 dried persimmons will help stabilize blood sugar.
Besides, dried persimmon is recommended to be used by people who are having problems with weight, overweight, and obesity.
Good anti-inflammatory dry persimmon
Research has shown that Da Lat dried persimmons contain very high polyphenolic and catechins, which help fight infections and effectively fight inflammation.
Dried persimmon repels cardiovascular diseases
Fructose and glucose are abundant in dried persimmons to help blood circulation, stabilize blood sugar, and keep the heart healthy.
Dried persimmons help digestion work properly
With abundant tannin and fiber content, eating dried persimmon every day helps the digestive system, healthy bowel movements, and enhances the ability to function. Not only that, it also helps prevent the risk of diarrhea.
Dried persimmon reverses the aging process
Research has shown the effect of dried persimmons in preventing skin aging thanks to the phytochemical content in the dried persimmon skin. Prevents damage and protects skin cells.
How to make dry persimmon without acrid
Making Japanese-style dried persimmons is not difficult at home. You can immediately save the recipe below to show off your skills for the whole family and friends to enjoy.
Step 1: Choose pink
If you want to make delicious dried persimmons, you should choose ripe, sweet and fragrant persimmons. Persimmon bought back should still stalk, should not buy crushed fruit. Because these fruits, when dried, will not retain their crispness and deliciousness. In terms of size, you should choose fruits of equal size, just right. Doing so, when drying the fruit will ripen evenly and faster.
Step 2: Peel the persimmon
After buying persimmons, wash them thoroughly, then drain.
Next, use a knife to peel off the outer skin. At the same time, keep the stalk intact as a fulcrum to tie the rope when drying.
Step 3. Sterilize the persimmon and tie the string
Use cleaned nylon rope to tie the persimmon stem.
After tying everything, put it in a basket. At the same time, take a pot of boiling water with a few drops of white wine or vodka, stir the mixture, then put all the persimmons in the pot, disinfect for about 3 minutes. This will prevent the entry of bacteria during the drying process.
Step 4: Hanging pink
Persimmons need to be hung on a string or a long string, the distance is just enough, should not hang close to each other, it takes a long time to dry and makes the persimmons dry unevenly.
The place to dry persimmon must be clean, dry and windy. If there is sunshine, it will dry faster, if not, just need a dry place.
Depending on the drying conditions, dried persimmons will be harvested in about 3-5 weeks. In particular, in the first week of drying, we must pay attention to observe, at this stage, the fruit is still quite watery, so it is very moldy.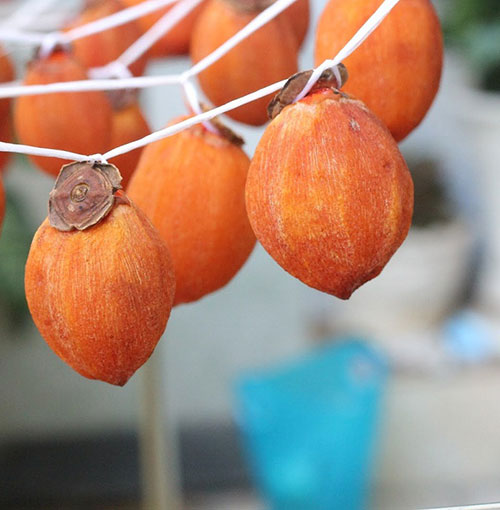 Step 5: Massage for pink
After about 10 days, you will start to see pink shrinkage. At this time, gently massage so that the sweetness in the persimmon spreads evenly and secretes more.
Maintain regularly every 2 days.
After about 2 weeks of drying, persimmons seem to have dried evenly, and there are few mold problems, continue to monitor until the fruit is fully ripe and can be harvested.
Step 6: Harvest and store products
When the outer skin turns brown, it means that the pink has reached the point of harvest. Dried persimmons after harvesting should be stored in glass jars and then stored in the refrigerator to eat regularly.
How much is the price of dried persimmons per kg?
Dried persimmon is a dish loved and loved by many people. Currently, in Hanoi as well as provinces across the country, there are many addresses selling dried persimmons with different prices. To ensure safety, you should not choose to buy cheap dried persimmons, to avoid the situation of poor quality goods, rampant fake goods.
The current price of dried persimmons usually ranges from 260,000 to 300,000 VND. At Dung Ha dry food we are selling dried persimmon for 260,000 VND/kg.
Where to buy dried persimmons?
Where to choose to buy quality dried persimmon is still a question that many people are interested in today. To buy the right dried persimmons in Da Lat, you should choose reputable suppliers. Dung Ha with nearly 10 years of experience in the dry goods market, we are confident to be the TOP selling brand of dried persimmon in Hanoi market as well as nationwide.
Committed to safe quality products, not using preservatives, stimulants not on the list allowed by the Ministry of Health.
In addition to selling dried persimmons, we also have many other dried products such as: Dried apricots, crispy dried lotus seeds, dried shrimp, dried Australian figs, dried cardamom, dried plums, dried apricots
For any enquiries, you can contact us at the following address:
Hotline: 1900986865
Website: https://thucphamkho.vn/
Dung Ha hopes to be the number one companion of millions of consumers nationwide!