Cardamom information at Dung Ha dry food:
| | |
| --- | --- |
| Classify | Dried Cardamom |
| Packing | Packing 200g, 500g and 1kg |
| Origin | Bat Xat district (Lao Cai) and the Northwest region |
| Expiry | 12 months from the date of manufacture (NSX stated on the package) |
| Delivery | Nationwide Delivery |
Photos of dried cardamom at Dung Ha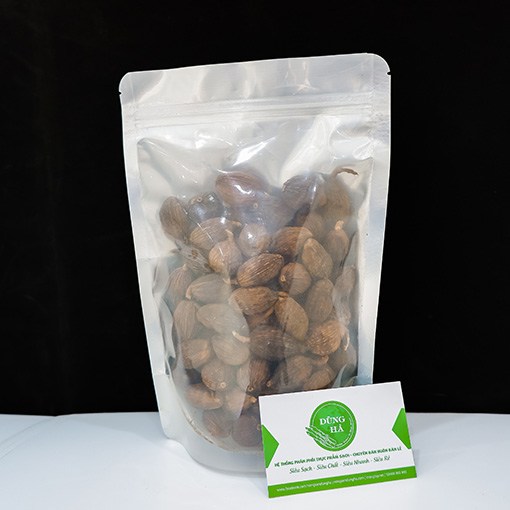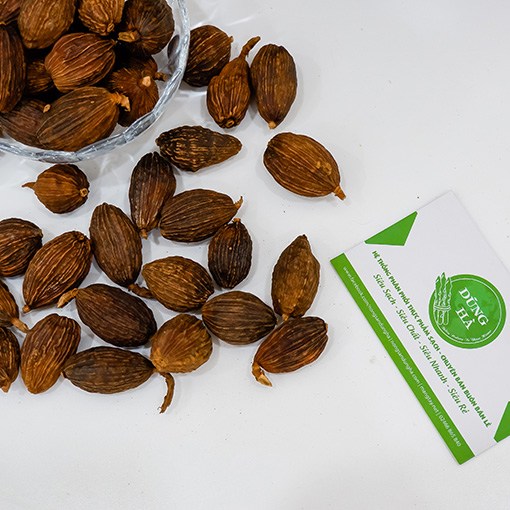 What is a fruit?
Dried cardamom is known as black cardamom or red cardamom. This is a cultivar of the Ginger family. Cardamom flowering season usually begins in the summer and then bears fruit in winter. Cardamom grows well and is commonly grown in the Hoang Lien Son mountain range and the Northwest mountains such as Lao Cai, Ha Giang, Yen Bai, and Lai Chau. Cardamom has the effect of making medicine to treat diseases or as a seasoning for cooking. What does cardamom taste like? This fruit contains a characteristic, hot spicy flavor. Considered as the "spice queen", cardamom is an ingredient in many typical Vietnamese dishes.
Cardamom is divided into two types: dried cardamom and fresh cardamom. At Dung Ha dry food we sell quality dried cardamom that you can find and buy.
Medicinal herbs are evaluated as the spice containing the highest nutrient content of all common spices, including substances such as: fiber, protein, pyridoxine, carbohydrateniacin, riboflavin, thiamin, and minerals. iron, Calcium, zinc, copper, magnesium, phosphorus, essential oils, manganese,…), vitamin C has good effects on health.
What are the effects of herbs? What to do? The following article will help you answer these questions.
What is the effect of the fruit?
Cardamom has effects in cuisine – food processing
What to cook with cardamom? Dried cardamom is used as a spice to prepare delicious and attractive dishes. For example: cardamom chicken feet, cardamom for pho, cardamom for tea, coffee,…
Chicken feet: about 6-8 feet. Depending on family members to choose the amount to eat.
Dried cardamom, herbal medicine.
Lemongrass, turmeric, ginger.
Seasoning seasoning: condensed milk, sugar.
Chili, kumquat.
Coriander, cucumber, basil.
How to make cardamom chicken feet
Step 1: After buying chicken feet, clean them by rubbing them with salt, wine, and ginger. Then rinse with water and dry.
Step 2: Put the chicken feet in the pot. Then pour water and then add ingredients such as lemongrass, turmeric, crushed ginger, herbal medicine, dried cardamom, spices. Use chopsticks to stir well and soak for 30 minutes for the spices to infuse.
Step 3: Put on the stove to boil. At this time also stir then turn off the heat. Leave the chicken legs in the pot for about 5 minutes before taking them out.
Step 4: Before picking, prepare a bowl of ice cold water. Place the chicken feet in a bowl of water and place in the fridge for 1 hour. Doing so is aimed at hunting, crunchy, firm, and delicious chicken feet.
Step 5: Instructions for making chicken leg dipping sauce, including the following ingredients: sugar 5 spoons, soup powder 2 spoons, kumquats 5 fruits, chili 5 fruits, fresh milk 5 spoons, herbal medicine 2 spoons. Put all the above ingredients in a bowl and then use a spoon to stir to form a mixture. So we have completed the super delicious, super attractive dipping sauce.
Take out the chicken feet to a plate of dipping sauce and serve with herbs, cucumbers will be very delicious and attractive.
In addition, you can learn some more delicious pho recipes.
Cardamom has the effect of healing
Dried cardamom has diuretic, warm stomach, welding axis, detoxification, except phlegm. In addition, dried cardamom also works to help eat better. Cardamom when making medicine has typical effects such as:
Cardamom tonic blood.
Cardamom good for the cardiovascular system.
Prevent the risk of cancer.
Blood pressure stable.
Good effect for people who urinate a lot, nocturia.
Prevents blood clotting.
Prevents heartburn and flatulence.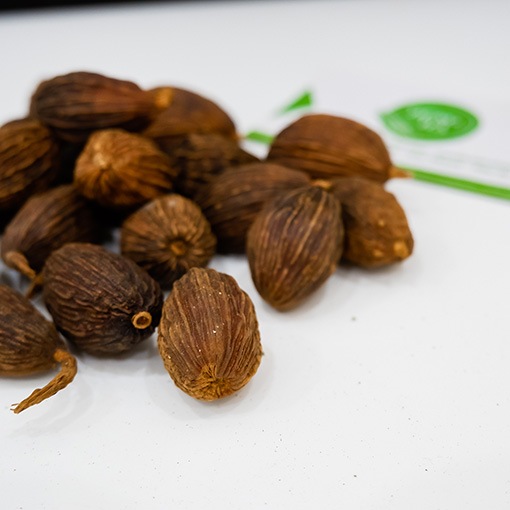 Besides, the effects of cardamom are also mentioned as:
Helps prevent stomach cramps, stomach pain.
Relieves sore throat.
Lower caffeine content.
Soothes nerve pain.
Reading, clearing body heat.
In addition, cardamom helps to treat some diseases such as bronchitis, colds, asthma, …
Cardamom how much money per kg?
Currently, on the market there are many places selling dried cardamom with different prices. However, the price of cardamom usually ranges from 250,000 to 300,000 VND/kg.
At Dung Ha dry food, cardamom is being sold at a good price of 250,000 VND/kg. Committed to quality standard products, safe to use.
Buy cardamom at pain in Hanoi?
Where are the fruits sold? It's still a question that many people wonder about. Although present in most food stores throughout the city, but not buying cardamom everywhere is reputable and quality. That is also the worry of many consumers before the problem of counterfeit goods, imitation goods, poor quality goods.
Dung Ha dry food is one of the addresses selling dried cardamom that you can safely choose. With the motto of serving customers with all our heart. Wish to bring the best products to the kitchen of every Vietnamese family.
In addition to selling cardamom, we also have a lot of other dried products such as: mimosa, dried persimmons, eucalyptus seeds, dried bay leaves, cross-frame
Please contact us directly if you have any problem with cardamom as well as cardamom price. We are always ready to serve.
Hotline: 1900 986865
Website: https://thucphamkho.vn/