Information about galangal powder in Dung Ha:
Classify

Pure dried galangal root powder

Origin

Vietnam

Pack

500g/pack or 1kg/pack

Element

100% dried galangal, finely ground into powder

Expiry

12 months from date of manufacture

Using

Making spices for processing in dishes (cooking curry, fish stock, cooking civet)

Preserve

       

In a cool place, avoid direct sunlight, keep the packaging tightly closed

Price

Current price of galangal powder: 200,000 VND / 500 gr

Delivery

Support shipping nationwide
Image of galangal powder at Dung Ha Dry Food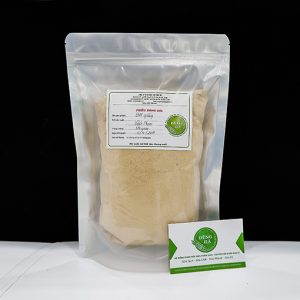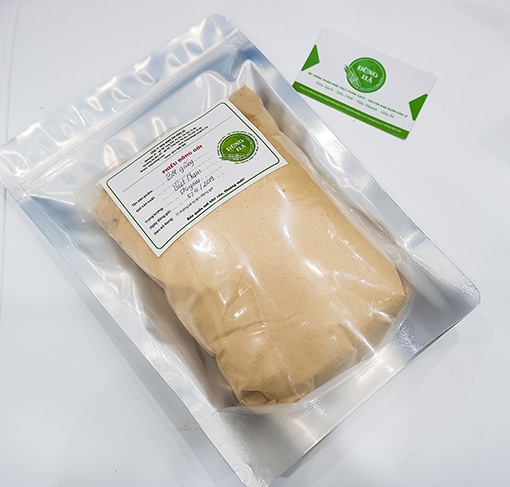 What is galangal powder?
Galangal is one of the familiar spices indispensable when processing dishes. Galangal powder is the finished product prepared from fresh galangal tubers. After harvesting, farmers will clean, then dry and grind finely.
The galangal tree is quite small, long and grows horizontally. The flowers of galangal are white. The leaves are large, flat, sheathed. Galangal is suitable for growth and development in many different regions, has good resistance to pests and diseases. Dried galangal powder is not only used as a spice in dishes but also used to treat a number of diseases, very good for health.
The effect of galangal powder
Galangal root powder has a good effect in preventing rheumatic diseases, arthritis, rheumatism, wound healing as well as muscle pain. Not only that, using galangal root powder can reduce some symptoms such as bloating, indigestion. At the same time, it is highly effective in relieving pain caused by stomach ulcers.
Research has shown that the antioxidant content in dried galangal powder has the effect of reducing substances that attack and damage the body as well as the formation and development of free radicals. In addition, galangal root powder is also highly effective in treating diseases such as vitiligo, scabies, inflammation, sores, …
Galangal powder is recommended to be added to the daily diet, has the effect of helping blood flow in the body stably, maintaining good health for people. In addition to making everyday dishes more attractive and richer, dried galangal powder also has great healing properties.
Some of the medicinal effects of galangal powder that we can learn and know are as follows:
Dried galangal powder has a good effect on people with rheumatoid arthritis.
People with extremities, face edema, kidney yang damage can also use dried galangal powder for treatment.
Galangal root powder has a good effect on people who often have stomach pain and stomach ulcers.
At the same time, people with acute stomach pain should use galangal powder.
Not only that, galangal root powder is also effective in treating malaria.
In addition, dried galangal powder also works to relieve abdominal pain caused by vomiting, colds.
Some remedies from galangal powder
Cure abdominal pain: We use the following ingredients: 20g dried galangal powder, 60g guava bud powder, 8g sim bud powder. Mix all the flours together. After that, use regularly every day with a frequency of 3 times / day. Dosage is 5g each time. In addition, you can also apply the following remedy: 120 cinnamon powder, 200g galangal powder, 80g post-outcry powder. Mix with boiled water to cool and drink for about 3 days, the abdominal pain will be significantly reduced.
Treatment of rheumatism: you can use the following ingredients: galangal powder, perilla seeds, tangerine peel, puree then mix well. Use 2 times a day. Use about 4g each time. You just need to persist in using within 1 week will see the condition improve.
Treatment of malaria: 300g dried galangal powder, 100g cardamom powder, 100g cinnamon powder. Then spread it with honey and mold it into balls. Every day, before having a fever, you take 15 tablets. Or you can use remedies such as: ginger powder, galangal powder made into tablets. Take about 15-20 pills a day is enough.
How much is the price of flour per kg?
Currently, galangal powder is not too strange on the market. This powder is popular with consumers, used a lot in daily meals as well as used to treat diseases. However, to ensure health and safety, you should choose to buy galangal powder at reputable and quality establishments. Avoid buying fake goods, imitation goods, bad effects on health.
The selling price of galangal powder is currently ranging from 200,000 to 230,000 VND/500gram. At Dung Ha dry food, we are selling galangal root powder for 200,000 VND/500 grams. Product quality is always guaranteed.
Where to buy galangal powder in Hanoi?
On the Hanoi market today, there are many places and shops selling dried galangal powder. However, to find and buy pure, guaranteed galangal root powder, it is not everywhere. So, to make sure you should choose to buy dried galangal powder at reputable stores, many consumers choose to buy it.
Dung Ha dry food is one of the leading brands in Hanoi that you may be interested in choosing. Committed to products of clear origin, ensuring food hygiene and safety, saying no to impurities and preservatives.
In addition to selling galangal powder, you can refer to many other powders in our powder catalog such as: onion powder, lemon powder, turmeric powder, gac powder, …
Dung Ha hopes to be a companion with every Vietnamese family kitchen.
Any questions about galangal powder, you can call us directly for the most enthusiastic advice.
Hotline: 1900986865
Website: https://thucphamkho.vn/