Information about onion powder in Dung Ha:
| | |
| --- | --- |
| Classify | Dried onion powder (indispensable condiment for delicious dishes) |
| Origin | Thuan Hung – Khoai Chau – Hung Yen |
| Pack | Packed 500g |
| Element | 100% dried onion, crushed into powder |
| Expiry | 12 months from date of manufacture |
| Delivery | Support shipping nationwide |
Picture of onion powder at Dung Ha dry food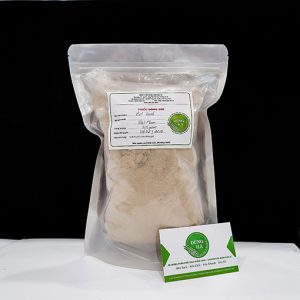 What is onion powder?
Onion powder is a finished product made from 100% natural, pure onion ingredients, without additives and chemicals. This is considered an indispensable condiment in any dish of Vietnamese family meals. The production process of onion powder completely applies advanced technology, ensuring quality and food safety.
Onions selected and used as onion powder are large, fresh, quality bulbs that are carefully selected and screened by farmers, bringing the highest satisfaction to consumers.
In food processing, onion powder is used to add flavor, aroma and attractiveness to dishes. It also saves processing time.
The effect of onion powder
So what is the effect of onion powder? How is onion powder commonly used? Find out below this article.
Onion powder helps fight inflammation and infection
Onion powder is a hot spice. Therefore, it has very good anti-infective, anti-inflammatory, and antibacterial effects. Not only that, the content of nutrients in onion powder also has the effect of repelling the attack and invasion of bacteria, increasing the immune system, high antibacterial ability.
Onion powder to treat colds and coughs
Research has shown that onion powder contains antibiotics. Has anti-asthma and anti-inflammatory effects. Therefore, it is very effective in treating dry cough, flu, cold or asthma.
Onion powder prevents the risk of cancer
In dried onion powder, it contains phytochemicals and antioxidants, which help prevent and reverse the risk of cancer. Reduces the formation and spread of cancer cells. Using onion powder can reduce the risk of some diseases such as colon cancer, stomach cancer, …
Onion powder to control diabetes
The quercetin and sulfur substances in onion powder help inhibit the process of sugar release and improve insulin levels. At the same time, it has the effect of converting starch into an energy source for the body to work, avoiding obesity and overweight. In addition, it also works to relieve some common symptoms in diabetics such as fatigue, irritability, frequent urination, …
Onion powder helps apricot hair thick, strong
Research has clearly stated that using planetary powder helps to reduce hair loss and stimulate hair growth. It also produces collagen tissue, which helps blood vessels circulate. In addition, onion powder also helps prevent fungus, treat dandruff in the scalp.
Onion powder marinated meat
In cooking, people often use onion powder to marinate and prepare dishes, such as marinating meat. Marinating meat with onion powder will make your dish more attractive, increase the taste and aroma.
Marinating the meat with onion powder will help the spices infuse more evenly and faster. In particular, for some people who do not like to eat onions but still want to eat fragrant dishes, using onion powder is an extremely reasonable option.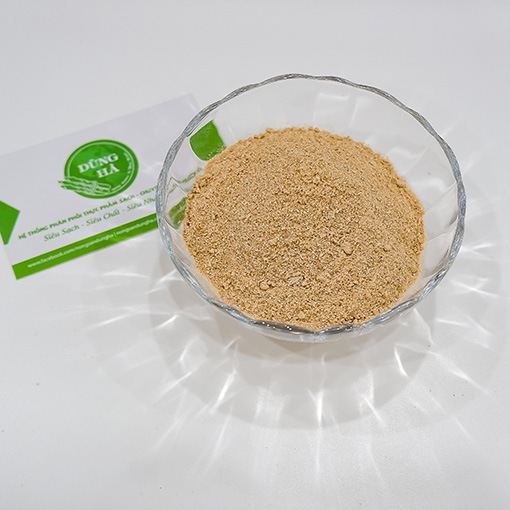 What is the current price of onion powder? How much money per kilogram?
Onion powder brings a lot of good uses for health as well as in cooking. However, it is not easy to find and buy onion powder on the market today. And the price of onion powder, many people do not know. Depending on each store, area, onion powder will be sold at a different price. Even so, the prices only fluctuate in the range of 80,000 – 100,000 VND/5000 grams.
At Dung Ha dry food, we are selling onion powder for 80,000 VND/500gr.
Where to buy onion powder in Hanoi?
So where to buy onion powder in Hanoi to achieve high quality, prestige, food hygiene and safety. Choosing to buy fake products, imitation goods, poor quality products will lead to undesirable consequences. Therefore, when choosing to buy, you should understand the origin and quality.
If you are wondering where to sell onion powder, go to Dung Ha Dry Food immediately. We are committed that the products we provide are standard products, manufactured on modern and advanced processes. Commitment not to use chemicals, additives not licensed by the Ministry of Health. Besides quality products, Dung Ha Agricultural Products also sells products at very affordable prices.
In addition to selling onion powder, we also sell other powders  such as: turmeric powder, gac powder, celery powder, lemon powder, soybean sprout powder, yellow turmeric starch…
We look forward to receiving the support of our customers.
For any enquiries, please contact the following address:
Hotline: 1900 986865
Website: https://thucphamkho.vn/
Visit the addresses of Dung Ha Agricultural Products here:
Branch 1: No. 11 Kim Dong – Giap Bat Street – Hoang Mai District – Hanoi
Branch 2: A11 – Alley 100 – Trung Kinh Street – Yen Hoa Ward – Cau Giay District – Hanoi
Branch 3: No. 02/B Quarter 3 – Trung My Tay 13 Street – District 12 – Ho Chi Minh City