Product information of red bean powder at Dung Ha Agricultural Products:
| | |
| --- | --- |
| Classify | Pure red bean paste |
| Pack | Packing 500gr or more (or depending on customer's request) |
| Element | 100% pure red beans drunk small |
| Expiry | 12 months from date of manufacture |
| Using | Use for white bath, mask |
| Preserve |          In a cool place, avoid direct sunlight, keep the packaging tightly closed |
| Price  | Selling price of red bean powder 1kg 120.0000 VND |
| Delivery | Support delivery within Hanoi within the day. |
What is red bean paste?
Red bean
 powder is a natural powder that is not only good for health, but it is very good for the body in beauty. Red bean powder is famous for its content of vitamins B, C, E, etc., which helps to smooth white skin, even color, helps skin increase resistance against ultraviolet rays. In addition
 , red bean powder
 also works to help skin tone up quickly, restore damaged skin, regenerate new skin, remove dead cells to keep skin smooth, youthful, full of vitality. .
In addition to the beauty effect, red bean powder also contains a large amount of protein and is extremely rich in fiber and vitamins, providing a relatively adequate amount of nutrients for the body in a day. Thanks to the nutrients on red beans are very good for weight loss, muscle gain, cancer prevention, etc. Research shows that using a glass of red bean powder every day will help your body provide a large amount of nutrients for the body, prevent cancer and supplement high protein for body activities.
How to make red bean paste
Ingredient 
1kg red beans
Roasting pan 
Bowl or bowl for flour
Blender
Doing
Step 1:
Red beans should be bought in a reputable, quality place, with fresh colors, round and even beans. When buying red beans, pick up flat seeds and deep seeds. Next, you take the seeds to wash and pick up the damaged seeds that float to the surface of the water.
Step 2:
Wash the beans with water until clean, then take out the basket to drain.
Step 3:
Put the red beans in a roasting pan with low heat until the beans are cooked evenly. Note that when roasting, you need to stir your hands to avoid burning the beans, or if they are cooked too carefully, they will be bitter.
Step 4:
When the beans are just cooked until they have a fragrant aroma from the beans, take them out into a large bowl or plate to let them cool.
Step 5:
The last step is to grind the beans, add a little bit of beans and grind them thoroughly until the red bean paste is smooth. 
So just a few simple steps you have made red bean paste extremely good for the body. However, the process of roasting red bean paste and grinding is very time consuming. If you are too busy and do not have time, you can buy ready-made bean paste at reputable and quality stores.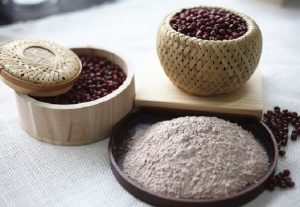 Uses of red bean powder
In addition to very good effects for the body such as providing protein, fiber, vitamins, … aids in weight loss, preventing heart diseases, etc. The effect of red bean powder is also very good for the skin. Here we will introduce to you a combination of red bean paste for face.
Incubate white with red bean powder
You incubate the soybean flour with fresh milk for the flour mixture to thicken for about 10 minutes, then add lemon to mix all the ingredients until the mixture comes together. After the ingredients are completed, you clean your body and then apply the mixture to about 20 minutes, gently massage, then shower again with water. For best results, you should exfoliate before applying the mixture.
Red bean powder to treat acne
You mix 1 cup of bean paste with 1 can of yogurt and 1 tablespoon of lemon juice evenly. Next, you proceed to clean the skin and then apply the mixture on the skin for about 15 minutes, gently massage for the nutrients to be absorbed and then rinse with water.
 Red bean powder helps to tighten pores, treat skin tan
Use a cup of red bean paste with 2 teaspoons or rice bran mixed with 2 tablespoons of olive oil. Wash your face, then apply the mixture on the skin gently massage for 10-15 minutes and then rinse with clean water. 
In addition, red bean powder also has the effect of providing moisture to the skin, helping to reduce wrinkles, skin care, and skin tone. In addition to the above ingredients, you can combine red beans with some other ingredients such as orange juice, fresh milk, eggs, etc. are also very good for the skin.
How much is red bean powder for 1kg?
Currently on the market there are many red bean powders with different prices. You can buy quality red bean powder at the price of 120,000 VND/kg at thucphamkho.vn .
Where to buy red bean powder in Hanoi?
Today, there are many poor quality red beans on the market. The red beans that are roasted and roasted contain both flat and damaged seeds, and some places also mix red bean powder with other flours that are not good for health. So how to buy quality red bean powder ? You can refer to buying red bean powder at clean agricultural stores, supermarkets, etc. to find and buy. Currently, at thucphamkho.vn we are supplying quality red bean powder with easy origin. In addition, we also provide a number of other powders that are also very good for health such as: Gac powder, cocoa powder, …
DRY FOOD DUNG HA
Hotline: 1900 986865
Or visit Dung Ha Agricultural Products facilities here:
Facility 1: No. 11 Kim Dong – Giap Bat Street – Hoang Mai District – Hanoi
Facility 2: A11 – Alley 100 – Trung Kinh Street – Yen Hoa Ward – Cau Giay District – Hanoi
Facility 3: No. 02/B Quarter 3 – Trung My Tay Street 13 – District 12, Ho Chi Minh City