Soybean sprout powder information in Dung Ha:
| | |
| --- | --- |
| Classify | Soybean sprout powder |
| Pack | Packing 500g/pack or 1kg |
| Element | 100% pure soybeans, no flavoring, no coloring |
| Expiry | 12 months from date of manufacture |
| Delivery | Nationwide delivery support |
Photo of soybean sprout powder at Dung Ha dry food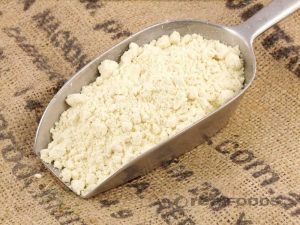 What is Soybean Sprout?
Soybean sprout powder  is a product extracted from 100% high quality soybean seeds. For a long time, pure soybean powder has become a familiar food and is considered a "panacea" for beauty and health trusted by women.
So what effect does soy flour have? Uses of soybean sprout powder? How to make soy flour? The following article will answer all the questions that you have been wondering in the past.
The effect of soybean sprout powder
What are the benefits of drinking soy bean sprout powder? Soybean sprout powder is rich in isoflavones – this is an active ingredient that has a great effect in changing and supplementing hormones in women. Soybean meal is considered to have the highest concentration of this substance of all food sources.
Pure Soybean Powder for Weight Loss
Research has shown that, although it is a food containing high levels of nutrients, the amount of kcal in whole soybean meal is very low and does not contain harmful fats. Therefore, this is a food source for women who are in the process of dieting and losing weight. How to eat soybean meal to lose weight by: using soy bean sprout powder every day, 15 minutes before a meal brings a feeling of fullness.
So, to the main meal, you just need to add a little food to ensure the necessary energy throughout the day. How to eat bean sprouts like this will help you lose weight miraculously. After a period of use you will be surprised with the results achieved.
Soybean sprout powder supports the cardiovascular system
Soybean sprout powder contains many important nutrients for the body such as iron, calcium, zinc fiber, vitamins A, B, C and minerals that help keep the heart healthy, stabilize blood pressure , Reduces harmful cholesterol and increases good cholesterol in the blood to help reverse the risk of cardiovascular disease, myocardial infarction, etc.
Soybean sprout powder increases breast size
Drink soy germ powder to increase breast size? The answer is yes. According to experts, this is a very effective food to increase breast size. It has been shown that the isoflavones present in soy bean sprout powder have the same mechanism of action as the estrogens needed in the female body.
The action of this substance affects the rapid formation and development of the adipose tissue system and breast muscle tissue. Help a bust expand, more and more firm. Therefore, the advice of experts for women with limited bust measurements who want to improve their size is to actively drink soy bean sprout powder every day.
Soybean sprout powder helps to rejuvenate the skin
Bean sprout powder is one of the good foods that have the effect of prolonging the spring color, the rejuvenation of women's skin. Soybean sprouts contain antioxidants that prevent the aging process of skin cells. Not only that, it also has the effect of producing elastin and collagen to help lift and firm the skin. Leaves skin shiny and smooth.
In addition, the soybean sprout mask also has an effective acne treatment that many women apply.
Soybean sprout powder prevents osteoporosis
For the elderly, workers, vigorous exercise, bones and joints are often active, leading to osteoporosis and joint pain. Whole fiber soybean meal contains a lot of calcium to help bones and joints develop and recover, and prevent osteoporosis.
In addition, the effects of soybean sprout powder can be mentioned as follows: 
Bean sprout powder helps to increase libido, reduce dryness, and enhance physiological functions in a woman's body.

Soybean starch brings better and deeper sleep, helps sedation, brings a comfortable and refreshing spirit.

Whole fiber soybean powder fades dark spots, dry skin, improves wrinkled, lifeless skin.

Soybean sprout powder helps the body to be supple, soft and flexible, slimmer.

Drinking soy bean sprout powder also repels the risk of dangerous cancers.
How to make soybean sprouts
Because of the effects that soy bean sprout powder brings to the human body, today, this powder is very popular among women. We can buy soy flour at the store, or to be safe, you can refer to how to make soy bean sprout powder at home.
Now we don't have to go far but we still know how to make soybean sprouts to increase breast size, save it right away in our beauty notebook.
Ingredients for making soy bean sprout powder:
Soybean seeds are pure, fresh, not nestled, not moldy and not moldy.

Tools for making: 1 large plastic pot, 1 cloth towel to filter the residue.
How to make soybean sprouts
To make delicious, standard soybean sprouts, increase your breasts, you just need to follow the steps below:
Step 1: Select quality soybeans. After buying, proceed to soak and wash thoroughly, to remove all the dirt on the seed shell. Next, pour the beans into the pot and soak them in warm water for about 3 hours. Remove to a basket to dry.
Step 2: Incubate soybean seeds: When the beans are drained, they can be placed in a damp bag, or can be placed directly in the basket and covered with a towel to keep the seeds moist. Water the seeds regularly, twice a day. Note, use only clean water. 
Step 3: After about 1 week, you can observe that the bean has germinated, about 10 cm in length. Next, you proceed to clean the outer shell.
Step 4: Bring the peas spread on a thick mesh to dry. If you have an oven, you can dry it in the oven.
Step 5: After being dried, soybeans are roasted and golden brown.
Step 6: Put in the blender until the powder is smooth and pure soybean powder is okay.
Soybean sprout powder should be placed in a plastic or glass container, then tightly closed and used gradually. You can store it in a cool, dry place, avoid direct sunlight, or store it in the refrigerator for longer shelf life.
Drink soy germ powder properly
Does drinking soy bean sprout powder increase breast size? How to drink soy bean sprout powder to achieve high efficiency. Let's follow along now.
How to use soybean sprout powder is very simple: Each time, you only need to use 3 tablespoons of bean sprout powder combined with warm water (the amount of water is more or less depending on the taste of each person). Stir well then add a little more condensed milk if you want to enhance the taste. 
Pure soy flour used every day brings very good effects, especially in the morning. However, not that you use too much, too much will lead to some side effects such as: overweight, weight gain. Drinking soy powder is good and it is best to use it 3 times a day, 30 minutes before each meal.
Soybean sprout powder is good for who
Raw soy bean sprout powder is especially good for those with limited bust size, who want to increase bust size. People with hormone disorders, deficiency, hormone decline. Women with dry skin, pigmentation, vaginal dryness. Women amenorrhea, menstrual irregularity, menorrhagia, frequent abdominal pain, back pain when it comes to beard. People in menopause, perimenopause, hair loss, young hair ends, dryness, osteoporosis, insomnia, mental instability. Women with acne at puberty, hormonal disorders.
What is the current price of soybean sprout powder? How much money per kilogram?
Currently, on the market, soybean sprout powder is sold in many places. However, there are many different types of soybean sprout powder. Therefore, you should choose to buy according to the purpose and needs of use. Pure soy bean sprout powder usually has a higher price than other products.
The price of soybean sprout powder usually ranges from 320,000 to 350,000 VND/kg.
Currently, at Dung Ha dry food, we are selling soybean sprout powder for 330,000 VND/kg. Committed to pure, qualified soybean powder.
Where to buy soybean meal in Hanoi?
Soybean sprout powder is sold in most stores in Hanoi. However, to ensure quality, safety for health, avoid unwanted harm, you should choose to buy soybean germ powder at reputable, quality establishments that are highly appreciated by consumers.
Dung Ha Dry Food – A place specializing in selling soybean sprout powder in Hanoi. Proud to be the number one supplier in the market, trusted and loved by consumers.
In addition to buying soybean sprout powder , you can choose to buy many other flour products at the store such as: onion powder, beetroot powder, nutritious cereal flour
If you have any questions about soy bean sprout powder or product prices, please contact us directly via the hotline:
Hotline: 1900 986865
Website: https://thucphamkho.vn/