Product information of glutinous rice powder (pineapple leaf powder) at Dung Ha Agricultural Products:
| | |
| --- | --- |
| Classify | Glutinous leaf powder (Pineapple leaf powder) pure, special type |
| Pack | From 100g or more (depending on customer's request) |
| Element | Made from 100% fresh glutinous rice, harvested in the North |
| Expiry | Up to 12 months after opening the product packaging |
| Delivery | Nationwide delivery support |
Pictures of glutinous leaf powder at Dung Ha dry food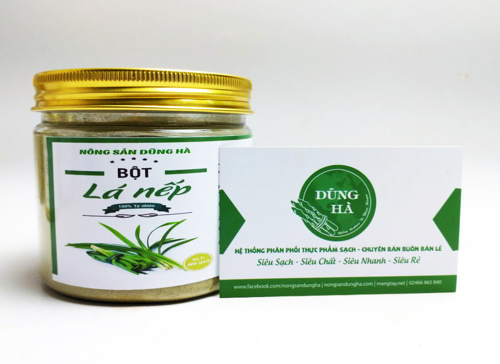 What is glutinous leaf powder (powder leaves)?
Glutinous leaf powder , also known as bamboo leaf powder. This is a type of flour that is often used as an ingredient in the preparation of delicious and greasy dishes. In addition, it is also considered a very good medicine for human health. In terms of origin, glutinous rice powder is harvested and produced from 100% pure fresh glutinous leaves, without the use of any preservatives or chemicals. Therefore, we can be completely assured of the quality, using it as a necessary ingredient, increasing the flavor of the dish.
Don't miss : Pure and delicious pure green tea powder canned
How to make delicious sticky rice (pineapple leaf) powder
The fresh sticky rice leaves, after being harvested, are filtered and the damaged part is removed.
Rinse thoroughly with water, then put in a basket to drain the leaves.
Remove all the veins of the leaves, then cut the leaves into equal pieces.
Dry the sticky rice leaves to keep the natural green color of the leaves.
Put the leaves in the grinder until smooth.
Finally, close the bag or box and store it in a dry place.
Some things you need to keep in mind when making glutinous leaf powder:  That is, in order to keep the color and taste of the powder, the leaves after being harvested need to be processed immediately. Avoid leaving it overnight, it will lose the characteristic flavor of the dough.
How to use glutinous leaf powder (leaf leaves)
Using glutinous rice flour is very simple. To cook tea or cook sticky rice, you just need to take a sufficient amount of glutinous leaf powder. Then dilute with water. Then use a thin bucket towel to filter, remove excess residue. Sticky leaf juice seems to have become an indispensable ingredient in many dishes such as sticky rice sticky rice, sticky leaf tea, sticky leaf jelly…
How to make delicious and attractive sticky corn tea
About the ingredients to prepare the corn leaf tea:
Sweet corn or glutinous corn: 4 fruits (note: sweet corn should be used to taste better and more fragrant).
Tapioca flour: 50 grams.
Fresh milk with sugar: 200 ml.
Sugar: 250 grams.
Leaves powder.
Salt.
White sesame or pre-roasted peanuts.
Steps to make Glutinous Corn Tea:
Includes the following steps:
Step 1: Choose to buy big and fresh corn, freshly broken, still sweet. Then, cut off the leaves and beard, wash and boil the corn. Note, when the water starts to boil, you add about half a teaspoon of sugar and a little salt to make the corn softer and sweeter.
When the corn is cooked, put it in a basket and let it drain. Then, using a knife to cut the corn into small pieces from top to bottom is the easiest and most time-saving.
Step 2: Leave the corn broth. For glutinous leaf powder, we dilute it with water and then filter the juice. Pour into the pot of boiling water. Bring to boil. Then add about 1 bowl of ready-made tapioca water, stir well with a spoon to create a paste and consistency of tea.
Step 3: Add sugar to the water to taste, avoid being too sweet or too pale, losing the taste of the tea. Then, add the processed corn and stir well, avoiding burning the pot, which will affect the aroma of the tea. 
So together, we finished the delicious sticky rice corn  soup with the sweet taste of Hue people. This tea is delicious to enjoy on hot summer afternoons with a little bit of shaved ice. Remember to try to entertain the whole family.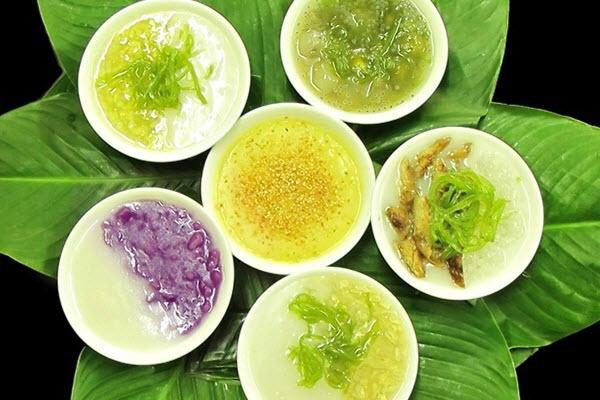 How much is the price of glutinous leaf powder (pineapple leaf) per kg?
At present, glutinous rice flour has become popular with most households due to its effects as well as its easy storage and use. Therefore, there are many establishments and shops that sell glutinous leaf powder (leaf leaves) with different prices. Usually ranges from 60,000 to 100,000 VND/box/ 100 grams. 
At Dung Ha Agricultural Product Store – we are selling the price of glutinous leaf powder  at VND 70,000/box. Committed to the quality of all natural products. 
Where to buy quality bamboo leaf powder (sticky leaves) in Hanoi?
Understand the growing needs of customers. Finding glutinous rice powder is no longer difficult. However, also taking advantage of this feature, the spread of poor quality products, mixing unhealthy chemicals into the market is also countless. Therefore, we should search and choose to buy in reputable and quality places.
Dung Ha Agricultural Products is always proud to be one of the leading brands in the market when it comes to selling quality sticky rice powder . Specializing in providing customers with products of clear origin, ensuring food hygiene and safety from harvesting to preservation and processing. 
In addition to selling glutinous rice powder , we also have a number of other dry products such as: Gac powder , Cam leaf powder, asparagus powder, turmeric starch , etc.
Hotline: 1900 986865
Website: https://thucphamkho.vn/
Or visit the addresses of Dung Ha Agricultural Products here:
Branch 1: No. 11 Kim Dong – Giap Bat Street – Hoang Mai District – Hanoi
Branch 2: A11 – Alley 100 – Trung Kinh Street – Yen Hoa Ward – Cau Giay District – Hanoi
Branch 3: No. 02/B Quarter 3 – Trung My Tay Street 13 – District 12 – Ho Chi Minh City