| | |
| --- | --- |
| Classify | Shelled green beans, peeled green beans |
| Packing | Packing 500g – 1Kg |
| Origin | Vietnam |
| Expiry | More than 12 months from date of manufacture |
| Element | 100% Cao Bang green beans are harvested according to VietGap standards |
| Delivery | Nationwide Delivery |
Photos of green beans with shells at Dung Ha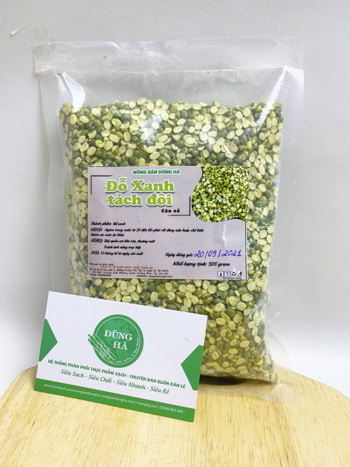 Things to know about whole, peeled green beans
Whole green beans are a kind of food that is not far away from Vietnamese people. Apparently, it is an indispensable food in every family's pantry. Green beans are used to make cakes, green beans are used to cook sticky rice, green beans are used to cook tea, …
Green beans are also known as green beans. Green beans grow upright, about 40-80cm tall. The hairy leaves are a winter crop of the North of our country. The pods are oblong and hairy on the outside. When the mung beans are ripe, people harvest and dry the whole fruit, after a few days of sun, the peas dry and open the shell, they peel off the outer shell to get the whole green bean.
The dishes are made from green beans: mung bean soup, cake filling, mung bean cake, … to make these dishes, people have to bring the whole green beans to process the shell, that is, to peel off the green skin. the outside of the bean. Currently, in order to save time in shelling, people have technology to peel and sell peeled green beans:

Instructions on how to cook green bean porridge
Green bean porridge is an extremely nutritious dish, good for both children and adults. On hot summer days, there is nothing better than eating green bean porridge. Should cook green bean porridge for people who have just woken up, People with inflammatory bowel disease, food poisoning should also eat green bean porridge. Right now Dung Ha will guide you how to cook delicious and nutritious green bean porridge, pocket this recipe right away to take care of your family!
Ingredient:
Shelled green beans:  50 gr (can use shelled green beans)
Plain rice: 50 gr
Sticky rice: 50 gr
Young mulberry leaves: 18 gr
Perilla leaves: 12 gr
Coriander, green onion
Salt, soup powder, seasoning, pepper,…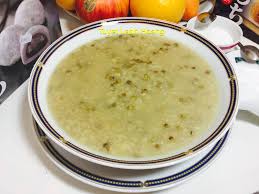 Processing:
Step 1: Bring glutinous rice, plain rice, and green beans soaked in water for 2 hours before cooking. Put the ingredients in a pot, pour 1.5l of water and start simmering.
Step 2: Wash perilla leaves and mulberry leaves, then finely chop. When the porridge is close, add the leaves and cook for another 5-10 minutes, then turn off the stove. Season to taste.
Note: Should let the porridge cool completely before eating. Green bean porridge can also be combined with lotus leaves, with tapioca flour, …
Is it good to eat green beans every day?
Green beans are an extremely healthy food. However, using green beans every day will cause a feeling of boredom and cause an excess of starch because the main ingredient in green beans is starch. For children, green beans should be eaten once a week. Adults are more, about 3-4 times a week.
Should not eat too many green beans because green beans are cold, so providing the body with a large amount will lead to gastritis and intestinal diseases. Women should also not use too much green beans because they will cause abdominal distension and menstrual pain,… Do not use green beans while being treated with oriental medicine.
Selling price of whole, peeled green beans in Hanoi
If you are still wondering about the price of whole green beans or the price of peeled green beans. If you have not found a reputable address to sell green beans in Hanoi, come to Dung Ha Dry Food right away!
At Dung Ha dry food is selling both types of green beans:
Whole green beans are being sold for: 70,000 VND/kg
Peeled green beans are being sold for: 75,000 VND/kg
Where to buy shelled, peeled green beans in Hanoi?
Not everyone knows the address to sell quality green beans in Hanoi. You should look to the addresses that provide clean dry food to buy dry agricultural products such as: bean sprouts, dried thorns, whole green beans, peeled green beans, dried wood ear mushrooms, dried forest mushrooms, …
Dung Ha dry food is also one of the addresses providing top quality prestigious agricultural products in Hanoi. The item of green beans at Dung Ha dry food is one of the best-selling items in the store. Come to Dung Ha to buy whole green beans, green beans are processed cleanly, according to the process and ensure food safety and hygiene.
Refer to the list of dry goods being distributed at Dung Ha Dry Food here