Product information of dried tofu skin at Dung Ha Agricultural Products:
Classify

High-class special dried bean paste

Packing

Vacuum
Weight: 500g

Origin

Vietnam

Expiry

12 months from date of manufacture

Element

100% pure soybeans and water

Delivery

Nationwide Delivery
Photos of dried tofu skin at Dung Ha: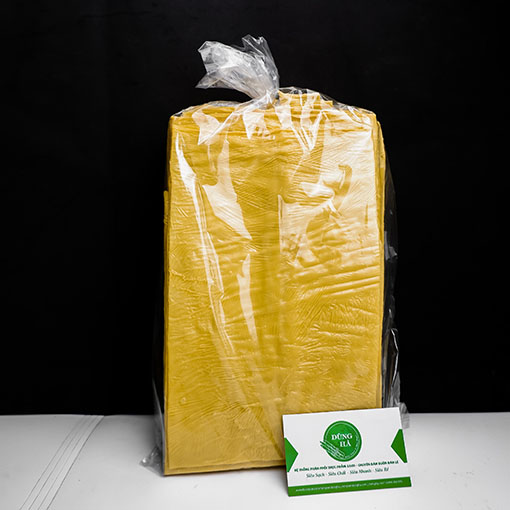 What is dry tofu skin?
Tofu skin also has other rice names such as tendon beans, tofu ky, peanut shirt. So what is Tofu skin made from has the main ingredient from soybeans, it is made from boiling bean water and thinly coated on bean water. The Tofu skin is average, with a light sweet taste. Dried Tofu skin contains a lot of fatty acids and proteins that are good for the brain and heart health.
Dried Tofu skin eaten in hot pot is the most popular dish, in addition, Tofu skin is also used a lot in delicious and nutritious vegetarian dishes.
Dried Tofu skin (dried tofu) at thucphamkho.vn, each bag of bean curd is packed 500g. The Tofu skin here is completely refreshed, the Tofu skin is sold out and is regularly imported. Therefore, theTofu skin at thucphamkho.vn is always bright yellow, flexible and of guaranteed quality.
On the market today, Tofu skin is sold everywhere, but always alternating with poor quality Tofu skin. To distinguish where the scum is of poor quality, you can look at the following signs: dull brown bean curd, crispy and often moldy. Here, our imported raw materials are imported directly at the manufacturing plants. Therefore, not only the quality is guaranteed, the taste is delicious, but the dried Tofu skin here is also very competitive thanks to no intermediaries.
Features of tofu skin
What is a high-quality product from soybeans?
The content of tofu skin is 10 times higher than that of normal bean juice. In tofu skin contains many nutrients such as: vitamin B1,2, fumalic acid, albumin, iron, calcium, phosphorus, 100g of tofu skin contains up to 477 kcal of heat.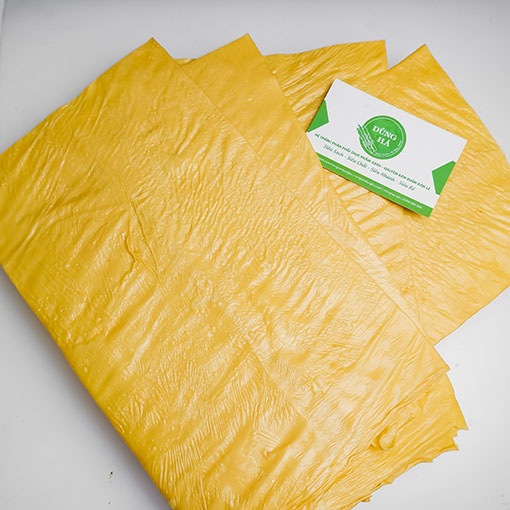 How to process dry tofu skin?
The way to cook dried tofu skin is a job that does not require meticulousness, but still brings a sweet, greasy taste when combined with dishes.
How to prepare dried tofu skin to eat hot pot?
Tofu skin  is made from the main ingredient of soybeans, so it is very healthy and natural, so it is not suitable for people to eat, anyone can eat it. Thanks to the sweet, greasy taste of soybeans, dried tofu skin has become an indispensable side dish in the hot pot at restaurants. The tofu skin helps to increase the flavor and uniqueness of the hot pot. However, to have a piece of fragrant and golden bean scum, we need to go through a standard processing stage.
Soak the tofu skin until soft and expand, then wash the bean scum with water.
Cut the tofu skin to taste.
When the tofu skin is dry, we put the pan on the stove, heat the oil and fry until golden brown on both sides.
Then remove the tofu skin onto a plate to absorb the oil so that it can be dipped in the hot pot.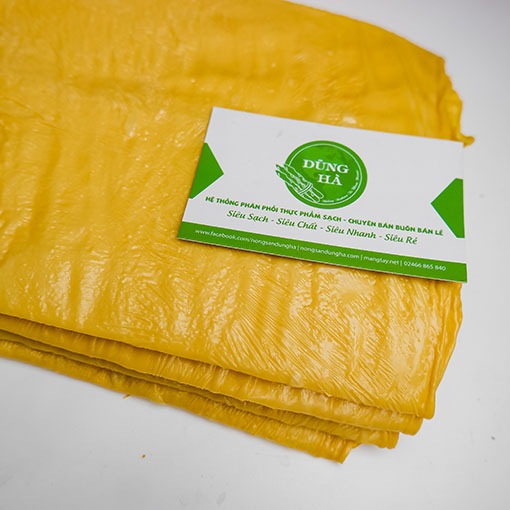 Dishes from tofu skin
Tofy skin is a specialty of dry food at Dung Ha dry food. In addition to vegetarian dishes, tofu skin dipped in hot pot, dried bean curd can also process many delicious dishes. The following are delicious dishes made from dried tofu skin that you can refer to:
Stewed tofu skin with beef
Soy bean paste soup
Bitter gourd soup with tofu skin
Mushrooms with tofu skin
Fried tofu skin with fried squid
How much is the current price of dried tofu skin?
With the increasing demand for tofu skin
Dried tofu skin is an indispensable ingredient in hotpots, that's why more and more establishments sell tofu skin at many different prices and make consumers wonder how much it costs. ". Currently, in the market, the price of tofu skin is about 80,000 – 100,000 VND/Kg
Where to buy tofu skin in Hanoi?
Where to buy tofu skin quality is a question that many people care about, especially women. To be able to buy good quality dried tofu skin, ensure food safety and hygiene, you should go to long-term establishments specializing in providing clean food, because these establishments have been operating for many years and have a brand name in the market. school.
In addition to selling tofu skin, Dung Ha also has other products such as: shiitake mushrooms, pine nuts, wood ear, cashew nuts, peeled green beans, dried shiitake mushrooms, dried bamboo shoots.
Contact via Hotline: 1900 986865
Or you can visit the addresses of Dung Ha Agricultural Products at:
Branch 1: No. 11 Kim Dong – Giap Bat Street – Hoang Mai District – Hanoi
Branch 2: A11 – Alley 100 – Trung Kinh Street – Yen Hoa Ward – Cau Giay District – Hanoi
Branch 3: No. 02/B Quarter 3 – Trung My Tay 13 Street – District 12 – Ho Chi Minh City