Product information of basil powder at Dung Ha Agricultural Products:
| | |
| --- | --- |
| Classify | Pure Basil Powder |
| Pack | Packing 1kg |
| Element | Star anise, clove, cinnamon, cardamom quality assurance and food safety |
| Expiry | 12 months from date of manufacture |
| Delivery | Support delivery within Hanoi within the day. |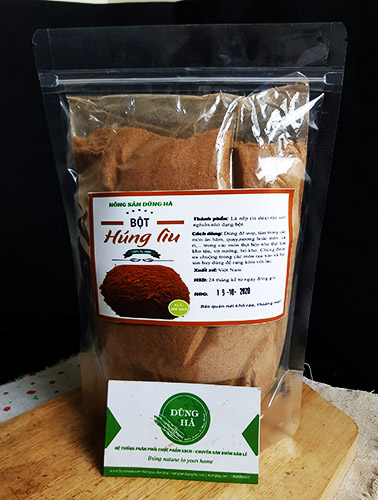 What is basil powder?
Basil powder is a fragrant powder, often used to season meats and used in stews, roasts, roasts, and curries. Basil powder makes the colors of the dishes more attractive, and the delicious flavor is more characteristic. Maybe you've eaten dishes with the participation of basil powder but you don't know. Basil powder is used in dishes such as: braised pork, braised beef, roasted duck, stir-fried vegetables, stir-fried seafood… and other delicious dishes with bold oriental cuisine.
Currently, Dung Ha dry food is selling basil powder . Basil powder is packed in 1kg, compact and 100% extracted from natural flavorings
What are the main ingredients of basil powder?
Basil powder is processed 100% with natural flavorings such as: basil powder, star anise, cinnamon stick, cloves, cardamom, etc. The flavorings are crushed into powder form and mixed according to the ratio. ratio, with each different mixing ratio gives a different flavor. You can absolutely make your own basil powder at home. 
Instructions on how to make standard basil powder at home
How  to make basil powder is not difficult. First you need to prepare the following flavors: star anise, cinnamon, cloves, cardamom. Then, they are roasted until golden brown and ground into powder. Mix the flavors in proportion. The step of mixing flavors is extremely important, so each person mixes up a different taste.
To save time, people often go immediately to the spice food supply stores to buy basil powder. Basil powder is used to prepare many dishes. In which, it is impossible not to mention the roasted peanuts with basil powder. Have you ever heard of Ba Van's roasted peanuts dish? A dish known by many people. Here Dung Ha will guide you how to make delicious roasted peanuts with basil
Instructions on how to make roasted peanuts with basil
Roasted peanuts with basil , this is the name that people in the North named for this dish, while in the South, people often call it peanut basil. A dish originating in the South, it creates a feature in the culinary culture of the Vietnamese people. Until now, it is no longer strange to Vietnamese people, it even attracts many foreign tourists.
Ingredient:
Raw peanuts: 300g
Basil powder
Diameter
Refined salt
Sand
Processing: 
Step 1: Prepare the ingredients:
Soak peanuts in water for 2 minutes, then remove the damaged seeds and drain off the water.
– Mix spices together in the ratio: 1 teaspoon of salt, 200 grams of diameter, 100 grams of basil powder , half a cup of water. Pay attention to mix well and then pour the mixture over the peanuts, stir well to infuse the peanuts and soak for another 12 hours.
Step 2: Proceed to roast basil peanuts 
– Put the pan on the stove, then add the sand to heat and then roast the peanuts. Stir well until peanuts are crispy. 
– Pour the peanuts into the basket and filter out all the sand. Then warm up in a towel or incubate with a peanut newspaper to keep the crispness.
– Note: If the amount of peanuts is too much, you can divide it into several batches to make the peanuts ripen faster and more evenly. Continue roasting until you run out of ingredients.
Above is the traditional way of roasting basil peanuts . The second way to roast basil peanuts that Dung Ha introduces below is for those of you who have an oven. This roasting method is significantly more convenient, you just need to spread the peanuts evenly on a baking tray and bake at 300°F, which is about 150°C. Every 10 minutes, take out to stir once and the total time to roast peanuts in the oven is 30 minutes. 
How much is the price of basil powder for 1kg?
On the market, the price of basil powder usually fluctuates around 150,000-180,000 VND/kg. To buy quality basil powder in Hanoi, go to Dung Ha dry food – the most reliable place to sell basil powder in Hanoi. Dung Ha is selling basil powder for 150,000 VND/kg  
Where to buy good quality and good price basil powder?
Basil powder is more and more widely used in Vietnamese cuisine, there are also many food stores selling basil powder on the market. But you should buy good quality basil powder to ensure the health of yourself and your family.
Dung Ha dry food is always proud to be a leading prestigious brand of clean food in Hanoi. Coming to Dung Ha, you will get delicious basil powder, extracted from natural flavors with a production and packaging process that ensures the safety of consumers' health, so you can rest assured when coming to us. In addition to basil powder, we also provide some other powders such as: Gac powder ,  yellow turmeric powder, garlic powder , cinnamon powder , …