Product information of Camellia leaf powder at Dung Ha Agricultural Products:
| | |
| --- | --- |
| Classify | Pure rosemary powder, special type |
| Pack | From 100g or more (depending on customer's request) |
| Element | Made from 100% selected fresh Camellia leaves, harvested in the North |
| Expiry | Up to 12 months after opening the product packaging |
| Delivery | Nationwide delivery support |
Xem trước (mở trong cửa sổ mới)
Information about purple leaf powder:
Violet leaves are a plant that gives color and is often used to color dishes familiar to Vietnamese people such as cakes, sticky rice, tea, etc. In the past, people often extract the leaves to get color, but now. Camellia leaves are processed in powder form and packaged, very convenient for housewives.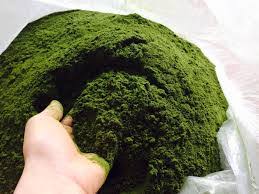 Purple leaf powder  is made from the leaves and is used to create natural colors for dishes that are not toxic. Compared to using fresh violet leaves to get color and using violet leaf powder, it is still much more convenient to use violet leaf powder to color dishes. Purple purple leaf powder is not only a kind of flavoring but also a valuable medicinal herb, good for health. In addition, rosemary powder has many other great uses. Let's find out right away the uses of purple leaf powder  !
Some uses of Camellia leaf powder
In cuisine, the leaves are used to color the dishes more attractive and beautiful. Purple leaf powder is often used in dishes: cakes, sticky rice, tea, jam, ice cream, …
In medicine, purple leaf powder is used to treat and treat diseases such as cough, anemia, hemophilia, etc.
Besides, purple leaf powder also works in beauty. Camellia leaf powder  has the effect of treating acne, making the skin softer and smoother.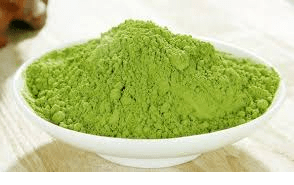 Instructions for using purple leaf powder
How to use purple leaf powder is very simple, you just need to mix the powder with water 80-90°C Then stir well. The longer the dough soaks, the darker the purple color of the water. The density of purple leaf powder also depends on the ratio of flour and water when soaking. Therefore, when mixing Camellia leaf powder, you need to pay attention to these two factors to get the desired color. 
Five simple steps to cook purple rice flour sticky rice: 
Step 1: Add water to the rice and wash the rice, remove the shell and stalks 
Step 2: Pour cold water into the rice to soak for about 4-5 hours to soften the rice. Then take out the rice to drain. 
Step 3: Mix purple leaf powder with water and warm it and stir it with chopsticks, then wait until the water is a little dark purple.
Step 4: Put the rice in and soak it in water for about 15-30 minutes so that the rice has a purple color, when cooked, it will have an attractive purple color. 
Step 5: Take the rice out of the pot to cook sticky rice. After the sticky rice is cooked, add a little coconut milk to make the sticky rice more fragrant and arrange on a plate. 
See more: Oatmeal – Super Weight Loss – Beauty Care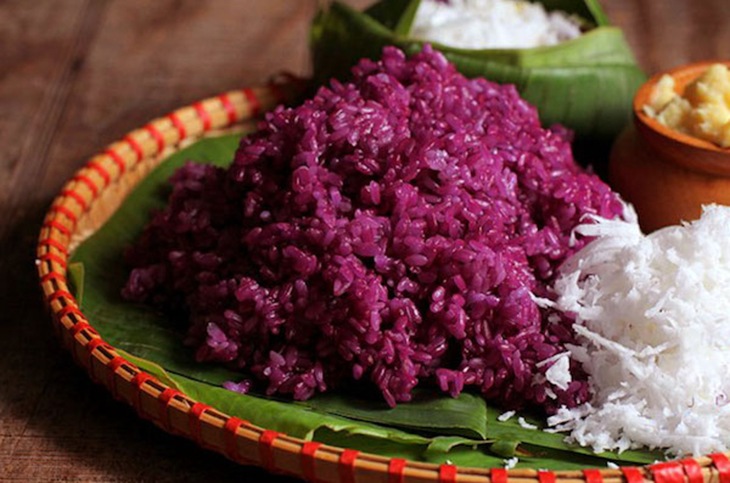 What is the current selling price of Camellia powder?
Purple leaf powder is being sold quite popularly in the market and the price of purple leaf powder usually ranges from 100,000-120,000 VND / 100 gr. Currently, Dung Ha dry food is selling purple purple leaf powder at a stable price: 70,000 VND / 100 gr. 
Where to buy prestigious purple leaf powder in Hanoi.
If you are still wondering where to buy purple purple leaf powder  in Hanoi, come to Dung Ha immediately. Dung Ha purple leaf powder has 100% ingredients from Cam Ti leaves, is produced according to advanced technology and always ensures food safety and hygiene for consumers. Immediately contact Dung Ha's hotline for advice and buy purple leaf powder. Besides purple leaf powder , Dung Ha also sells other powders such as glutinous leaf powder , turmeric powder , gac powder , green tea powder , etc.
Refer to the list of best-selling powders at Dung Ha dry food here.