Moringa powder product information at Dung Ha Agricultural Products:
Moringa powder is a nutritional powder chosen by Vietnamese consumers more and more. Have you ever heard of this powder? Let's find out with Dung Ha now!
| | |
| --- | --- |
| Classify | Pure Moringa Powder |
| Pack | 100 gram |
| Ingredient | Made from 100% pure moringa leaves |
| Expiry | 12 months from date of manufacture |
| Delivery | Support delivery inner Hanoi within the day. |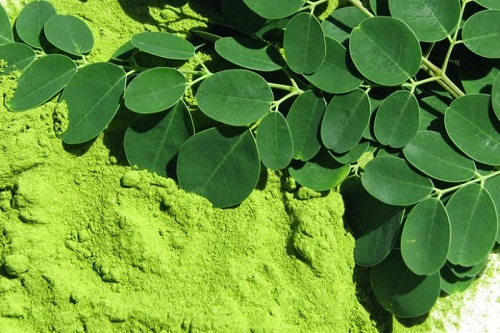 Pure Moringa Powder is condensed from moringa leaves. Moringa leaves are a type of leaf that is full of nutrients. Moringa leaves contain a large amount of substances such as minerals, amino acids, phenolic compounds, proteins and vitamins.
The nutrients in moringa powder have very good anti-inflammatory and antibacterial effects. In addition, they also have many other effects such as: preventing cancer cells from growing, clearing heat and detoxification, regulating blood pressure and a special use of moringa powder is to protect the liver extremely well.
In the past, in order to use moringa leaves, people needed to be painstakingly prepared and processed. But now, with modern technology and creativity, people have produced an extremely convenient product that is moringa powder. Moringa powder is one of the dried preparations, extracted 100% from moringa leaves.
Moringa powder also has the same nutrients as moringa leaves. They can be stored and used very conveniently. From there, people can save a lot of time and can use it anytime when needed. Especially, moringa leaf powder will ensure the full amount of nutrients contained in moringa leaves.
See more: 100% pure Daklak Special Grade Cacao Powder
What is the effect of Moringa powder?
Moringa powder contains a lot of nutrients. It is known that thanks to that rich nutritional content that moringa powder brings a lot of uses for us, here are some typical uses of moringa powder:
Improve health, nourish the body with nutrients.
Relieves stress and promotes deeper sleep.
Milk benefits for women after giving birth
Against aging
Protect the liver
Prevents the risk of osteoporosis
Regulate blood lipids
Is Moringa Powder Good for Babies?
Moringa powder is a benign powder, which can be good for all subjects, from children, women to the elderly. Moringa powder has a very good effect for children, very easy to eat, so mothers often choose moringa powder for babies to eat weaning, for babies who are anorexic and malnourished.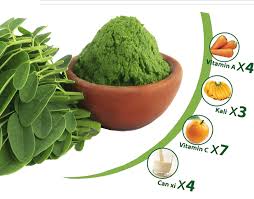 In addition, moringa powder works for the baby from the womb. Women who are pregnant in the 5th month should also use moringa powder to provide nutrients for the complete development of the fetus. Moringa powder also has a beneficial effect on milk, so postpartum women who lack milk should use moringa powder to improve milk glands.
Moringa powder has the effect of relieving stress and helping to sleep more deeply, this effect is very good for the elderly and those who suffer from insomnia. Patients who are being treated for disease should also use moringa powder to improve health and increase resistance to disease.
How to use Moringa powder
How to use moringa powder is very simple, here are some very simple ways to make moringa powder, you can refer and follow:
Moringa powder can be mixed with water and drink immediately: Mix moringa powder with hot water and drink it while it is still hot, to make it easier to drink, you can add lemon and sugar. Moringa water has a very good cooling and refreshing effect.
Moringa powder is used as a flavoring to prepare dishes, or make cakes, moringa powder will help make meals more green.
Moringa powder for beauty:   Moringa powder is used for white bath or moringa powder for face. Moringa powder mask is a combination of moringa powder and honey, so they have the effect of whitening and moisturizing the skin.
What is the current price of Moringa powder in Hanoi?
Dung Ha Moringa Powder is a pure powder, extracted entirely from moringa leaves. Moringa powder is a hot-selling product at Dung Ha Dry Food. Currently, Dung Ha agricultural products are selling 3 forms of moringa powder:
Current price of moringa powder: 80,000 VND / 100 grams
Moringa cereal powder price: 129,000 VND/kg
Current price of moringa tea: 65,000 VND/box
Where to buy pure moringa powder in Hanoi?
Moringa powder is very popular in the market. To buy pure moringa powder in Hanoi, go to Dung Ha Dry Food. Dung Ha is always committed to the quality and nutrients of moringa powder.
In addition to providing moringa powder, we also provide a number of other nutritional powder products such as: asparagus powder, oatmeal, red bean powder, black turmeric powder, gac powder, knife powder, … Hurry up Contact the hotline of Dung Ha Co., Ltd. for more advice from a customer service staff.