Product information of jaggery in Dung Ha:
| | |
| --- | --- |
| Classify | Special type dried jaggery |
| Origin | Vietnam |
| Pack | Packed 500gr or 1kg |
| Element | 100% pure jaggery |
| Expiry | 12 months from date of manufacture |
| Delivery | Support shipping nationwide |
Pictures of jaggery at Dung Ha dry food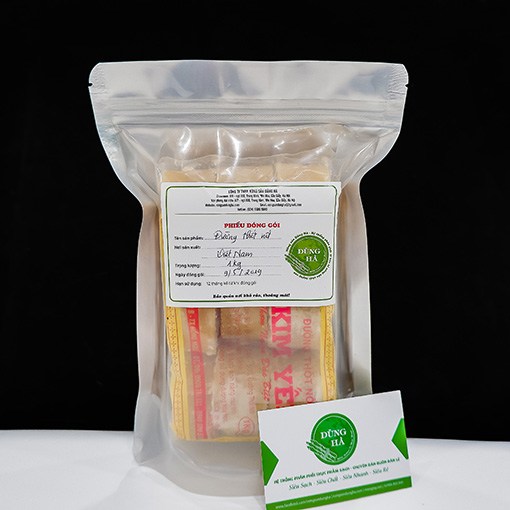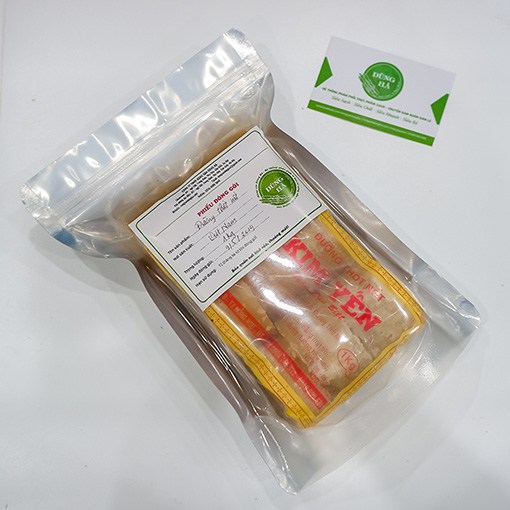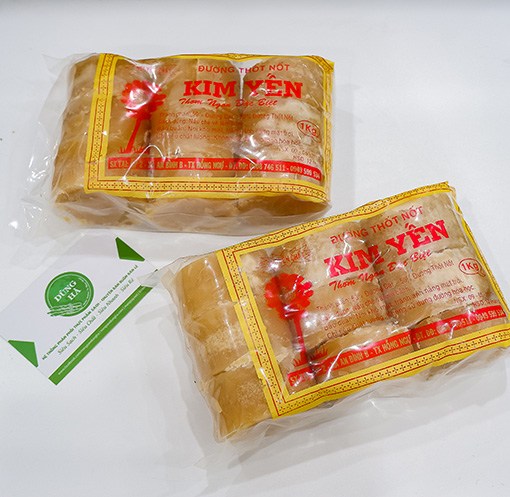 What is palm sugar?
Palm sugar is made from the juice of palm trees belonging to the family of coconut trees grown mainly in An Giang. An Giang jaggery is famous throughout the country, it has a sweet taste, not sharp and is often used in food processing and tea cooking instead of ordinary white sugar. There are also Cambodian, Thai palm sugar…
Is palm sugar good?
Palm sugar is not only used as a cooking ingredient, but the use of jaggery in health and beauty is very good.
Palm sugar is used to replace refined white sugar to create sweetness in the dish. In tea dishes, people often use jaggery instead of white sugar because of its sweet taste and certain viscosity to make the tea more delicious. and cooler.
Palm sugar contains a lot of carbohydrates to help the digestive process in the body take place better, supporting the stomach in digesting food.
In addition, it also helps break down accumulated mucus, helping to treat coughs and colds.
Does eating jaggery make you gain weight? The answer is "No". Eating jaggery has a feeling of fullness for a long time, no cravings, helping the weight loss process, keeping women's shape more convenient.
What are the delicious dishes with jaggery?
1. Braised jaggery meat
Ingredient:
– Pork belly cut into bite-sized pieces
– Dried onion, minced garlic
– Finely chopped fresh chili, northern pepper
– Soy sauce, soy sauce
– Cooking oil, spices
– Jaggery
Making:
– Step 1: Add cooking oil and sauté dried onion, minced garlic and chili. Then put the bacon into the roasting fire, turning yellow.
– Step 2: Add soy sauce, soy sauce, stir well, then add a little pepper. Next, add a little water, cover and simmer for another 10 minutes, until the meat is cooked. Be careful not to let the gravy in the pot run dry.
– Step 3: After the meat is cooked and the water in the sausage is almost dry, add jaggery and roast it a little more so that the meat is evenly absorbed and blended, then turn off the stove.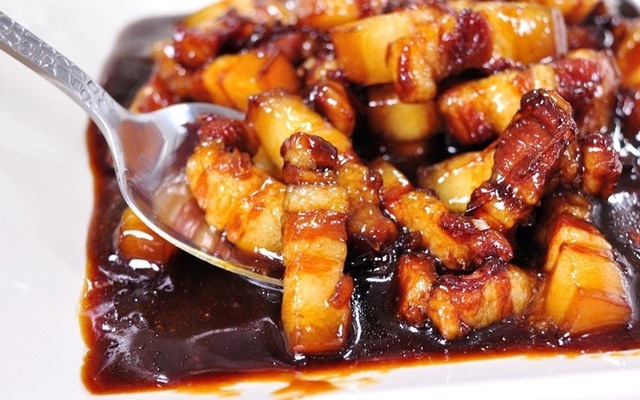 2. Banana rim with jaggery
Ingredient:
– Porcelain bananas: choose ripe bananas, do not choose overripe fruit.
– Jaggery
– Coconut water, lemon juice
– White sesame
– Cooking oil
Perform:
B1:   Peel the porcelain banana, put it in a pot to boil for about 10 minutes and then drain.
B2:   Bring the jaggery sliced thinly into small slices, the purpose of this is to let the sugar infuse faster, then you put the sugar in the pan and cook for 5 to 7 minutes to speed up the melting speed.
B3: After that. Take enough coconut water about 250ml into the pan and stir until the mixture in step 2 boils, then add boiled bananas to rim.
B4: The banana side should be rim evenly, until the color is slightly yellow, then switch to the other side to rim. It should be noted that both sugar and bananas should be simmered for about 60 minutes until they are golden brown on both sides. Finally, add a little lemon juice to create the aroma as well as the standard flavor of the jaggery rimmed banana dish.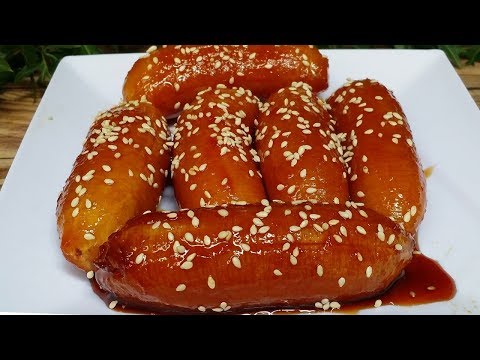 3. Sweet potato jaggery soup
Ingredient:
– Yam
– Jaggery
– Flour
– Coconut
– Seed pearl
– Salt
Making:
B1: Put sweet potatoes in, boil and peel off the skin. Then let it cool and grind it into powder.
B2: Add tapioca starch to the cooled potato flour and mix well to achieve a smooth and flexible dough. If dry, add a little water to make the dough more elastic.
B3: Squeeze all the mixed dough into small balls like floating cakes.
B4: Put the water and a little salt in a pot to boil, then add the jaggery and stir until the jaggery dissolves in the water, then put the mashed potatoes in the pot of boiling water in turn. When the potato balls emerge, they are cooked.
Put the right amount of potato balls into the pot of water to prevent the potato balls from sticking together or sticking to the bottom of the pot. Take turns doing this one at a time until all the mashed potatoes are gone.
Served with coconut milk and pearls is very delicious. Serve hot or add shaved ice to taste. Wishing everyone a delicious !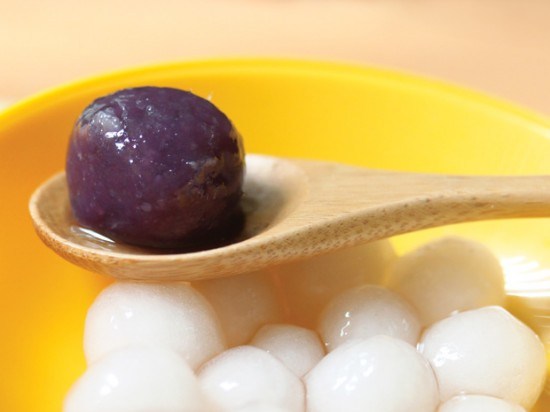 What is the price of jaggery 1kg?
Currently on the market sell many types of jaggery with different prices. The price of jaggery at Dung Ha Dry Food is 60,000 VND / 1 kg, and there are 2 packaging specifications of 500g and 1kg to serve many needs. You can buy jaggery as well as other products at direct stores or you can contact Hotline: 1900 986865 for the fastest service!
In addition, customers can refer to some other dry products at the store: drunk pepper, brown rice, peeled green beans…
Where to buy cheap quality jaggery?
Where is palm sugar sold? These are questions that users are interested in. Thucphamkho Dung Ha will answer all your questions. Palm sugar as well as other dry products at the store are always guaranteed in terms of quality and price. Customers can rest assured about all aspects of our products.
In addition, you can see other items such as: dried grapefruit pulp, dried shiitake mushrooms, dried cloves, …