Information about Dung Ha black beans:
Black beans are an indispensable seed in every family's kitchen cabinet. Black beans have very high nutritional value, so they are often used to cook tea, porridge or processed into other nutritious dishes.
| | |
| --- | --- |
| Classify | Black beans |
| Packing | Packages of 200gr, 500gr and 1kg |
| Origin | Vietnam |
| Expiry | 1 year from date of manufacture |
| Delivery | Nationwide Delivery |
Black beans contain many healthy ingredients such as saponins, anthocyanins, phytonutrients, quercetin, kaempferol,… Besides, the starch content in black beans is very high, so when you eat black beans, you are not afraid of deficiency. energy. Below, Dung Ha will guide you how to cook delicious black bean soup properly.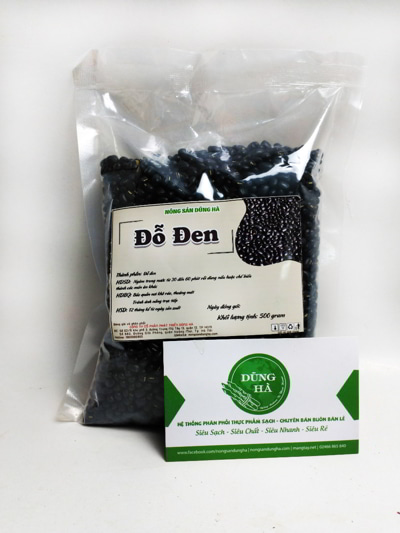 How much is the price of black beans per kg?
Black beans are a type of nut that is grown quite popularly in Vietnam. Therefore, the price of black beans is quite affordable, the price of black beans usually fluctuates around 75,000-85,000 VND/kg.
How to make simple black bean tea at home.
Black bean tea is a nutritious dessert that is loved by many people. Black bean soup is not only a dish with bold Vietnamese culinary identity, but they are also extremely nutritious. Black bean tea has excellent cooling properties. Therefore, on hot summer days, the first dish that people think of is black bean soup.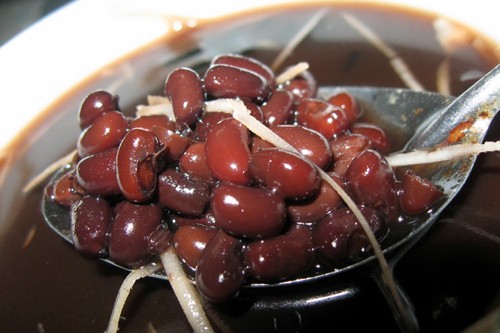 To cook a delicious pot of tea as you like, you need to know a few small tips below, learn now to show off your cooking skills and bring your family members a delicious and nutritious tea:
See more about: red beans, white beans
The secret to cooking delicious black bean tea
Choose black beans: Choosing black beans is an extremely important step, you should choose black beans with green yolk to cook black bean tea. Choose seeds with thin skin and shiny black skin, medium size, not too big and not too flat.
Before cooking black bean soup, you need to do the following steps:
First, take the black beans to wash, remove dirt and damaged seeds
Then soak it with water to make the black bean simmering process easier.
In order for the tea to be black and beautiful, you should bring the roasted black beans for the pods to hunt and then put the water in.
Another secret that Dung Ha wants to share with you is that if you want the black beans to cook quickly and shorten the processing time, when cooking the tea, you should add a little salt to the tea pot. This method also helps your tea become more full of flavor. Below, Dung Ha will detail step-by-step instructions on how to cook delicious black bean soup at home:
How to cook black bean tea
Ingredient:
– Black beans: 400g
– White Suger
– To make black bean soup more attractive, you should prepare more flavorings such as: fresh coconut fiber, vanilla, tapioca flour.
Doing:
– Wash the black beans and remove the damaged ones. Before bringing the black beans to simmer, you need to soak the black beans in water for about 4-5 hours.
– After soaking the black beans, wash them one more time and put them in the rice cooker, add an amount of water 2 knuckles higher than the surface of the beans and then turn on the cooking step. After the black beans have boiled for 5 minutes, you should turn on the incubation mode to let them gradually soften.
– Incubate for 15 minutes and turn to cooking step 1 again for a few minutes. After the black beans have softened, you need to take out the beans in a bowl and proceed to stir the black beans with granulated sugar so that the beans can absorb the sweetness of the sugar.
-Use 300 gr of granulated sugar to stir with black beans. Stir until the sugar is completely dissolved, then pour the black beans into the pot of boiling water.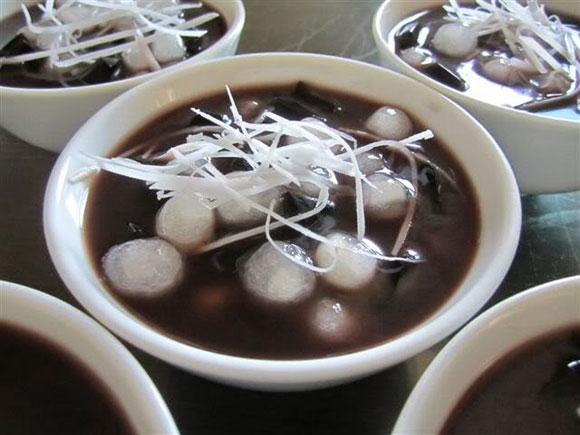 – To make the black bean tea more consistent and fragrant, you should use a little tapioca and vanilla powder and put it in the tea pot. When scooping out the bowl to eat, you add some ice cubes and fresh coconut fiber to feel the fragrant and cool flavor of the black bean soup. You can add pearls or aloe vera to make the tea more diverse and different.
Where to buy quality black green beans in Hanoi?
Black beans are dry foods that are very perishable if stored improperly. Black beans are sold a lot on the market, but not everywhere sells quality black beans, because black beans are damaged from the inside, so the naked eye cannot distinguish them. So you can only put your trust in the supplier.
Currently, Dung Ha Dry Food is selling grade 1 black beans, committed to not being spoiled, not moldy, known and trusted by many customers. The more summer comes, the more people flock to each other to buy black beans to store to cook tea gradually. What are you waiting for? Quickly contact Dung Ha Dry Food to buy black beans to cook tea. In addition to black beans, Dung Ha dry food also provides other types of seeds such as: black beans, white beans, dried longan.
See more list of hot selling dry goods at Dung Ha dry food here.
Most searched keywords:
Where can I buy green black beans?
buy green black beans
Where can I buy green black beans?
address to sell green black beans