Information about white beans
White beans are a familiar food in the Vietnamese culinary village. The bean pod is white, the umbilicus has a brown dot like a crab's eye, so some places call the white bean by another name, it's the crab's eye bean. With a large content of nutrients, white beans have brought a lot of health benefits.
| | |
| --- | --- |
| Classify | Pure natural white beans |
| Packing | Packages of 200gr, 500gr and 1kg |
| Origin | Vietnam |
| Expiry | 1 year from date of manufacture |
| Element | 100% natural white beans, harvested according to VietGap standards, |
| Delivery | Support  Delivery within Hanoi city within the day. |
As mentioned, the content of nutrients in white beans is very high, typically including: protein, fiber, fat, carbohydrates, folate, calcium, vitamin A,… White beans are used by people. Can prepare many delicious and nutritious dishes. In particular, white beans have an extremely effective weight loss effect thanks to the complex carbohydrates available in white beans.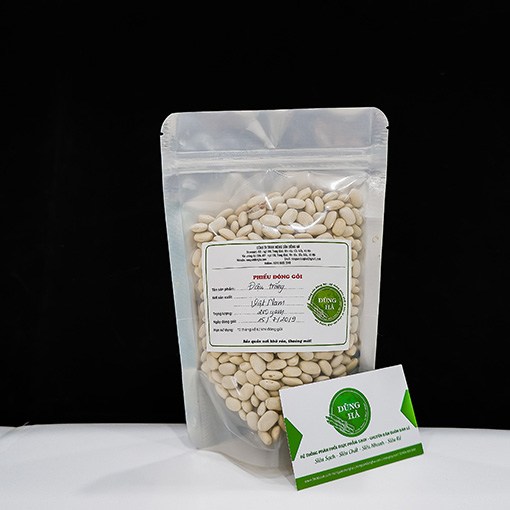 Instructions for using white beans
What's good to cook with white beans?
White beans are not only a nutritious food, but they are also considered a medicine. White beans are used by Vietnamese people to make many delicious and extremely nutritious dishes. From sweet dishes or desserts to stews. Each dish creates a unique flavor for Vietnamese cuisine, typical dishes:
White bean tea

White bean and lotus seed tea

Taro white bean tea

White bean salad

White beans stewed with pork tail bone

Stewed white beans with oxtail

White bean milk
Below, Dung Ha will show you how to cook delicious and nutritious white bean soup with glutinous rice and coconut milk. In addition, Dung Ha also reveals to you a few tips to cook delicious white bean soup like a restaurant. Also find out below. White beans cooking tea is the simplest and easiest way to prepare white beans.
See more: Grade 1 quality black beans in Dung Ha
How to cook white bean soup with glutinous rice is delicious like a restaurant
The secret to cook white bean soup to soften quickly you should know
An important step to soften white beans is that you need to soak the white beans before cooking

Mix white beans with a teaspoon of baking soda. Salt will stimulate the beans to expand faster when soaked.

Note: when mixing baking soda with white beans, the white beans will be stained, so to prevent the white beans from staining, before mixing white salt with baking soda, you should add a little white wine to the white beans. salt mix. White wine has the effect of helping beans become whiter. Soak white beans with baking soda for about 6 hours.

After 6 hours, when the white beans have bloomed, you bring the white beans to boil. Using water to soak beans for boiling is also a way to make beans softer faster.
Here are some notes to cook white bean soup quickly. The following will be the detailed processing of white bean soup that Dung Ha wants to send to readers.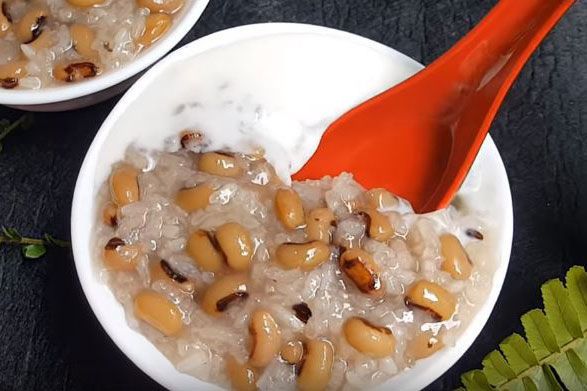 How to make white bean soup
Materials to prepare:
White beans : 200 gr

Sticky rice : 1/2 bowl

Coconut milk : 200 ml

Spices: Sugar, salt, tapioca.
Processing :
Step 1: Clean the glutinous rice and soak it overnight. When soaking sticky rice, you should also add a teaspoon of salt to soak it
Step 2: Soak white beans according to the above recipe. After soaking the white beans, you wash the white beans with clean water again. Then put in the rice cooker and boil until the beans are cooked, then take out a basket to drain.
Mix tapioca flour with filtered water

Next is to pour coconut milk into the bowl of tapioca dissolved in water, stir well.

Put the juice mixture in a small pot, add a little sugar and salt and bring to a boil. Cook until the juice thickens, then turn off the heat.
Put the glutinous rice in the pot and put about 2 fingers of water on top of the sticky rice and bring to a boil. During the boiling process, you need to stir the glutinous rice so that the rice does not stick to the bottom of the pot. Cook until the rice kernels swell, add sugar and turn off the heat
Add the beans and cook for about 15-20 minutes, then turn off the heat.


Wait for the tea to cool, then scoop out the bowl, sprinkle the coconut milk and enjoy.
Thus, with just 5 basic steps, you have finished a delicious and nutritious white bean soup. On hot summer days, you can "roll up your hands" and cook a pot of white bean soup for the whole family to enjoy. wake up. Good luck !
How much is the price of white beans for 1 kg?
White beans are currently being sold at a price of 60,000 VND/kg, which is quite stable. At agricultural products Dung Ha is currently selling white beans packed with 3 different weight levels:
White beans 200gr : 15,000 VND/pack

White beans 500gr :35,000d/pack

White beans 1kg: 60,000 VND/pack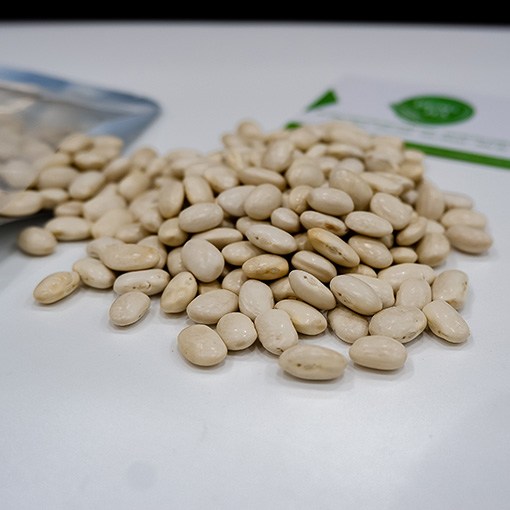 Where to buy delicious white beans in Hanoi?
White beans are a popular item in the market. To know where to buy delicious and quality white beans, go to the most prestigious dry food supply stores in Hanoi. Currently, Dung Ha Dry Food is distributing and supplying the best quality and most prestigious grade 1 white beans in Hanoi. Quickly contact to order white beans type 1, cheapest price in Hanoi.
Dung Ha Dry Food – the address that provides prestigious dry foods trusted by a large number of Vietnamese housewives. In addition to white beans, we also provide other dry foods such as: red beans, whole and peeled green beans, black beans, goji berries.
See more list of hot selling dry goods at Dung Ha Dry Food here
Most searched keywords:
white beans with large seeds