Wood ear products at Dung Ha dry food:
Classify

Cao Bang wood ear

Chinese wood ear

Origin

Vietnam – China

Pack

Packing 100gr, 200gr, 500gr and 1kg

Element

100% wood ear is grown naturally on rotten wood

Expiry

12 months from date of manufacture

Delivery

Support shipping nationwide
Picture of wood ear at Dung Ha dry food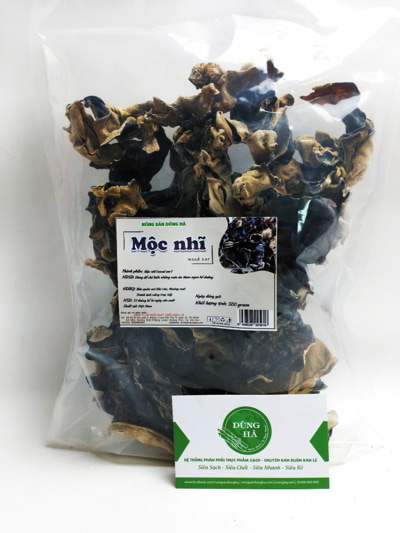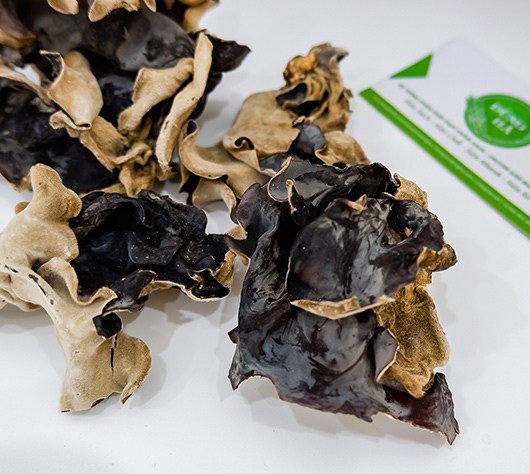 What is wood ear?
Wood ear in English is called Auricularia, belongs to the group of fungi, also has other names such as cat's ear mushroom, wood ear fungus, Van ear …. They often grow in the trunk or layer of fallen leaves, with high humidity of the tree. very easy to grow.
Wood ear has the shape of an ear covered with a layer of white chalk and there are two common species: white wood ear and black wood ear. Wood ear is not strange to us, they are processed along with familiar dishes in Vietnamese cuisine.
After harvesting, wood ear is usually processed and then dried or dried. Dried wood ear will be preserved longer and convenient in cooking.
Is it good to eat wood ear?
Dried wood ear is a popular spice used in the daily meals of many families. Besides being used as food, what other uses does wood ear have? It is also used as a medicinal herb in the treatment of diseases. Regular use of wood ear is very beneficial for human health in supporting the treatment of a number of diseases such as constipation, high blood pressure, ear disease. cerebrovascular change…
However, wood ear can also cause unwanted side effects if we abuse or use it incorrectly.
What delicious dishes do wood ear cook?
Since ancient times, wood ear is an indispensable ingredient in the processing of very familiar Vietnamese dishes such as fried spring rolls, vermicelli cooked with bamboo shoots… Very familiar, isn't it! To create a variety of dishes in the family tray, this article Dung Ha dry food will share with you delicious dishes with wood ear:
Stir-fried spring rolls with wood ear – Northern cuisine on Tet holiday
Materials needed:
Pork ear meat, pork head meat or pork leg meat if you like to eat lean meat

Dried wood ear

Fish sauce, spices, pepper, seasoning, dried onions

Banana leaves to wrap spring rolls, bamboo skeins…with a mold, the better.
Preliminary steps:
– Meat of ears, pork head or pork leg meat is washed and shaved off hair or can be burned through fire to remove hair. Particularly with ear meat or hand meat, it is necessary to clean it to get rid of the bad smell. Boil the water, then add a little salt and vinegar and then put the pork in the ceiling to get rid of the bad smell and dirt on the pig's skin. Or you can add lemon or kumquat to the tea to reduce the odor significantly.
– Slice the pork into bite-sized pieces (the pork ear or the head meat should be thinly sliced) so that the meat can absorb all the spices. Then add fish sauce. seasoning seeds, northern pepper marinated for 30 minutes.
– During the time of marinating the meat, we will prepare the dried wood ear: put it in warm or hot water to shorten the time, then cut off the leg, wash, and cut the thread.
– Sliced or chopped dried onions.
– Banana leaves washed, drained.
Stir-fry the meat:
– Put a little cooking oil in the pan to smooth it, then add the dried onions and saute, then add the marinated pork and stir-fry. During the stir-frying process, stir well and do not overheat. Stir-fry for about 10-15 minutes, observe when the pork is hunted, then add the Thai wood ear and stir-fry together. Continue to stir-fry until the meat is burnt and a little fat is released, then add pepper and stir well and then turn off the heat. Note not to stir-fry too thoroughly, the spring rolls will not be delicious and dry.
– Immediately after frying the meat, you should add enough filling for 1 pork belly to pack it, so that the new piece will have a sticky consistency. Stir-fried spring rolls must be wrapped tightly, so that the pieces of meat and wood ear are not separate. You can use a mold to press, or the current popular way is to use 2 wooden sticks to press tightly on both sides after wrapping, and then use a bamboo stick or a rope to fix it.
– When the sausage has cooled, put it in the refrigerator to store.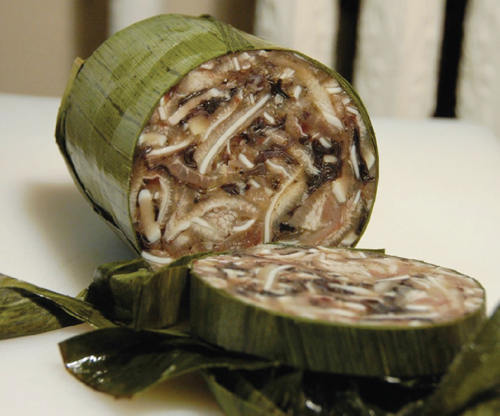 Stir-fried melon with wood ear mushrooms is delicious and easy to make
Ingredient:
– Fresh melon, peeled and cut into pieces
– Dried wood ear: soak in hot water to bloom, then cut the legs, cut into pieces.
– Spices, seasoning…
– Onions, coriander.
Making :
– Put the oil in the pan and then add the wood ear spices and stir-fry for about 5 minutes to infuse the spices.
– Next, add the melon and stir-fry until the melon is cooked, then add the green onions and coriander to the island and turn off the stove. Do not stir-fry the melon thoroughly, it will be mushy, the dish will not be delicious.
–  Eating it while it is still hot will keep the flavor of the dish.

 

In addition to the above two dishes, wood ear can also be processed a few other dishes such as: fried vegetarian wood ear, fried meat ear, fried egg wood ear … Depending on the taste and preferences that each person chooses for himself a dish to make. Good luck !!!

What is the price of dried wood ear fungus on the market?

Depending on the time and season of the year, the price of dried wood ear on the market may change. Currently, on the market of our country, there are two types of wood ear that are sold quite popularly: Cao Bang wood ear and Chinese wood ear. Dung Ha dry food has all of the above 2 types of wood ear with different packaging specifications and prices:




+ Cao Bang standard dried wood ear: 130,000 VND/kg




+ Chinese dried wood ear: 100,000 VND/kg




The price of dried wood ear mushrooms also varies according to the packing specifications in different weights to suit the needs of many customers.

Where to buy quality dried wood ear mushrooms?

Dried wood ear mushrooms sold at Dung Ha Dry Food are guaranteed to have the correct origin for each type. The price always goes along with the quality of the product to the customer in the best and most optimal way when buying dried wood ear at our store.

Other dry products at the store that you may be interested in: Shiitake mushrooms, skullcap pepper, dried sour ears, Black ginger, sliced dried ginger…

 

Contact Hotline for fastest service: 1900 986865