Roses are known to be beautiful flowers, whose fragrance represents the beauty of women. Not only that, roses also have many uses in beautifying the skin, keeping in shape, rejuvenating the body, etc. But not everyone can understand the effects of beautifying the skin effectively and efficiently. most thoroughly. The following article we will give you the skin beauty benefits of roses, completely natural and without worrying about chemicals.
Rose – a natural product that is very good for the skin
Roses contain a lot of vitamins, fiber, antioxidants, and essential oils that give the skin an unexpected beauty effect. They can also be processed with many different beauty treatments and uses. You can refer to some of our methods of using roses below.
Moisturizing rose mask to help skin stretch, anti-aging
Women are so used to wearing masks every day, they help the skin relax and provide great nutrients. With rose petals grown and harvested without chemicals, when applied directly to the skin, it will not cause irritation, reducing chemical anxiety on the face.
How to make rose mask from dried roses :
You use rose powder mixed with honey , or fresh milk (can add almond oil and vitamin E) to apply on the face.
Or use rose water combined with almond oil , honey and vitamin E to apply on the face.
After applying for about 30 minutes, wash it off with warm water. You can combine it with using your hands to gently massage to help blood circulation, anti-wrinkle skin, help blood circulation and become rosy. Especially moisturizing for the skin very well.
Apply the mask about 2-3 times a week to get the best beauty effect.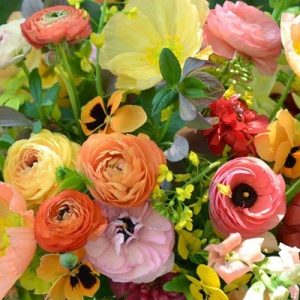 Rose mask fades dark spots and pigmentation
Using crushed rose powder, combined with fresh milk and turmeric powder will help you reduce acne scars, pigmentation effectively, and will help skin treat acne, soften skin.
Can be used daily or every other day to let skin breathe.
Turmeric powder combined with fresh milk or honey to make a mask also works to help reduce dark spots and pigmentation.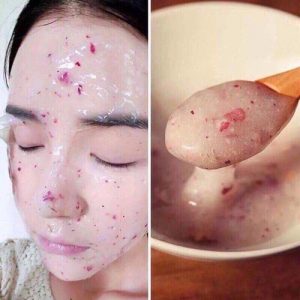 Dried rose powder is combined with honey and yellow turmeric essence. Then apply it on your face for about 15-20 minutes. 
Use 2-3 times a week to effectively treat acne, moisturize and beautify the skin.
In addition, you can use powder from dried gotu kola or dried lettuce leaves, which are very good acne-fighting vegetables to make a mask.
Exfoliating mask, whitening skin from roses.
You can use crushed dried roses to mix with 2 tablespoons of honey, 1 tablespoon of 

lemon juice

 , apply on your face for 15-20 minutes, then wash your face with warm water. 

This mask will help us remove dead cells, provide moisture to the skin and help the skin to have a radiant pinkish whiteness.

Frequency 1-2 times/week.
Toner is probably an indispensable product in anyone's skincare wardrobe. Instead of buying water with chemicals, you can completely use toner made from beautiful rose petals. After the roses are picked fresh and washed, you bring them back to the water bath with a little filtered water. Discard the water body.
If you use dried roses, you can brew with boiling water to get water for daily use. Regular use will help brighten the skin, more evenly, tighten pores, and reduce acne blemishes, freckles effectively. Reduce inflammation caused by skin, inflammation of pores or acne effectively.
How to use: After washing your face in the morning – evening, use a clean cotton ball to soak up rose water and then apply it all over the face, then use with skin care.
Rose tea prevents aging, weight loss from deep inside the body
From the dried rose buds, you can boil tea. Rose tea helps blood circulation, nourishes the skin from the inside, prevents aging, makes the skin white, rosy and smooth.
How to make tea:
Brew 4-6 grams of dried rose with 200ml with boiling water and drink daily. The essence in rose will help enhance blood circulation, thereby helping the skin to be nourished and anti-aging, preventing wrinkles, fresh and smooth.

Not only that, drinking rose tea also helps regulate menstruation, improve endocrine in the body.
In addition, pink bud tea combined with kimchi tea is a popular drink for weight loss, beauty, health promotion, and skin aging prevention. 
Jasmine tea also has the effect of helping to beautify deeply from the inside, clearing heat and detoxifying the hot inside, pimples.
Facial steaming water from rose, deeply cleans dirt and tightens pores.
With the method of facial steaming to beautify the skin since ancient times, this is a way to help the skin relax, eliminate toxins and dirt. From there, the skin is smooth, reduce acne and more fresh.
You use 6-10 grams of rose buds with 1 liter of boiling water, then use it to steam your face regularly 2-3 times a week.
Use roses to relax in the bath, fight skin diseases, and help keep your skin healthy
You can drop fresh roses directly into boiling water to slow down the bath water, or use rose essential oil and soak in the bath. The essences from roses help you feel relaxed, reduce fatigue and stress, stress, help you feel more excited. Not only that, with the ability to eliminate fungi in its ingredients, bathing with rose water helps you get rid of back acne, skin allergies, and pore inflammation to help keep skin healthy. stronger.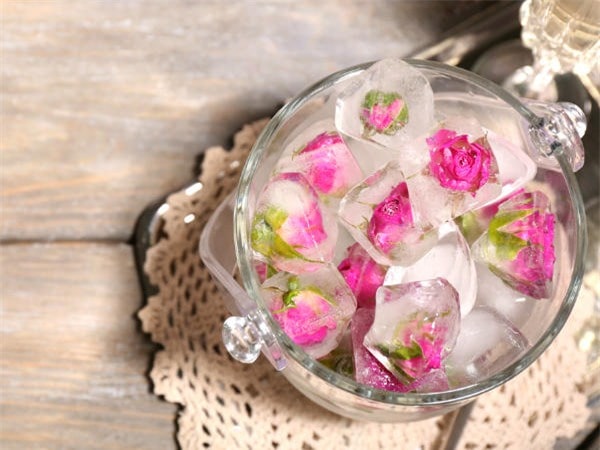 A soft, pink lips is irresistible and the desire of many girls. Moisturizing the lips is a necessity, they help keep the lips soft, avoid dry chapping and prevent dark lips.
Making:
Heat beeswax and olive oil in a water bath until melted, add a little rose and stir well. From that mixture you pour into the jar, wait for the wax to dry and then you can use it.

Use frequency daily
Not only that, roses can also be used as rose water or scented candles for roses to burn in the room to help light fragrance and eliminate mold.
The above methods are the most commonly used beauty treatments that you can beautify from dried rose petals. Besides, you can also combine roses with other flowers or essential oils to steam, relax and beautify your skin. However, do not overdo it, you should use other beauty products to add enough nutrients to the skin and keep the skin healthy.
See more: Check out 5 herbs for smooth hair care for women
Where to buy reputable dry roses for skin care in Hanoi and Ho Chi Minh?
The quality of roses is always a concern, especially when they are applied directly to our sensitive skin. Therefore, to find an address that provides safe dry roses is very important. We would like to introduce to you the address of Dung Ha Agricultural Products store , which sells quality dry goods, especially selling cheap and reputable dried roses on the market today. You can be completely assured of the safety of no chemicals on roses, creating extremely benign beauty products. To buy products, go to Dung Ha Agricultural Products store directly or contact our hotline for detailed and specific advice.
Hotline : 1900 689865.
Address:
Facility 1: 11 Kim Dong – Giap Bat Ward – Hoang Mai District – Hanoi

Facility 2: A11 – Alley 100 – Trung Kinh Street – Yen Hoa Ward – Cau Giay District – Hanoi

Facility 3: No. 02/B Quarter 3 – Trung My Tay Street 13 – District 12 – Ho Chi Minh City