Dishes from dried mushrooms not only have high nutritional value but also have a delicious taste. Mushroom dishes can be prepared simply but are very delicious, even the most clumsy people can cook. In the article below, let's learn some ways to cook from dried mushrooms and where to buy cheap and reputable dried mushrooms in Hanoi and Ho Chi Minh below.
Dried mushrooms and high source of nutrients
Mushrooms have an extremely rich source of nutrients. Mushrooms contain a lot of vitamins such as B5, B3, B2, … metallic substances, fiber, potassium, calcium and many important for the body.
Health benefits of mushrooms:
Prevention of diseases related to the heart: mushrooms contain a lot of vitamin K, minerals have the effect of reducing blood clots, preventing arterial occlusion due to thrombosis.

Support and prevent atherosclerosis: The activities of 

lecithin, cephalin, plasmalogen and phosphatidyl serin, nucleic acids … present in some mushrooms have the effect of lowering and atherosclerosis.

Support the digestive system: types of fiber and plant collagen help the digestive system work better, fight constipation, support the purification and elimination of food after digestion.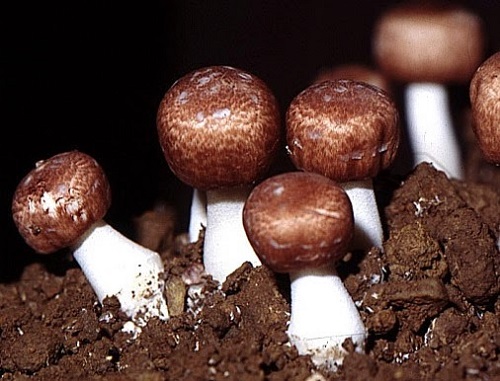 Especially, for those who are looking to lose weight, mushrooms are a very good food. With nucleic acids can help reduce cholesterol and triglycerides in the blood. Helps you lose weight safely and quickly.

Beautify the skin: in addition to the above uses, mushrooms are also rich in protein and vitamin E. They help supplement iron to nourish the blood, making the skin bright and smooth when using the right amount of mushrooms.

Like other vegetables, mushrooms also contain a lot of antioxidants. The typical oxidants are 

ergothioneine 

and 

glutathione 

. They have the ability to slow down the aging process very well for cells in the body. 
In addition to the above uses, dried mushrooms also provide a great source of energy for the body. Support to enhance resistance, regulate blood pressure, etc. However, when using mushrooms, it is necessary to have a safe dose. If taken too much can lead to many symptoms of indigestion or harm to the body.
How to cook dishes from dried mushrooms
With a delicious taste, mushrooms can also be prepared with many dishes. In particular, in vegetarian dishes, mushrooms are an indispensable ingredient. Let's take a look at some vegetarian dishes made from mushrooms below.
2.1. 
Wood ear mixed sweet and sour
Ingredients: 20g 

dried wood ear, 

Coriander

 , Spices: Salt, sugar, vinegar (or lemon juice), mustard oil (optional), soy sauce, sesame oil, 

paprika

 .

Making:

Step 1: Treat wood ear buds, soak them in cold water and leave overnight until soft bloom. Wood ear after soaking, take out, wash and dry.

Step 2: Pour water into the pot enough to cover the amount of wood ear, wait for it to boil, then add the wood ear to boil. Because the soaked wood ear is soft, it cooks quickly, you just need to put it in boiling water for about 2-3 minutes, then take it out and soak it in cold water. Soaking the wood ear in cold water will help it get crispy when eaten.

Step 3: Using a small bowl, add 2 tablespoons soy sauce, 1 tablespoon vinegar, a little sesame oil, 1 tablespoon sugar, 1 teaspoon salt. All mix well. You can adjust the flavor to suit your taste.

Step 4: Mix the seasoning mixture into the wood ear that has been separately grated. Mix well and add coriander, chili powder. So the meal is complete.
2.2. 
Wood ear salad
Ingredients: 4 cups soaked wood ear, 3 

garlic

 cloves (finely chopped), 1-2 fresh red peppers (dipped and chopped, optional), 1½ tbsp black vinegar, 1 tbsp light soy sauce, 1 tbsp coffee sugar, 1 tsp sesame oil, 1 tbsp chopped scallions

.

Making:

Step 1: Boil mushrooms in boiling water for about 3-4 minutes, then take them out and rinse with cool water, then drain.

Step 2: Take a large bowl, add garlic, chili, vinegar, soy sauce, sugar, sesame oil until the sugar dissolves. Next, add wood ear mushrooms to absorb the seasoning. Leave it on and wait for about 30 minutes. When taking out to use, can be mixed well before eating.
2.3. 
Braised Straw Mushrooms
Ingredients 

: 

Mushroom

 buds: 500 grams, Vegetable oil: 2 tablespoons, Soy sauce, salt, 

ground pepper,

 Sugar, monosodium glutamate, vegetarian seasoning. 
You take the straw mushrooms, clean them, and wash them with water. Soak in salt water for about 10 minutes. Then take out to drain and cut in half.

The mushrooms that have been treated are brought to a bowl. Marinate straw mushrooms for 10 minutes with 1 tablespoon soy sauce, ½ tablespoon vegetarian seasoning.

When the mushrooms have been soaked in spices, put them in an earthen pot, add enough water. At the same time, taste the seasoning to taste.

Stock pot of mushrooms on the stove. Reduce heat until the mixture in the pot becomes a paste.

Add a little oil and ground pepper to taste better.

Turn off the heat and decorate with mushrooms. So we have completed a simple but nutritious braised mushroom dish.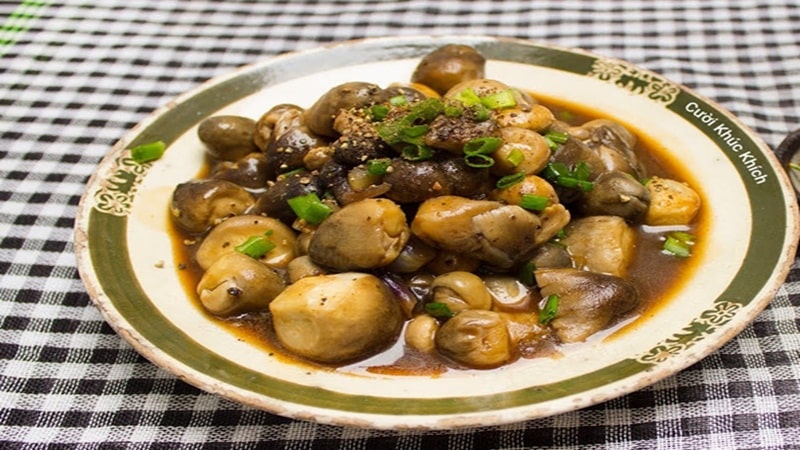 2.4. Stir-fried Shiitake Mushrooms with Vegetarian Cabbage
Ingredients: 

Shiitake mushrooms

 

(quantity depends on preference), 1 bunch of bok choy, 1 medium-sized chili
1 garlic bulb, Spices: Cooking oil, soup powder.
Step 1: Preliminary preparation of spices: smashed garlic, washed cabbage, then cut in half. Shiitake mushrooms are picked up, soaked in water for 5 minutes to soften. Chili is finely chopped.

Step 2: Put the pot of water on the stove to heat, bring to a boil, then put the bok choy in and boil until almost cooked, take out and drain.

Step 3: Add chili, garlic, spices to the pan. Add shiitake mushrooms and bok choy and stir well. Just mouth tasting. Turn off the stove to a plate and garnish. 
The dish when served with rice is very delicious.
2.5. 
Stir-fried abalone mushrooms with lemongrass and chili
Step 1: Preliminary raw materials: bought abalone mushrooms, cut off the root, then wash and soak in salt water. After about 10 minutes of soaking, drain and tear into bite-sized pieces.

Step 2: Chop lemongrass and chili, minced garlic

Step 3: Put oil in the pan, saute lemongrass, chili, minced garlic.

After the mixture is golden, add 2 teaspoons and turmeric powder to the pan and stir the ingredients together.

Step 4: Season to taste, then stir-fry until the mushrooms have drained of water, then turn off the heat and put on a plate.
2.6. 
Stir-fried tofu with wood ear, bell pepper
Step 1: Tofu is cut into bite-sized pieces. Wash bell peppers, cut in half, remove seeds, cut into small pieces. Soak the wood ear mushrooms until they bloom and then cut them into small pieces.
Step 2: Fry the beans until golden on both sides. Then put the beans on a separate plate, add the wood ear and bell pepper and stir-fry together for about 2 minutes. Next, add the beans to the island for another 2 minutes.
Step 3: Season to taste and turn off the stove.
Mushroom dishes have a lot of protein and vitamins, you can vary with many different dishes. Depending on your taste and preparation, you can enjoy wonderful dishes with a variety of mushrooms. However, learn carefully about each type of mushroom to avoid the problem of allergies or mushroom poisoning when using.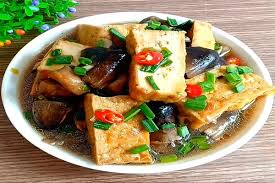 Where to buy cheap, quality dried mushrooms in Hanoi and Ho Chi Minh?
Mushrooms are foods that are rich in nutrients and have a delicious taste. Currently, the purchase of mushrooms is no longer too difficult because it is possible to cultivate mushrooms with high technology. Mushrooms are grown to ensure the origin, product quality and affordable prices. You can easily find and buy dried mushrooms at markets, commercial centers, etc. However, not everyone can find a reputable mushroom buying address. Dung Ha Agricultural Products with many years of trading and supplying mushrooms in large quantities for wholesale, retail customers are proud to be a place where you can feel secure when buying cheap, quality dried mushrooms . In addition, you can also buy fresh and delicious foods and vegetables with clean and cheap origin at our store.
Can buy in 2 ways is to go directly to the store of Dung Ha Agricultural Products, the second is that customers can contact via hotline or website for the best advice.
Hotline: 1900 986865
Head office address: 11 Kim Dong, Hoang Mai district, City. Hanoi

CS2: A10, lane 100 Trung Kinh, Yen Hoa ward, Cau Giay, Hanoi

CS3: No. 02/B Quarter 3, Trung My Tay 13 Street, District 12, Ho Chi Minh City