Information about red beans at Dung Ha dry food
Red bean is also known as the right bean. The red bean plant is a herbaceous plant that belongs to the legume family. Red bean seeds are about 5mm in size, the bean pod is brownish red. Red bean is one of the foods with high nutritional content, good for health and this is also the type of nut that Vietnamese consumers buy a lot. Red bean products are the best-selling among the dry goods available at Dung Ha Dry Food.
| | |
| --- | --- |
| Packing | Pack of 500gr and 1kg |
| Origin | Vietnam |
| Expiry | 1 year from date of manufacture |
| Element | 100% natural red beans, harvested according to VietGap standards |
| Delivery | Nationwide Delivery |
Product pictures of red beans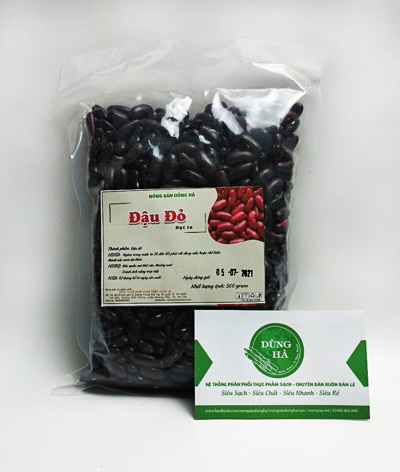 What are the health benefits of red beans?
With that said, red beans are rich in nutritional value and those nutrients give us a lot of health benefits. Let's explore with Dung Ha right now, what are the effects of red beans?
1. Regulate blood sugar
Red beans possess a large amount of carbohydrates, which are complex carbs. Moreover, red beans are rich in fiber. These active ingredients are effective in controlling blood sugar levels. Red beans are really good for patients with diabetes, red beans help stabilize blood sugar, regulate blood sugar levels in an average, do not cause sudden drops.
2. Lose weight
Red beans support very well in the weight loss process, if you are in the diet and weight loss phase, you should add red beans to the menu. Red beans are rich in fiber, and fiber has the effect of preventing obesity. In addition, red beans also contain protein. Protein and fiber are the perfect combination, they work to create a feeling of fullness when eaten, thereby controlling the diet.
3. Reduce the risk of cancer
The fiber in red beans also has the ability to reduce the risk of cancer. In addition, red beans also contain substances that help reverse the risk of cancer such as:
Lignans and Saponin – 2 phytochemicals that have the effect of preventing tumor growth

A type of carbohydrate called resistant starch has very good effects on colon cells and against colon cancer.


Antioxidants work to destroy cancer-causing radicals.
4. Skin care from red bean powder
In addition to the 3 great uses in treating and preventing the above diseases, red beans also have beauty uses. Dung Ha would like to reveal the secret of beauty from red bean powder.
Red bean powder can be combined with ingredients to make a mask such as: Coconut oil, honey, yogurt, fresh milk, … The red bean powder mask has the effect of brightening the skin, helping the skin. You become radiant and rosy like a baby's skin.
Is it good to eat a lot of red beans?
Red beans bring many health benefits, so is it good to eat red beans every day? This is a question that everyone wants answered. Dung Ha would like to answer this question as follows:
With any food, you should not use too much. No matter how good they are, when you use too much, it will lead to an overdose.

As for red beans, it is true that red beans have a weight loss effect, but you do not think that when you cook or process you have combined with fatty substances such as sugar, so when you eat too much, it will lead to obesity. undernutrition and obesity.


The best dose you should use red beans for 1 week is about 4-5 glasses of red bean juice.
In addition to how to cook water or red beans, today Dung Ha will introduce you to a dessert made from super delicious and nutritious red beans, red bean soup.
How to make simple red bean soup with lotus seeds at home
Red bean soup with lotus seeds is a favorite dessert of many people, with the combination of red bean and lotus seed tea will make your dessert many times more attractive. Now let's learn how to make this lotus seed red bean soup!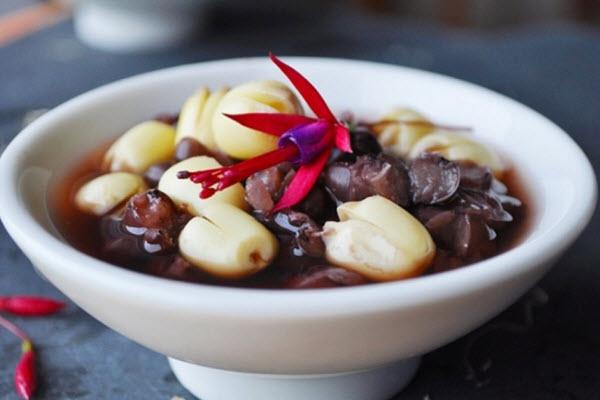 Ingredient:
– 150g dried or fresh lotus seeds
– 100g red beans
– 2 tablespoons tapioca flour
– White Suger
– Coconut
Implementation steps:
Step 1: You need to choose red beans with large seeds to cook delicious tea. Wash the beans and lotus seeds. Before cooking, you need to soak these 2 nuts in clean water for about 1 hour.
Step 2: Put the lotus seeds into the pot to simmer first for about 10 minutes, then add the red beans to simmer together. Continue simmering for the next 20 minutes and add sugar. Add enough sugar according to taste.
Step 3: Continue to simmer for about 10 minutes to soften the lotus seeds and red beans. Mix tapioca flour with warm water, stir well and pour slowly into the tea pot. Continue simmering until the tapioca turns white
Step 4: Turn off the stove and wait until it cools down, then scoop out into a bowl and enjoy. When you add a little coconut milk, it will be more fragrant. Using red bean soup with a little ice, you will feel the cool taste of red bean soup with lotus seeds and coconut milk.
Thus, with only 4 simple steps, you can complete a delicious and nutritious red bean soup with lotus seeds. On hot summer days, there is nothing better than enjoying the delicious and refreshing taste of this dessert. Pocket immediately the recipe for red bean soup with lotus seeds to show off your family's talents. Good luck !
Selling price of red beans with large seeds in Hanoi
Red beans are a kind of healthy seeds, which bring people a lot of useful uses. However, the selling price of red beans is extremely cheap, they usually range from 60,000-70,000 VND/kg.
Address to buy large, quality red beans in Hanoi
Where to buy good quality red beans? While on the market everywhere is sold. Immediately find reputable dry food suppliers to buy red beans. Dung Ha dry food is also selling a lot of nuts, including red beans. Dung Ha red bean seeds are grade 1 seeds that have been screened and selected the largest and best quality seeds.
Dung Ha dry food always brings to consumers the best quality and prestigious dry food products. Contact 1900 986865 to buy Dung Ha red beans. In addition, Dung Ha also provides other dry goods such as: aniseed, sweet grass, whole green beans, dried forest shiitake, wood ear, dried locust…
Refer to the list of dry goods available at Dung Ha dry food store here.