If you want to sit with your friends and show off your skills in making a dish that is both delicious and nutritious but also convenient, try the recipe below with a fresh and unique taste of pork belly with just the first bite. first.
1. Nutrition from pork broth
Types of vitamins and minerals in pork rind 
Lean pork (pork) has a relatively high content of B vitamins. This type of B vitamin helps promote the conversion of carbohydrates, fats and proteins into glucose for muscle activity. 
Protein content of pork chops
Lean pork is relatively high in protein. It is known that in 100g of lean meat contains up to 29g of protein and 6g of fat. Even after cooking, the fat content of lean pork continues to decrease. Therefore, this type of meat is also very suitable for fat people.  
Vitamin and mineral content in pork broth
Lean pork rich in vitamins: Pork and pork by-products such as liver, intestines, beef tongue contain many vitamins. In particular, pork is rich in vitamins such as vitamins B1, A, and D that vegetables are often lacking. Vitamin B1 deficiency is more common in countries where rice is the staple food. Athletes are prone to vitamin B1 deficiency due to those who eat a lot of white rice, eat only one type of food, and drink a lot of alcohol. 
So we can see that pork chop contains many nutrients. Eating this dish in moderate amounts regularly will help supplement the overall nutrition for the family and make it more convenient for you to take care of your portions during busy times.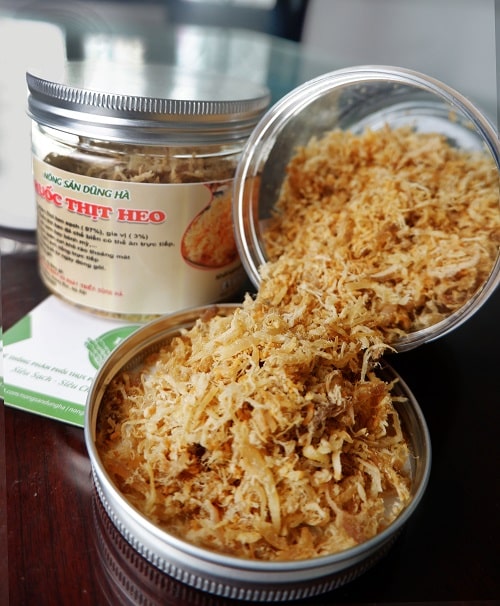 See more: Foods from dried red apples that are easy to make are good for health
2. Dishes made from pork belly
2.1. Crispy fried tofu with crispy pork
300g young tofu
100g pork belly
200g deep fried flour
200g fried dough
Green onions, cooking oil
Condiments: Chili sauce, mayonnaise, salt, sugar
How do you choose fresh ingredients? 
– For young tofu, you should choose the type that is carefully packed, clearly stating the origin and expiry date. Do not buy young tofu without packaging. The packaging is torn, open and unknown. 
– Delicious pork rolls are light yellow, naturally sweet, spongy and not chewy. Do not purchase dyes, chemicals, tough fibers, or dark yellow non-porous cotton scrubs. If you don't like the finished ingredients, you can make tofu or scrub at home. 
-Good chicken eggs are eggs with dark color, rough shell, no black marks, cracks on the shell. If the egg shell is smooth, it should not be purchased because the eggs have been preserved for a long time. 
– You can easily find ingredients such as young tofu and cotton balls in markets, grocery stores and large supermarkets. You should choose a reputable shopping place to ensure the quality of the product.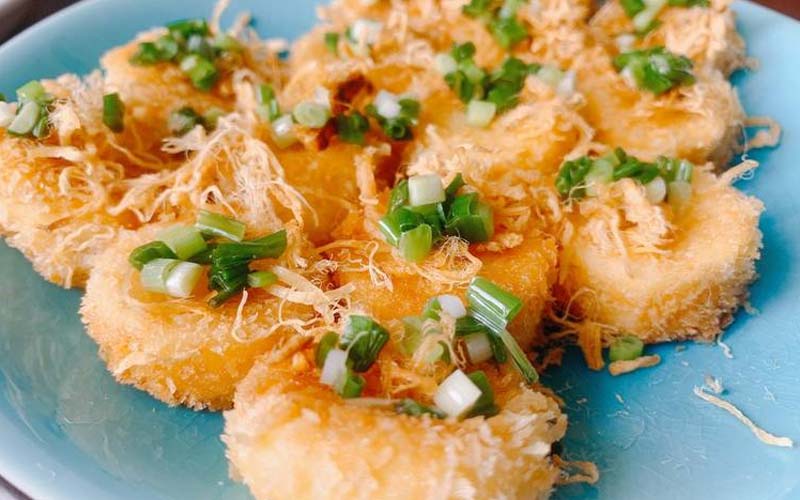 How to make fried tofu with pork
Step 1:
When you buy young tofu, you cut it into pieces and eat it. Next, you wash the tofu with warm water mixed with a little salt and then drain.
 – Young tofu should be washed gently so as not to break the tofu. 
 – You can use young tofu in the form of a tree or a box. Put the eggs in a bowl and beat the yolks and whites with a chopstick. Place the batter and breadcrumbs on two different plates. Rub the cotton ball in another bowl. Peel the scallions, wash and chop finely.  
Step 2:
Put all the chopped onions in a bowl, season with a little salt and sugar so that the onion fat doesn't get bored. Next, you put 3 tablespoons of cooking oil in the pan, bring to a boil. When the oil is hot, add all the prepared onion skins and you have onion fat.  
Step 3:
Place the sliced ​​tofu on top and roll the batter, egg, and bread crumbs. You should keep this in mind to help the dough adhere to the tofu. 
Note: If you don't use all of it, the dough will be spoiled and very wasteful, so don't put too much batter and batter at the same time. 
Step 4:
Put about 250 ml of cooking oil in a pan and bring to a boil. When the oil is hot, add the fried tofu one at a time. Fry until both sides of the tofu are golden brown, then turn off the heat. Place the tofu on a plate lined with parchment paper.
Step 5: 
After soaking the tofu in the oil, transfer the tofu to another plate. Garnish the fried tofu with onion fat and dip it with chili sauce and mayonnaise and you're done.
See more: How to cook delicious, easy-to-make asparagus shrimp porridge for babies
2.2. How to make pork sticky rice
– Step 1: Soak rice 
Prepare 500g of glutinous rice with clean water and remove the husks that are still attached to the rice. Next, soak 500g of glutinous rice in water, wash the rice for 3-4 hours and then cook it. After soaking the rice, I took it out to dry. 
Next, mix the glutinous rice with 1/2 teaspoon of salt to enhance the flavor and aroma of the sticky rice.
– Step 2: Sticky rice
Next, you prepare the rice cooker and steaming rack, lower the water level by 1/3 of the pot capacity compared to the price of sticky rice. Then, put the rice on the steamer, cook the glutinous rice in the rice cooker until it boils, open the lid every 10 minutes to dry the water on the lid, avoid reverse steaming, making the rice mushy. 
After about 25 to 30 minutes, the sticky rice will cook evenly. When glutinous rice is cooked, add 2 tablespoons of chicken fat or lard to the island and mix with glutinous rice to increase the fat and shine for the sticky rice dish. Next, you arrange the sticky rice on a plate with cucumber , raw vegetables and pork belly . 
In addition to steaming as above, you can also cook sticky rice with water if you don't have time. Instead of steaming when cooking directly, adjust the water level to wash the rice, add a little salt and add knobs like regular rice. When the glutinous rice is cooked, add animal fat and change the knob after about 1 minute. 
2.3. Bitter gourd with pork
Step 1: First you wash the bitter melon, then slice it thinly to remove the intestines. Soak bitter melon in salt water for 10 minutes to remove impurities. Then, before eating, you put bitter melon in the freezer for 15 minutes to make the melon crispy. 
Step 2: Presentation 
Place ice under a plate and cover with foil to keep it cold. Arrange bitter melon slices on top and let it rain lightly or put cotton in a small bowl. finished product 
When eating this dish, it is very easy to dip a cotton ball with fresh bitter melon and chili sauce to create a harmony between the bitter taste of bitter melon and the salty taste of cotton and fish sauce. Fresh and cool. 
Shrimp can be used as an ingredient in many dishes. Especially when the shrimp is made from pork, it brings nutrients to the body in daily meals. It's convenient when processing or can be used directly, so why not buy a few boxes of shrimp paste ready in your kitchen cabinet, right?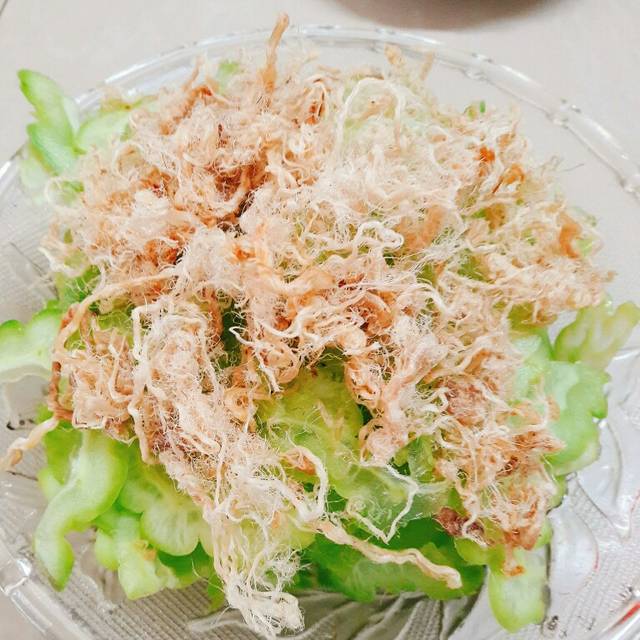 3. Buy good price pork belly in Hanoi and Ho Chi Minh
Delicious meat rolls need to be meticulously made and well preserved, so not all suppliers have the qualifications to be able to bring customers the best quality products. But that can't be difficult for Dung Ha Agricultural Products – a prestigious address for supplying pork and dry food in the market. At Dung Ha Agricultural Products, all products have clear origins, the quality of goods is always guaranteed and the best return service.
You can go to the store to buy products or call our hotline for support and advice.
Hotline: 1900 689865.
Address:
Facility 1: 11 Kim Dong – Giap Bat Ward – Hoang Mai District – Hanoi
Facility 2: A11 – Alley 100 – Trung Kinh Street – Yen Hoa Ward – Cau Giay District – Hanoi
Facility 3: No. 02/B Quarter 3 – Trung My Tay Street 13 – District 12 – Ho Chi Minh City