Peanuts, also known as peanuts, are a popular and easy-to-use food. You can make many dishes such as: roasted peanuts with salt, peanuts stewed with bones, peanut soup,… Food is not only delicious but also extremely nutritious for the body. Follow the article below to know more ways to cook peanuts !
1. Nutritional source of peanuts (peanuts)
In 1/4 cup raw peanuts contain: Magnesium, Folate, Vitamin E, Copper, Arginine, Calories: 207 Protein: 9g Fat: 18 grams Carbohydrates: 6 grams Protein: 9 grams Fiber: 3 grams Sugar: 1 gram .
Because of its great source of nutrients , peanuts have many health benefits. When eating a suitable amount of peanuts will help you strengthen your resistance, protect your body from many harmful effects of the environment.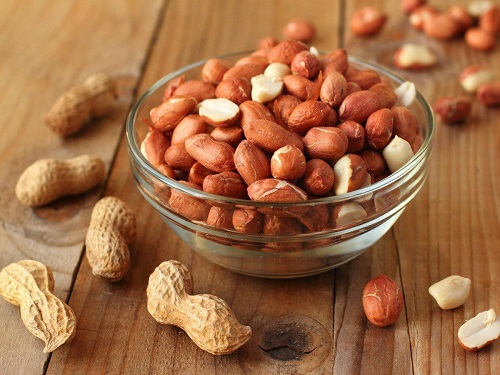 See more: Foods from dried red apples that are easy to make are good for health
2. Very delicious dishes from peanuts (peanuts) 
2.1. Roasted salted peanuts 
Ingredients: peanuts, cooking oil , refined salt or soup powder, white wine 
Making:
When you buy peanuts, you store the bad ones, then soak them in a bowl of clean water for about 20 minutes. Use your hands to rub several times during the soaking process to remove impurities clinging to the surface of the peanuts. After about 20 minutes of soaking, the water in the peanuts has soaked up. This helps when roasting, the temperature will heat the peanuts faster and cook more evenly, the dish will also be crispy. Then tap or pat dry with a paper towel.
Pour oil into the pan and add the peanuts. Do not heat the cooking oil in advance or the peanuts will burn quickly. Roast peanuts over low heat and toast evenly. Peanuts turn the color of cockroach wings, roasted golden crispy delicious.
At this time, turn off the stove but do not put the peanuts on the plate right away. Add 1 tablespoon of white wine and stir for 2 more minutes to prevent the peanuts from burning because the pot is still hot. After 2 minutes, the alcohol will evaporate. Place peanuts on a plate. When adding alcohol, peanuts will prevent the invasion of bacteria, create crispness, help keep the aroma for a long time. At this point, you sprinkle salt or soup powder on the peanuts and mix well. The fine salt particles and the soup powder clinging to the peanuts are very rich and attractive. Once the peanuts have cooled completely, place them in a glass container and use them one at a time.
2.2. Stir-fried peanuts with lotus root
Ingredients: 1 lotus root , 100g peanuts, 1 stalk of celery , 2 garlic bulbs, 2 anis leaves, 1 ounce of wine, 1 bay leaf, 1 cinnamon branch , 1 teaspoon salt, 1 teaspoon oyster sauce, 1/2 tablespoon vinegar 
Processing 
Boiled peanuts. When cooking, add star anise, bay leaf, cinnamon, licorice and a little salt. Boil for 15 to 20 minutes, depending on the size of the peanuts. Check to see if the peanuts are ripe and observe a slightly crumbly brown silk. 
Remove the roasted peanuts and let cool for the next use. 
Remove damaged celery leaves, wash stalks and chop finely. 
Peel the lotus root, cut it into squares, immediately soak the lotus root in water mixed with half a teaspoon of white vinegar. By doing so, you can prevent the lotus root from turning black. 
When the pan is hot, add oil, when the oil is 70% hot, add minced garlic and saute until fragrant, add the lotus root, stir-fry quickly and stir well. Fry lotus root until soft, add celery and sauté until celery turns green.
Finally, add peanuts, fry by hand until all ingredients are cooked evenly, season with oyster sauce and a little salt and then transfer to a plate.
 This dish of roasted lotus root with peanuts is cool, nutritious and won't be boring on hot days and is sure to be delicious for everyone!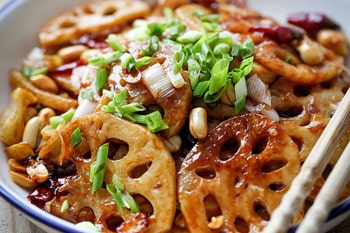 See more: Delicious dishes from dried mushrooms add nutrition to meals
2.3. Fried chicken with peanuts
Ingredients:  2 chicken thighs (200 g), 1/2 cup roasted peanuts, 2 purple onions (white body only), thinly sliced, 1 dried chili, 1 cup cooking oil, 1 teaspoon paprika , 4 cups cooking oil soup, 1 pinch of salt 
Making:
 Seasoning: 1 tablespoon salt, 2 teaspoons dark soy sauce, 1/2 teaspoon cooking wine, 2 teaspoons corn starch, 1 tablespoon water. 
 – Sauce: 1/2 tbsp soy sauce, 1 tbsp salt, 1 piece of ginger , 1 tbsp chopped scallions (green part), 2 garlic cloves, 2 tbsp starch, cornstarch, 1 tbsp vinegar, 2 tablespoons water, 2 tablespoons sugar.
Wash the chicken thighs, remove the skin, remove the bones, and cut into thumb-sized pieces.
Mix sauce ingredients in a bowl. 
For the baro onion, take only the white body and cut it diagonally. 
Place the meat in a large bowl, add the seasonings and mix well.  
Heat the cooking oil in a pan, add the chicken, stir quickly for about 3-5 seconds until the starch adheres evenly to the chicken, fry until the chicken is golden brown. 
Place the chicken on the pan, leave the drum in the middle, add chili and dried chili and fry until fragrant. Then, add half of the garlic, ginger, and  scallions and stir well. 
Add the rest of the onions and drizzle the sauce over (stir for the sauce before adding). 
Finally, add the roasted peanuts, stir gently, then scoop the ground beef onto a plate, serve hot with burnt rice. Chicken cake with peanut filling is rich, strange, delicious, and fleshy, suitable for enjoying on cool days.
2.4. Roasted peanuts with salt, pepper, garlic 
Ingredients: roasted peanuts, 1 teaspoon salt and pepper, 2 teaspoons fried garlic, 1 tablespoon cooking oil 
Processing: 
Pepper and minced garlic in a mixing bowl.
Place the peanuts in a roasting pan over low heat and stir slowly until the beans are golden brown and fragrant. 
Add oil, stir well, stir-fry for another 3-4 minutes, add salt, pepper, garlic to stir well and then turn off the heat. 
Wait for the roasted peanuts to cool completely, then put in a sealed jar, store in a cool place, eat gradually.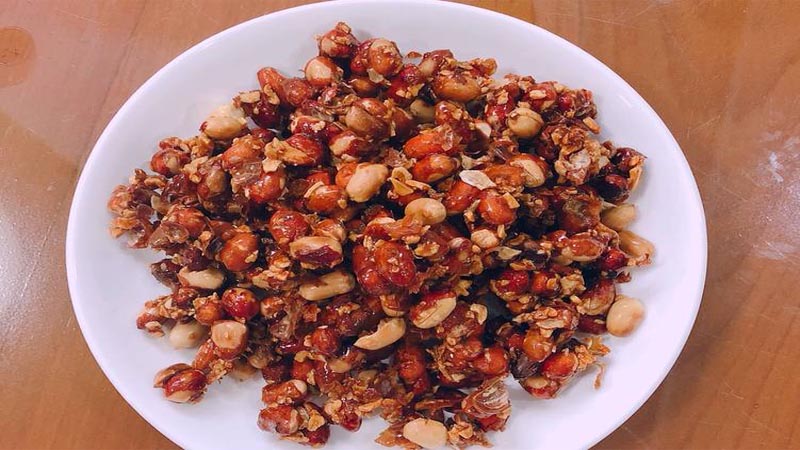 2.5. Touch away 
Soak glutinous rice for 3 hours and mix with salt. 
Wash and boil the peanuts, then drain. 
Mix peanuts with rice and steam until glutinous rice is cooked.
Eat sticky rice with salt and pepper. 
2.6. Peanut porridge 
Ingredients: glutinous rice, red apple , peanuts, ice candy 
Cooking method: 
 Step 1: Prepare sticky rice. Peanuts, red apples 
 + The glutinous rice bought back is washed clean, taken out to dry. Wash and dry the red apple. 
+ We take peanuts, pound them in a mortar and pound them with a pestle.
 – Step 2: Proceed to cook peanuts soaked in red apples 
 + First, you put the ingredients: crushed peanuts, red apples, glutinous rice, just enough filtered water into the pan to cook until the porridge is soft. 
+ When the porridge is almost finished, add ice candy, stir well, and then turn off the stove. This will make the porridge delicious.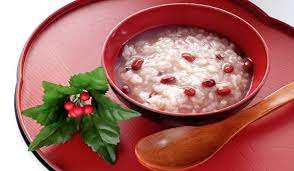 See more: Raw pork stir-fry to create a hearty meal with the family
2.7. Peanut stewed pork bone soup 
Ingredients: 1 kg pork bone, 150 g peanuts, 5 g salt, 10 g vegetable oil, 2 g sesame oil. 
Cooking method: 
 + Step 1. Peanuts soaked in hot water and washed. Wash pork bones, cut into small pieces. Then blanch in boiling water.  
+ Step 2. Put all ingredients in slow cooker, add salt and soy sauce and stir well. Usage: Eat for breakfast and dinner.
3. Where to buy peanuts (peanuts) cheap, quality, reputable in Hanoi, Ho Chi Minh?  
To buy large, round, shiny peanuts , please contact Dung Ha Agricultural Products on arrival date. Dung Ha Agricultural Products is a reputable place to buy cheap quality peanuts in Hanoi and Ho Chi Minh . Here you can be completely convinced of the origin of the product, this is a clean, chemical-free product with a methodical production process. You can go directly to Dung Ha Agricultural Store and choose for yourself, or contact the phone number below for the best support and advice.
Hotline : 1900 689865.
Address:
Facility 1: 11 Kim Dong – Giap Bat Ward – Hoang Mai District – Hanoi
Facility 2: A11 – Alley 100 – Trung Kinh Street – Yen Hoa Ward – Cau Giay District – Hanoi
Facility 3: No. 02/B Quarter 3 – Trung My Tay Street 13 – District 12 – Ho Chi Minh City