Using natural product lines is a beauty trend that many women are aiming for. If you have a sensitive skin type, the use of foaming industrial cleansers will make your skin red and itchy, then switch to the herbal face wash powder line right away. Extracted from 100% natural, cheap price, suitable for many types of sensitive skin, face wash powder is currently a hot product that is sought after by many users. Let's learn about 5 types of herbal face wash powder to whiten skin, clean sebum and pimples that are most popular today.
1. What is herbal face wash?
Herbal face wash powder is a kind of facial care product used to clean and soothe the skin. This product line is made from 100% natural. Usually herbs and plants, ground into a fine powder. These are types like turmeric powder, green tea powder, rose powder, perilla powder, etc. The common point of these powders is that they have cleansing, antibacterial, soothing and skin-regenerating properties. skin.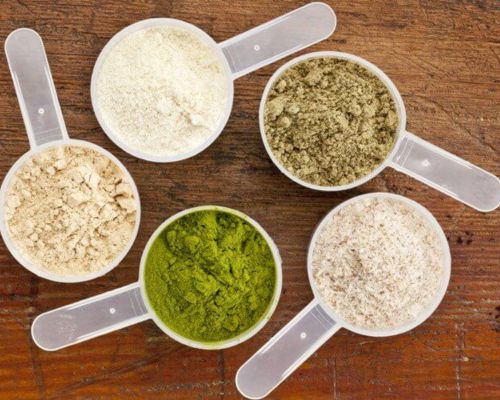 When using, you can take a sufficient amount of powder, mix with a little water, beat together. Then, apply directly to damp face and gently massage face for a few minutes before rinsing with warm water.
Herbal face wash is often favored by people who are looking for natural facial care products that do not cause itching and skin irritation. It can clean the skin, fade dark spots, control the amount of oil, and provide moisture to the skin.
See more: [VIETNAMESE Culinary SERIES] 5+ Organic vegetable powder good for babies
2. What are the advantages/disadvantages of herbal face wash powder?
Advantage

Defect

Natural and non-irritating to the skin:

 

Made from natural herbal ingredients and herbs. Free of additives and skin irritants

Uneven effect:

 

Each type of facial skin has different properties. Some herbal powders may be right for your skin, but not for someone else's

Effective skin cleansing:

 

Has the ability to effectively clean the skin, remove dirt, impurities and excess coconut on the face skin
Brighten the skin, enhance the regeneration process of damaged skin

Limited ability to remove makeup:

 

Some herbal face wash powders are very good

Soothes and softens skin:

 

Reduces skin problems such as inflammation, redness, rashes and itchiness
Washing your face with herbal face wash will make your skin soft, whiter and brighter

Skin Irritation:

 

Although made from natural ingredients, the potential for irritation on the face is less than chemical products

Regenerate and refresh skin:

 

Stimulates the regeneration of skin cells and provides nutrients to the skin
Refreshes skin, improves skin elasticity, helps skin become healthier

Difficult to maintain and use:

 

It is necessary to store the product to avoid moisture or infection
The process of making the powder will require more effort and time compared to using other available cleansers

Oil control:

 

Deeply cleans pores and minimizes pimples, acne and sebum

 
3. 5 Type of herbal face wash powder to whiten skin, clear acne and completely remove sebum?
3.1 Mint powder
The first herbal face wash you can't ignore is
mint powder
. Mint powder is made from pure fresh mint leaves. Mint powder making process includes: harvesting fresh mint leaves, washing and drying. Then, the dried mint leaves are crushed or pureed to form a fine powder.
In order for this powder to reach consumers, it will have to go through many stages, monitoring and verifying product quality. This process helps to retain the active ingredients and natural fragrance of mint in a powder form that can be used in facial products.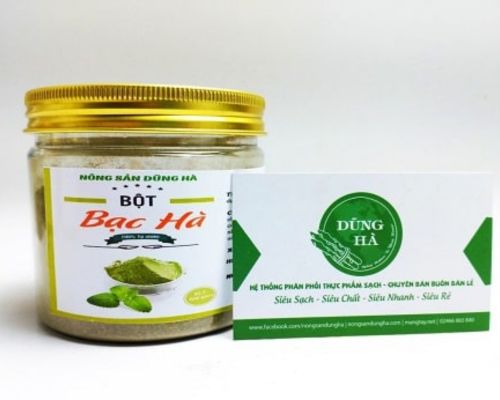 Mint leaves have a cool taste and are very beneficial for the skin. Mint powder is commonly used in skin care products, such as mint masks, face washes, or lotions. Here are some benefits of mint powder for facial skin:
Soothes Skin: Peppermint has cooling, soothing properties that help reduce swelling, redness, and irritation. It can be used to soothe facial wounds, providing a pleasant facial feeling
Oil control: Mint leaves have the ability to reduce oil secretion on the skin. Helps control acne and oily skin conditions
Skin regeneration: Peppermint has high antioxidant properties and the ability to promote skin cell regeneration. Helps skin become bright, white and radiant
3.2 Green tea powder
Green tea powder
is a form of green tea that has been ground into a fine powder. It is made from selected, pure, fresh green tea leaves. Then, it is processed by grinding to form a fine powder. Green tea powder usually has a light green color, the natural aroma of green tea. Green tea powder is often used to make green tea. But can also be used to make drinks or skin beauty recipes.
Green tea has many health benefits. Green tea is packed with antioxidants and compounds that help improve overall health. The main compounds in green tea include Polyphenols, catechins, and epigallocatechin Gallate (EGCG). These substances have anti-bacterial, anti-inflammatory, and extremely effective pain-reducing properties.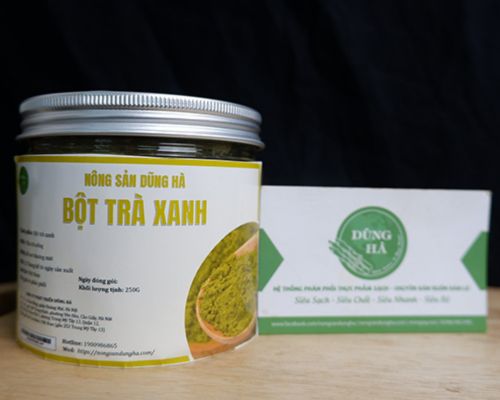 Green tea powder is often loved by women to make a green tea mask to treat pimples and sebum on the skin.
Make a green tea mask:
Wash your face before applying the mask
Mix 1-2 teaspoons of green tea powder with warm water to form a smooth paste
Put the green tea mask on the skin for 10-15 minutes
Rinse with warm water and pat dry your face
Perform 1-2 times a week to clean the skin, reduce pimples, control sebum
Make face wash:
Mix 1-2 teaspoons of green tea powder with warm water
Gently massage the mixture onto your face for 2-3 minutes
Wash with warm water and dry your face
Use daily to clean skin, reduce sebum
See also: Matcha is green tea? Difference between matcha and green tea?
3.3 Red bean paste
Red bean paste is a powder made from pureed red beans to form a fine powder. Red bean is a type of bean that is widely used in cooking. Not only that, red bean is also a very good facial care herbal powder. Red beans contain many nutrients such as protein, fiber, vitamins and minerals. It is also low in fat and cholesterol free.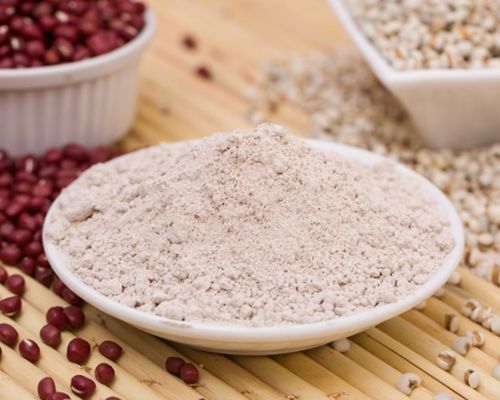 Vitamin C in red beans will enhance blood circulation, slow down the skin aging process. At the same time, it also prevents the formation of Melanin pigment – the real cause of melasma and freckles on the face.
Vitamin E in red beans will support collagen production. Supports smooth, elastic skin and tightens pores.
Vitamins B1 and B6 work together to prevent pimples on the skin. At the same time, providing enough moisture to the skin, thereby limiting the skin dryness. Keep your skin pink, white and radiant.
Sugar-free yogurt red bean paste mask:
Use 2 tablespoons of red bean paste + 2 tablespoons of unsweetened yogurt. Whisk together to form a smooth paste
Rinse your face with warm water
Apply the red bean paste and yogurt without sugar directly on the face
Leave for about 15 minutes. Then wash it off with warm water
Make an expensive mask of red bean paste with unsweetened yogurt 2-3 times a week
3.4 Yellow turmeric starch
Another type of herbal face wash that you can't forget is yellow turmeric powder. Turmeric starch is a starch made from the fresh root of turmeric. This starch is rated as the best of all turmeric powders. Better quality, more uses and more expensive. Turmeric powder is often used in many culinary and beauty products. Turmeric contains Curcumin – a powerful antioxidant with antibacterial and anti-inflammatory properties.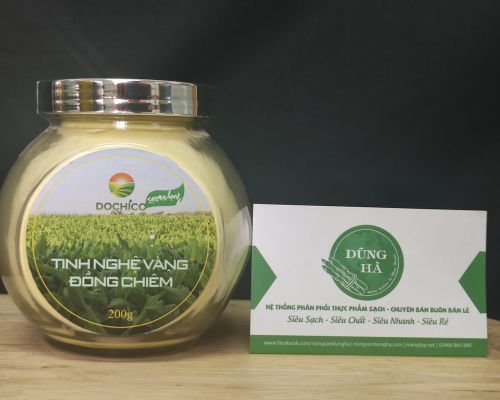 Here are the applications of turmeric in beauty:
Face mask: Turmeric powder can be used to create a natural face mask. Mix turmeric powder with water (or unsweetened yogurt, coconut oil) and beat together to form a smooth paste. Apply to face and leave it on for 10-15 minutes. Rinse your face with warm water and pat your face dry. Yellow turmeric powder will help brighten the skin, fade dark spots, provide nutrients to the skin
Acne skin care: Thanks to its anti-bacterial and anti-inflammatory properties. Turmeric can help reduce acne-causing bacteria and soothe skin inflammation. You can mix turmeric powder with unsweetened yogurt and apply it directly to the skin. Leave the turmeric paste on the skin for about 15 minutes. Then rinse the skin and pat dry.
See also: [Beauty corner] 5+ beauty methods with turmeric powder
3.5 Rice bran powder
Rice bran powder
is a product made from the outer shell of the rice grain after removing the layer of rice. It contains a lot of fiber and other essential substances, Vitmain E, Vitamin B, antioxidants and minerals. Rice bran powder has many health benefits and can also be used in beauty and skin care.
The nutrients in rice bran powder will penetrate and go deep into the facial skin. Helps skin repair damage from deep within. Vitamin B1 will repel the formation of Melanin pigment – the main cause of facial pigmentation. Phytic acid has a exfoliating effect on the skin. At the same time, control skin pigmentation, consume cells, stimulate new cell regeneration, improve skin tone.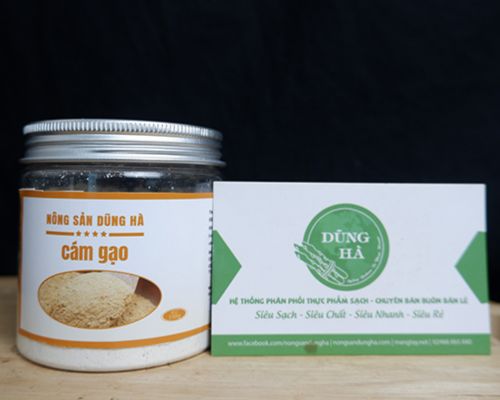 Some applications of rice flour in skin beauty:
Skin mask: Mix rice bran powder with a little warm water. Stir the mixture together to form a smooth paste. Clean and dry your face. Apply the mixture directly to your face and massage your face. Leave the rice bran mixture on the skin for 15 minutes. Rice bran powder mask will clean the skin, soften and smooth the skin, completely remove dead cells
Acne treatment: Mix rice bran powder with honey. Beat together. Apply the honey rice bran powder mask on your face for 15 minutes. The honey rice bran powder mask will heal pimples quickly, giving you bright, rosy white skin
4. Where to buy reputable, quality, cheap herbal face wash powder in Hanoi and Ho Chi Minh?
Herbal face wash powder is now quite popular and is bought by many women. Therefore, on the market there are many places that sell cheap face wash powder. However, not all addresses selling face wash powder sell quality products. It is even possible that counterfeit products, fake goods, fake goods are sold at high prices. When buying herbal face wash powder at a cheap price, you should also carefully consider the quality of the product. Using poor quality products will make your facial skin not achieve the results you want.
Places selling herbal face wash powder in Hanoi and Ho Chi Minh have a lot. So have you found a reputable place to buy face wash powder yet? Coupled with worries about quality is the price of face wash powder on the market. If you are still wondering, worried about
where to sell cheap quality and reputable herbal face wash powder in Hanoi and Ho Chi Minh
, hurry up and find
Dung Ha Agricultural Products
. Dung Ha Agricultural Products sells premium grade 1 face wash powder, extremely fine powder, extremely competitive price compared to the market.
Contact to order quality face wash powder via Company Hotline: 1900 986865.
View the powders directly at:
11 Kim Dong – Giap Bat – Hoang Mai – Hanoi
A10 – Alley 100 – Trung Kinh Street – Yen Hoa Ward – Cau Giay – Hanoi
No. 02/B Quarter 3 – Trung My Tay 13 Street – District 12 – HCMC
See also: 5+ Medicinal powders that are good for users' health you should know