Have you ever heard of forest pineapple wine? This is a rare and famous wine that only appears in the high mountainous areas of Vietnam. Pineapple wine is passed on to each other and is a very good drink in the treatment of a number of diseases such as dysentery, indigestion, abdominal bloating, painful urination,… With great uses for human health, so do you know how to soak pineapple wine properly? The following article, thucphamkho.vn will introduce to you in detail 2 ways to soak pineapple wine perfectly at home. Let's start finding out together.
1. What is pineapple wine?
Pineapple wine is a famous wine found in the mountainous areas of high Vietnam. Called forest pineapple wine, surely the main ingredient is forest pineapple. Pineapple is a wild plant. They grow up completely on nutrition from nature without human care. That's why the pineapple stops looking very big, rough, and ugly compared to the pineapple that we often use in cuisine.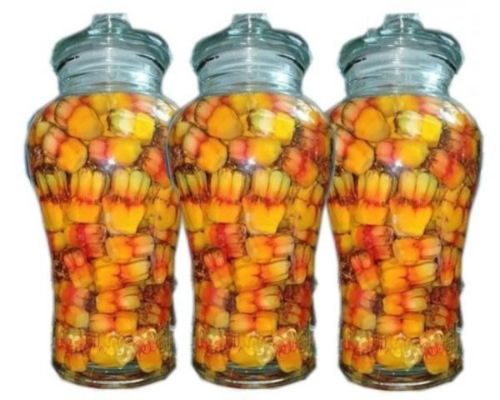 The main purpose of this forest coconut is to be used to soak alcohol. In recent years, forest pineapple wine is being hunted by many men to buy in large quantities for soaking. They spread to each other that drinking pineapple wine will help the body eliminate toxins in the body. Cool liver diuretic, treatment of urinary tract infections, kidney stones. Above all, for women, forest pineapple wine also helps their skin become brighter and more rosy than ever.
In addition, pineapple wine has many other uses that you have not known. Let's go to learn more about the use of forest pineapple soaked in wine.
See also: How to soak banana wine with dried forest seeds in the Northwest standard
2. What are the effects of soaked forest pineapple?
It is a refreshing drink for the body. Pineapple soaked in wine is a drink that is very welcome at home. So, what are the effects of soaked forest pineapple?
Enhances vitality: Pineapple is said to contain many nutrients and natural vitamins that help to promote body health and enhance male sexual function.
Inflammation, pain relief: According to traditional medicine of the highland ethnic people. Pineapple has cool properties, can help reduce pain and inflammation very well. Especially relieve headaches when the weather changes
Strengthening resistance: Pineapple contains many antioxidants and Vitamin C, which helps to strengthen the body's resistance. Helps the body fight harmful bacteria germs.
However, it should be noted that the effects of pickled wild pineapple have not been proven by scientific research and should only be used as a health support, not a substitute for medical treatments. specialize.
In addition, the use of pineapple wine is harmful to health if you use too much and inflate them. Please consider using it properly so that forest pineapple wine brings great use to you.
And let forest pineapple wine promote its full use. Let's learn together in detail how to soak pineapple wine.
3. How to properly soak fresh pineapple wine at home?
3.1 Preparation ingredients
5kg pineapple fresh forest pineapple
50 liters of delicious 40-degree sticky rice wine
15ml honey
Wine decanter
3.2 Implementation Guide
Step 1: Prepare ingredients
Wild pineapple is picked, peel off the hard outer part
Rinse pineapple with clean water, drain
Cut the forest pineapple into small pieces, just enough to soak
Rinse the wine cellar with a little white wine
Drain the wine in the jar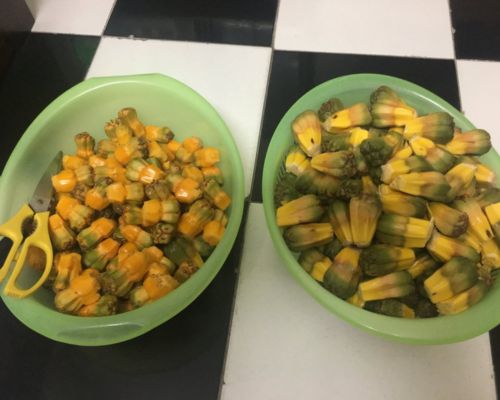 Step 2: Soak in wine
Put all the chopped wild pineapple in a wine-soaked jar
Pour honey into the bottle of pineapple wine
Pour all 50 liters of white wine into the bottle to submerge the pineapple forest
Stir well so that the honey is mixed with the alcohol
Close the mouth of the jar
Soak pineapple wine in the forest for 6-8 months so that the nutrients in the pineapple can be dissolved with the alcohol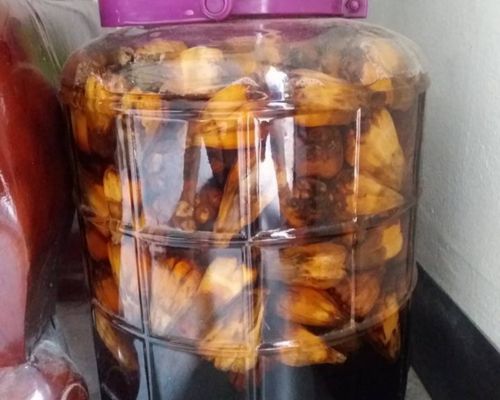 Note: During the soaking process, you need to soak the wine in a cool, dry place, avoiding direct sunlight to damage the yeast.
Thus, with just 2 simple steps, you have immediately completed the recipe for soaking fresh forest pineapple wine. Very simple, isn't it? Congratulation you are successful!
4. How to soak the perfect dried forest pineapple wine at home?
4.1 Preparation ingredients
10kg fresh forest pineapple
50 liters of delicious glutinous wine 40 liters
20ml honey
Wine decanter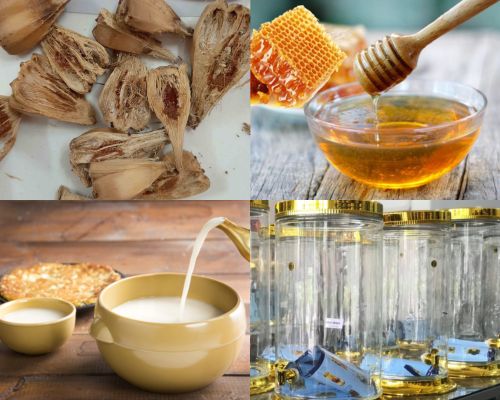 4.2 Implementation Guide
Step 1: Prepare ingredients
Buy fresh forest pineapple, completely peel off the hard spines on the outside
Rinse pineapple under clean water, let it dry and drain
Cut the pineapple in half and then cut it into small enough pieces
Rinse through a wine cellar with a little white wine
Dry the bottle, let the bottle dry
Step 2: Dry the pineapple
Put the freshly prepared wild pineapple above into a large clean bowl
Proceed to dry pineapple in the sun for 7-10 days
Dry pineapple in a cool, dry place, where there is direct sunlight
Do not dry pineapple near dusty places, where bacteria come and go, making it unsanitary and causing illness when drinking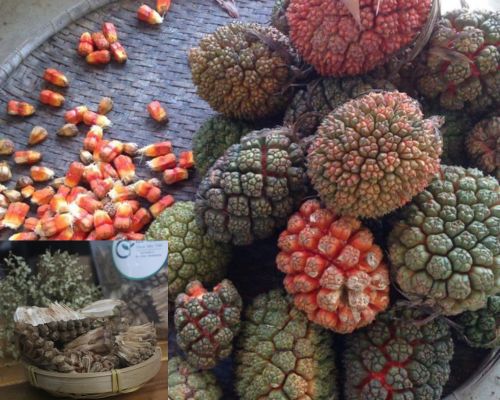 Note: In addition to drying pineapple in the sun, there is a method that will save your time, which is to dry fresh wild pineapple. The drying process will save you from waiting too long.
Step 3: Soak pineapple wine
Place dried forest pineapples in a wine-soaked jar
Pour all the white wine into the pineapple wine bottle
Pour all the honey into the wine-soaked jar
Stir well so that the honey is mixed with the alcohol
Cover the mouth of the bottle, proceed to soak the dried forest pineapple wine
Dried forest pineapple wine, soaked for 4-6 months can be used
While soaking, it is recommended to soak the wine in a cool, dry place, without sunlight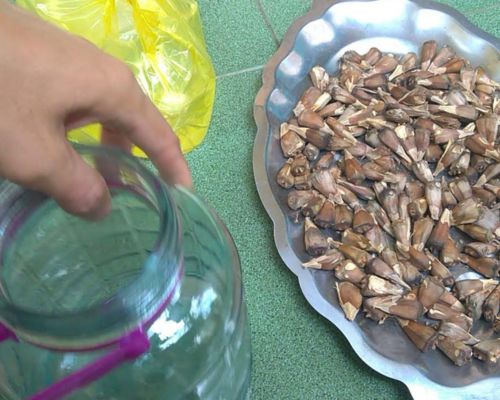 See more: The best way to soak dried areca ginseng wine is to get drunk
Thus, with only 3 simple steps, you will immediately complete yourself a quality pineapple wine.
4. Notes when using pineapple wine soaked forest?
After we have just finished soaking the pineapple wine in the forest. So, what should be noted when using soaked pineapple wine? Please note the following:
Drink in moderation: Pineapple pickled wine has a special flavor and is quite strong. Therefore, you should drink in moderation to avoid harm to health. Adults drink about 2 cups of pineapple wine per day to ensure health
Do not drink too much: Drinking too much pineapple wine can be harmful to health. Therefore, you should drink just enough and do not drink more than the allowed dose
Do not drink while driving: Pineapple wine has a high alcohol content. Therefore, you should not drink while driving or participating in traffic. Doing so will endanger your life and those on the road
Store wine properly: Pickled pineapple wine needs to be stored properly to avoid spoilage or loss of special flavor. You should keep the wine in a cool, dry place and avoid direct sunlight
Hopefully, with the above notes when using pineapple wine soaked above will help you use this drink in the most correct, safest way and bring the most benefits to your health.
5. Conclude
Above is a detailed article introducing 2 simple ways to soak fresh and dried pineapple wine perfectly keeping the full flavor at home that Dried Food wants to send to readers. Hopefully, you will always be successful in all recipes and have yourself a delicious, top-notch wine. Good luck!
Author: www.thucphamkho.vn
Call center for ordering alcohol: 1900 986865.
Thucphamkho.vn – Proud to be the pioneer, the number 1 business in Vietnam market in
dry agricultural products, Northwest tea, Ha Giang specialties,…
prestige, quality and cheap prices in Hanoi and Ho Chi Minh City. Chi Minh. At Dry Food, we have up to 1000+ diverse models of dry food, conquering even the most demanding customers.
Northern address 1: No. 11 Kim Dong – Hoang Mai – Hanoi
Northern address 2: A10 – Alley 100 – Trung Kinh Street – Yen Hoa Ward – Cau Giay District – Hanoi
Address in the South: No. 02/B Quarter 3 – Trung My Tay Street 13 – District 12 – Ho Chi Minh City