Drinks made from cocoa powder are often loved by many people. With the characteristic aroma from Dak Lak pure cocoa and meticulous processing to produce the finished product. Cocoa powder is widely used in traditional and modern medicine. Many people like cocoa powder because this product can be processed into a cool summer drink. So do you know drinks made from cocoa powder ? If not, follow Dung Ha Dry Food to find out! 
1. Drinks from cocoa powder are cool in summer
1.1 Iced Milk Cocoa
Ingredient:
10br 

pure cocoa powder

35ml condensed milk

100ml fresh milk without sugar

30ml warm water (about 80 degrees Celsius)

3 – 5 stones 
Processing:
Put cocoa in a glass + 30ml of warm water. Use the mosquito to stir well with your hands to mix the mixtures together

After the mixture has dissolved, proceed to add 35ml of condensed milk and stir well. The reason is, condensed milk for last so you can taste it to see if it suits your diet

If your home has a dedicated shaker like the one outside the cafe, you can use that type of jar to help the mixes 

After the shakes have blended together, you can pour into a cup and add ice to enjoy.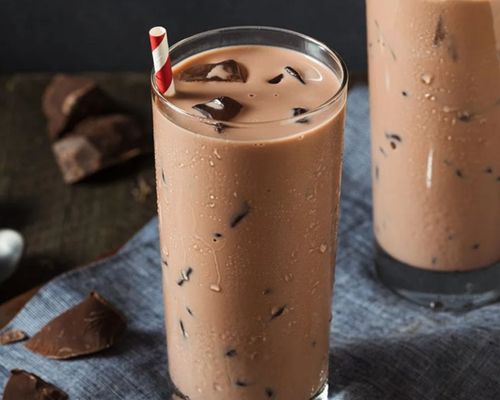 In the hot summer, coming home from work, having a cool cup of cocoa with iced milk is really a great thing. With the characteristic aroma from cocoa, the cold taste from the ice will really be a very useful beverage. 
Tham khảo thêm: Sinh tố mat lạnh cho mùa hè oi bức
1.2 Hot Milk Cocoa
Ingredient:
10g set of pure cocoa

150ml hot water

100ml fresh milk without sugar

2 spoons of sugar
Processing:
Add 10g of cocoa powder + 100ml of unsweetened fresh milk + 2 tablespoons of sugar and shake these mixtures to mix.

You can taste it to see if it is sweet enough to your liking. If not, you can add 1 teaspoon of sugar and shake until the sugar is dissolved

When you taste the mixture to your liking. Start adding 150ml of hot water and shake again before pouring out the finished product

Tenten! Finally, you just need to pour into a glass and you have a cup of hot milk cocoa right away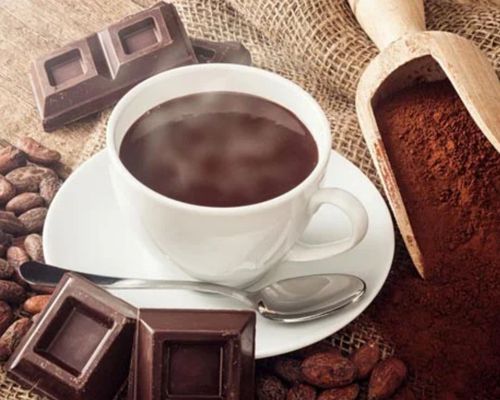 This cup of hot cocoa milk drink before going to bed will help your body warm up. The nervous system is stable, helping you easily fall asleep. In addition, hot milk cocoa drink on a winter morning is absolutely correct. You will have a lot of energy, an extremely effective working day. Good luck with the above recipe.
Tham khảo thêm: Trà thanh nhiệt giải độc dễ uống cho mọi lứa tuổi
1.3 Cocoa Yogurt
Ingredient:
1 box of unsweetened yogurt

2 tablespoons sweetened milk

2 tablespoons 

lemon juice

3 teaspoons coffee powder

Ice

May blender
Processing:
Lemon you wash, peel off the peel. Squeeze the lemon juice into a small bowl to store

Prepare the blender. Drop the ice into it and grind it into a shaved ice form, the finer the better

Next, put yogurt + unsweetened condensed milk + lemon juice into the blender that is half-cutting the ice. Continue to blend these mixtures so that they blend together

You can season to see if it's sweet enough, less sour or more sour to balance for more ingredients

Say for about 30 seconds for the mixture to come together. After that, you pour it into a cup or bowl and can eat it directly

If you like iced cocoa yogurt, you can store it in the freezer for it to harden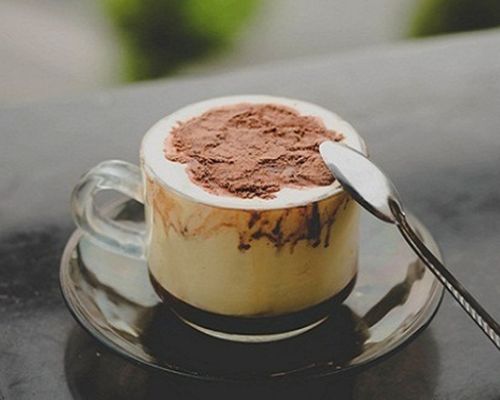 Tham khảo thêm: Tổng hợp các món ăn từ hạt đậu đỏ thanh nhiệt mùa hè
1.4 Coconut jelly jelly
Ingredient:
10g jelly jelly

160g unsweetened condensed milk

3 tablespoons cocoa powder

30ml 

coconut milk

2 tablespoons white sugar

1 liter of filtered water

Cake mold
Processing:
Pour 10g of jelly into a boil with 1 liter of water. Stir well to mix these two ingredients together

Then, incubate for about 10 minutes for the jelly powder to bloom

During the incubation time, you can mix sugar with cocoa powder and stir well 

When the jelly has been incubated for enough time, divide it into 2 equal parts 

Part of you continue to boil and pour the previous cocoa powder to make the plaster. Boil until the jelly water starts to turn brown

For the rest, add 160ml of unsweetened condensed milk + 30ml of coconut milk and stir well to make the milk jelly.

Next, you pour the gypsum water into the mold. Then wait for this jelly to freeze, then pour the rest of the milk jelly water on top. 

Maintain these 2 alternating steps until the mold is exhausted and the ingredients are gone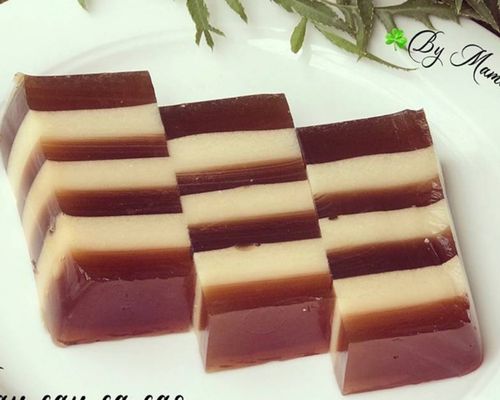 With coconut jelly when finished, you can eat each piece directly. In addition, you can cut into smaller forms to eat with mixed tea will be extremely delicious and nutritious. A very useful refreshment for that summer day.
Tham khảo thêm: Cách nấu chè đậu xanh lạ miệng ngon ngất ngây
1.5 Cocoa with coconut milk
Ingredient:
150ml coconut milk

5g pure cocoa powder

40ml condensed milk 

100g ice cubes

Blender
Processing:
You proceed to break the ice cubes into small pieces and then put them in a blender and grind until smooth and puree

Then, bring 40ml of condensed milk + 150ml of coconut milk + 5gr of pure cocoa powder into the same blender.

Say for about 3 minutes to let all the above ingredients dissolve together

Finally, pour into a glass and enjoy. A refreshing drink for summer days that is super easy to make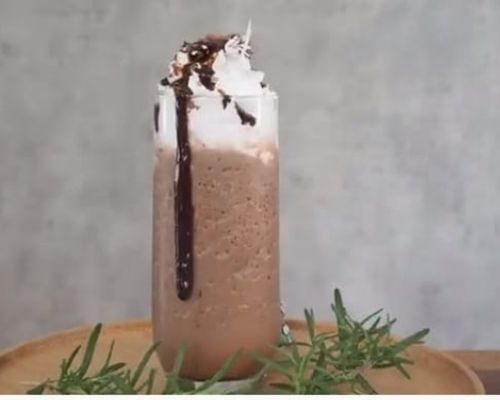 Although, it takes a little time, but in return, you have a nutritious, delicious and nutritious drink. The most important thing is to ensure the safety of yourself and those around you.
Tham khảo thêm: 5 cách nấu chè cho hè thêm ngon từ hạt khô
1.6 Cocoa honey and chia seeds
Ingredient:
Processing:
Put 10g cocoa powder + 1/4 cinnamon powder in a 500ml cup

Next, pour in 500ml of boiling water and mix the ingredients together

When the water is warm, add 2 tablespoons of chia seeds + 1 teaspoon of honey and stir well

You can put it in a used coffee shaker so that the mixtures are completely dissolved together

Finally, you can pour into a glass and enjoy

A drink full of nutrients from nature. With the delicate combination of honey, it will make your dish more delicious and flavorful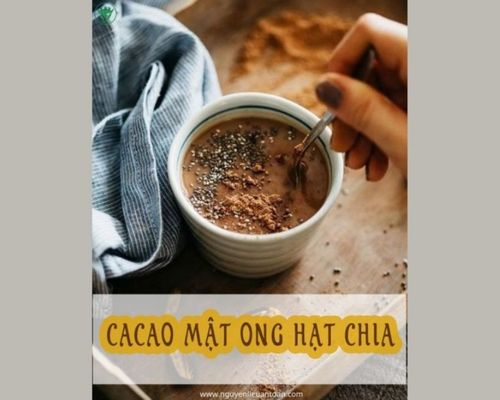 Tham khảo thêm: Nên uống nước mật ong lúc nào và pha nước mật ong như thế nào?
It can be seen that pure cocoa powder is really a diverse ingredient that can be combined with many other ingredients to form delicious and refreshing drinks, dispelling the hot summer sun. . In fact, cocoa powder has many other delicious dishes that we have not yet mentioned here. In the most recent article, we will share all the dishes from pure cocoa powder to every Vietnamese family's small kitchen. We look forward to receiving your support.
2. Contact Information
Branch:
Headquarters for distribution and retail of products nationwide:

 No. 11 Kim Dong – Giap Bat Street – Hoang Mai District – Hanoi

Retail office in Hanoi:

 A11 – Alley 100 – Trung Kinh Street – Yen Hoa Ward – Cau Giay District – Hanoi

Retail office in Ho Chi Minh:

 No. 02/B Quarter 3 – Trung My Tay 13 Street – District 12 – Ho Chi Minh City
Đọc thêm: Bệnh béo phì là bệnh gì? Nguyên nhân và tác hại bệnh béo phì