How to soak wine deeply in recent times is being searched by many people. In order to have a good wine, healthy and to attract guests to the house, the standard way of soaking wine is always an extremely important factor. So do you guys know how to soak wine deeply? Finding quality products is also very important. Today, let's follow Dung Ha Dry Food to find a way to soak in 100% delicious, delicious Northwest flavor!
1. What is a worm?
Caterpillars are actually a type of larva or family of butterflies. Parasitic living inside the trunks of chits, leeks, and dat trees. These plants grow wild in the Northern Midlands and Mountainous areas. Worm chit is considered by folk folk as a type of Cordyceps that is extremely good for human health. Not only is it a delicious food, worm chit is also considered an extremely sensitive oriental medicine herb. In order for worms to promote their full benefits, many people often find worms to drink deep mulch.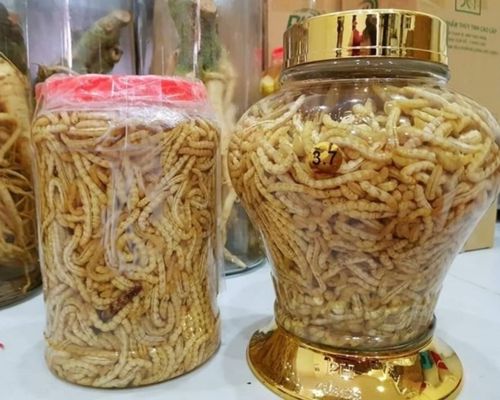 Larvae are harvested a lot in the period of November and December every year. Because in these 2 months, the number of worms is very large and extremely rich in nutrients. This is considered a big crop of the people in the Northwest. Deep prices during this period are extremely expensive.
Deep chit wine is considered as a rare and precious wine of Oriental medicine of people in Lai Chau and Dien Bien areas. Deep chit wine is very good for men and women. Deep wine helps men to enhance sperm quality, usefulness, and extremely effective strength. For women, it will improve the condition of the skin with pigmentation or freckles, preventing the aging process on the skin. Gives you a smooth, rosy white skin.
See more: 5+ Northwestern alcohol-soaked foods, men who drink are drunk
2. Nutritional composition in deep chit wine
Scientific researchers around the world have done a lot of research on worms. Accordingly, inside the deep chit contains about:
Protein: 25 – 32%
Energy
Protein
Amino acids: 17/20 types
Unsaturated fatty acid content: 58.37%
Iron
Zinc
Calcium
Potassium
Magnesium
Manganese
These are the nutrients found in worms. Process deep chit into dishes or soak into deep wine so that you can easily use and absorb all the above nutrients. Deep chit wine has very good uses such as:
Supplement the marrow, benefit the kidney, and yang qi
Treatment of fatigue, loss of appetite, body weakness
Stable blood pressure regulation
Overcome physiological weakness, impotence, premature ejaculation
Good for bones and joints, preventing back pain, knee fatigue, disc herniation, …
Help you sleep well and deeply, no longer suffer from insomnia, sleep not well
Recovery of stats after spawning
Treatment of persistent coughs, dry coughs, coughs with phlegm, long-term coughs that do not go away
Stimulate the digestive system to work better, prevent constipation, bloating, …
This is the entire nutritional value and use of deep wine. It is known as a very good natural herbal wine for men. The wine is deep, one person drinking, two people having fun.
3. How to soak wine deeply from A – Z properly
3.1 Select materials to soak
Choose a depth:
Should choose the burning stems with beautiful green color, large flower tops, green leaves, and no black spots on the trunk
Do not choose the type of body with spots, cheeks that are pink. These are weak, diseased pests. When soaked in wine, drinking will not be delicious
You should buy worms at reputable quality places in the area where you live
Choose a wine-soaked jar:
Should choose a glass jar or a crock pot to soak in quality wine
Choose a wine-soaked bottle with the right number of liters for the number of worms
Do not choose plastic bottles to soak alcohol. Because of long-term soaking, the plastic of the bottle will easily produce toxic substances that are dangerous to the body
See more: The best way to soak dried areca ginseng wine is to get drunk
Choose wine:
It is recommended to choose a wine of 42 – 45 degrees Celsius. When soaked for a long time, the wine temperature will drop to about 30-35 degrees Celsius
Choose sticky rice wine is better
3.2 Preliminary processing
After buying each bunch, use a sharp knife to separate the tops and take the worms out.
Rinse thoroughly under clean running water
Mix a basin of diluted salt water, put it in it, soak it for about 2 hours, then pick it up to drain. Every hour, change the water so that when you soak it, you get a nice and clear wine
Prepare a pot of boiling water about 70 degrees Celsius. Deeply soak in boiling water for about 2 minutes. Dry
In addition, to save time and energy, you can buy pre-processed worms and pack them into finished products to reduce the load on the fussy preliminary processing.
3.3 Ways to soak wine deeply
3.3.1 Deep wine soaked in honey
Preparation materials:
Fresh worms: 1kg
Honey: 200ml
White wine: 5 liters
Wine decanter
Implementation steps:
Rinse the wine cellar with a little white wine
Deep after draining. You stack 0.5kg deep down. Put 100ml of honey on top. Continue to add the remaining 0.5kg deep into the jar. Pour 100ml of honey on top
Then pour white wine on top. Fill the ingredients and proceed to soak
Seal the mouth of the bottle, store it in a cool, dry place to avoid insect penetration
Honey soaked worms can be used after 100 days from the date of soaking
3.3.1 Deep dry wine
Preparation materials:
Worm: 1kg
Glutinous wine: 5 liters
Wine decanter
Implementation steps:
After being exposed to boiling water, put it in a mat and dry it for about 2 days
Need to dry in a dry place to avoid dust
Then, wash it deeply with glutinous rice wine to remove dirt
Rinse the soaking vessel with some white wine
Stack neatly and neatly into the wine cellar
Pour 5 liters of sticky rice wine into the jar
Close the lid of the jar and store it in a cool, dry place
About 3-5 months can be used
In addition, you should store it at room temperature from 20-25 degrees Celsius or drink it down to drink it will be the best.
See more: Instructions for soaking three-size wine of the people of the Northwest
4. Note when using deep chit wine
The wine has a light sweet taste, light alcohol concentration, and a fruity fruity aroma that will be very drinkable. It is recommended to use about 30 – 45ml divided equally into 3 meals (breakfast/lunch/dinner) to avoid drunkenness
Wine bottles need to be sealed. Do not let the wind, bacteria, microorganisms penetrate. This will cause abdominal pain, alcohol poisoning and food safety.
When conducting deep soaking, it is necessary to follow the correct sequence. That is, from the selection of raw materials, preliminary processing and to the time of soaking are all very careful
Heavy alcohol is not suitable for children and pregnant women
People with stomach pain also limit the use of deep alcohol
Overdosage can be harmful to the liver
Check out more dry goods products HERE!
5. What is the current price of deep chit?
Although the price is quite high, it is still a natural herb that many people are looking to buy. The price in the market depends on a number of factors such as the place of sale, product quality and origin. Many places sell fake goods, fake goods, and poor quality goods to users in order to gain illicit profits. Buying and using such products will greatly affect the health and bad experience of users about the product. It is an extremely important product in the husband and wife relationship. Many family couples worry about the price of worms will go up.
How much is the current depth of price is probably a difficult problem that has not been solved. Deep prices often fluctuate erratically up and down unstable. At one point, the price of deep chit high hit the price of 500,000 VND/kg. But sometimes, the price is low, only about 460,000 VND/kg. Worm chits are purchased at the end of November and December, the price will probably be much higher. But perhaps, what customers are most interested in right now is where to buy deep to stabilize the price?
Dung Ha agricultural products are the main selling point for price stabilization in Hanoi and Ho Chi Minh. The price of Dung Ha type 1 worm is currently being sold for 420,000 VND/kg. High quality grade 1 worm.
See more: The best price of Northwest alcohol for men in 2022
6. Where to buy cheap quality prestige worm chit?
6.1 Buy worms in Hanoi
There are many worms to buy in Hanoi. But to find a place to sell quality products is a difficult problem that has not been solved. What customers are most interested in right now is where to buy cheap worms? Dung Ha Agricultural Products is the place to sell deep chit with full inspection documents to meet food hygiene and safety standards. In addition, our company also supports remote customers to place orders, fast shipping. Support to check the goods, satisfied with the product and then pay. Dung Ha would like to say no to products full of fake goods, fake goods, undocumented goods and origin.
See more: Buy the best quality Northwest online in September 2022
6.2 Buy deeply in HCMC
To find and buy deep chit in HCMC is not easy at all. The deep consumption market in Ho Chi Minh City is considered to have potential and strengths for development. Chickweed in Ho Chi Minh City is a highly competitive commodity with huge output consumption. Recently, the demand to buy deep chit of people in Ho Chi Minh City is showing signs of increasing again. If you want to buy cheap quality worms in Ho Chi Minh City, please hurry to Dung Ha Agricultural Products. With many years of business experience in the field of powder, herbal medicine, nutritional seeds, Northwest specialties,… So all products we sell are strictly tested according to VietGAP standards. With the desire to bring to customers all kinds of products "Super clean – Super fast – Super convenient".
7. Conclusion
Above are the most detailed shares of Dry Food about how to soak 100% delicious and true Northwest wine that you can refer to. Liquor is a rare folk medicine specializing in the treatment of male diseases. The most prominent of which is the treatment of diseases related to physiology and infertility. Drinking alcohol deeply, affirming the bravery of a real man.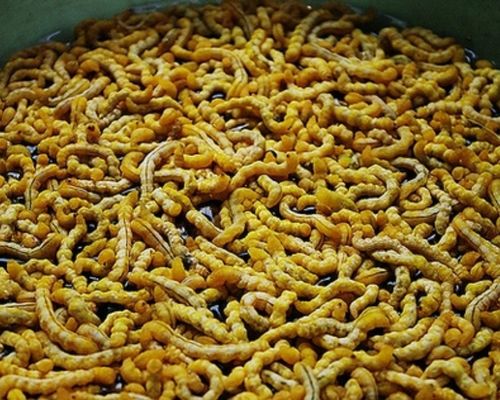 Hopefully with the detailed instructions above, you will have a rare, nutritious and useful bottle of wine for yourself and your loved ones around.
Thank you very much for following and reading our detailed article. Wish you have a lot of health to pamper your wife.
Reference: Instructions for soaking in apple cider, the standard rate of drinking is drunk
8. Contact Information
Any complaints about the deep quality or service attitude of the staff. Please contact
Dung Ha Development Joint Stock Company
immediately through the hotline number: 1900 986865 (Support 24/24h).
Branches to buy deep chit chit at:
Nationwide retail and wholesale warehouse at: No. 11 Kim Dong – Giap Bat Street – Hoang Mai District – Hanoi City
Retail and wholesale branch in Hanoi: A10 – Alley 100 – Trung Kinh Street – Yen Hoa Ward – Cau Giay District – Hanoi City
Retail and wholesale branch in Ho Chi Minh: No. 02/B Quarter 3 – Trung My Tay Street 13 – District 12 – Ho Chi Minh City
REFERENCES MORE BEAUTIFUL NEWS READINGS HERE: https://thucphamkho.vn/tin-tuc-su-kien/