Vegetarianism is gradually becoming a trend that many overweight and obese people are interested in. In order to have delicious and nutritious vegetarian dishes, vegetarian spices are definitely an indispensable spice. Vegetarian dishes are always guaranteed to provide adequate nutrition for the human body. If you are a person who is building a vegetarian diet to lose weight but still do not know how to choose the right spices. Then the following article of Dung Ha Dry Agricultural Products will answer in detail for you the good vegetarian spices for weight loss that are used by many people.
1. Pros/cons of vegetarian condiments?
1.1 Advantage
Some of the advantages of vegetarian spices include:
Enhance flavor: This spice will help increase the flavor of the dish, giving you an attractive and irresistible taste. They can accentuate and enrich the flavors of vegetables, roots, fruits and grains
Create richness for dishes: Using this spice will help create variety, and richness for weight loss dishes. They can make food more interesting and appealing. Bringing a new and multidimensional culinary experience
Provide nutrition: Many commonly used spices such as garlic, ginger, turmeric, onions, … contain many important antioxidants and vitamins. They can provide adequate nutrition for weight loss
Good for health: Some flavors used in dietary foods can have antibacterial, anti-inflammatory, and cholesterol-lowering effects.
Substitute animal seasonings: Using vegetarian seasonings is a great alternative to animal spices in a vegetarian diet or you want to reduce your consumption of animal ingredients.
Thanks to the above advantages, spices for dieters not only bring great taste but also contribute to protecting health and increasing creativity for dishes.
See more: Surprising uses of Indian spices for healthy meals
1.2 Defect
Although the spice for dieters has a lot of health benefits. But there are also some downsides you need to be aware of:
Lack of fat and protein: Some spices for dieters do not provide enough fat and protein for the body. This can cause nutritional deficiencies and affect the body's energy replenishment process
Vitamin B12 Deficiency: Vitamin B12 is commonly found in abundance in animal foods and is an essential nutrient. Dietary spices do not provide enough vitamin B12, which leads to vitamin deficiency
Difficulty adjusting to taste: Vegetarian condiments may not be acceptable or suitable for people who are not used to being vegetarian.
That is the downside of the spices for dieters that you need to know to balance. So did you know, popular vegetarian spices for weight loss? Let's find out the details together.
3. Popular vegetarian spices specifically for weight loss dieters?
3.1 Salt
Salt is the first seasoning that is very good to use for weight loss dieters. The main ingredients in 100g of salt are: 150mg of Calcium, 0.8mg of Iron and 99.8g of Water. The amount of water in refined salt accounts for the majority. Not only used as a familiar culinary spice, salt is also used to deodorize and disinfect very commonly.
Currently, on the market, there are many types of salt such as: pink Himalayan salt, black salt, iodized salt, Kosher salt, sea salt, etc. But perhaps, the most popular is still sea salt. Cheap price, roots to buy, roots combined in many delicious recipes.
The price of sea salt on the market usually ranges from 9,000 VND – 18,000 VND/pack (depending on type).
3.2 Sesame
In fact, sesame is not considered a spice for people to lose weight. Sesame is only included in the list of dietary supplements. However, with a delicious taste, many nutritional values, and can be easily added to many dishes, sesame is still chosen as the best vegetarian for weight loss dieters.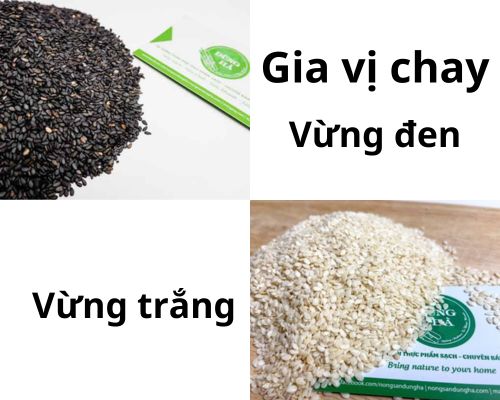 Currently, on the market, there are 3 main types of sesame:
white, medium yellow and black sesame
. In these 3 types of sesame, they all contain a lot of nutritional values such as:
protein
lipids
glucose
fiber
Vitamin B1, B2
Vitamin PP
Vitamin E
Minerals such as iron, zinc, calcium, copper, manganese, potassium, protein,…
Black sesame, and white sesame are two spices commonly used in cuisine.
Black sesame
is widely used in medicine.
When sesame is roasted, it will have a very specific aroma. The aroma of sesame plays an important role in enhancing the unique flavor of the dish. The fatty taste of each sesame seed has stimulated the taste buds, increasing appetite. Sesame can be used in vegetarian dishes such as: sesame salt, sesame biscuits, tofu with sesame tomato sauce, or weight loss salads.
The price of white sesame on the market is selling for 80,000 VND/kg. And the price of black sesame is selling for 90,000 VND/kg.
3.3 Spicy spices of all kinds
Of course, vegetarian dishes will not be complete without these spicy spices. Popular spicy spices can be mentioned as: chili, ginger, pepper, mustard. These spices help increase the spiciness of the dish. For those who can eat spicy, it will feel very delicious. As for those who can't eat spicy, you should use them in small doses.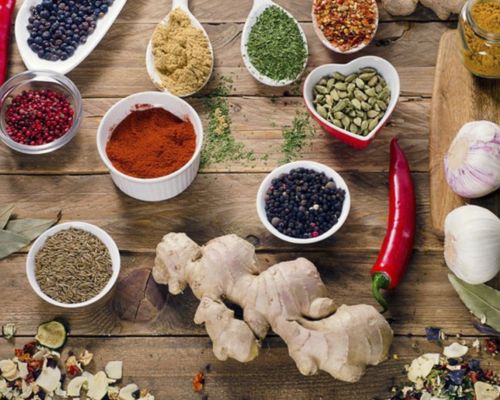 Although very delicious, but for people with stomach disease, it is best to limit its use. Eating too much spicy will increasingly seriously affect the stomach. These spicy spices are sold in a very popular way in the market and the price is relatively cheap.
In addition to use in its pure form. These spices you can easily make them into a very convenient spicy powder.
The price of chili pepper is sold for 6,000 VND / 100 grams.
The price of ginger on the market is 6,000 VND / 100 grams. There are many different varieties of pepper, each with a different price. You can refer to the price of pepper at the
Web address
:
https://nongsandungha.com.
See also: [Synthesis] 100% Cooking spices in the kitchen for housewives
3.4 Turmeric powder
Turmeric is the next vegetarian spice that is very good for dieters to lose weight. Turmeric is a spice that can be taken in the form of a fresh root or turmeric powder. With its characteristic yellow color, turmeric is used as a coloring agent for dishes. The advantage of turmeric powder is its convenience and popularity compared to fresh turmeric.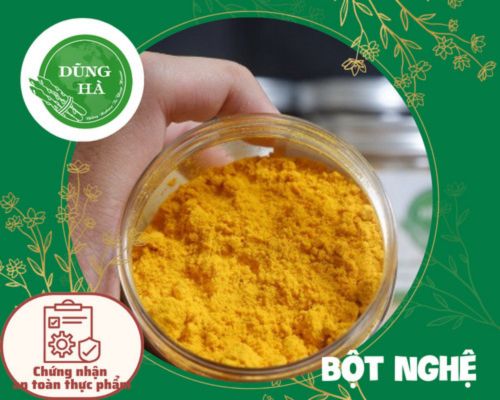 Turmeric powder is applied in dishes such as: braised dishes, vegetarian turmeric vermicelli, vegetarian curry, turmeric rice,… Not stopping there, turmeric powder is also a very good remedy for
stomach ailments
.
3.5 Chicken noodle seasoning
Chicken pho seasoning
is a familiar condiment to create the famous delicious chicken noodle soup. The main ingredients to create chicken pho seasoning are:
Salt
Road
Onion
Ginger
Pepper
Dai Anise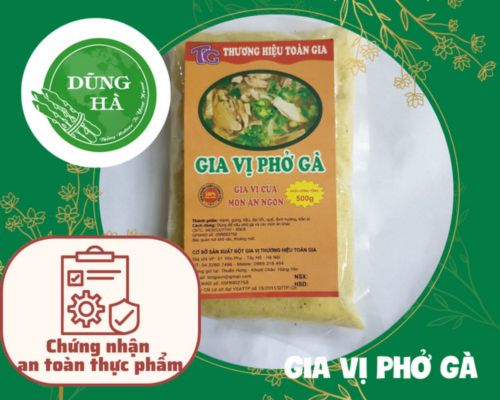 All these ingredients are selected and undergo modern drying process to create a quality fine powder. No colorants or preservatives are used. To have a delicious bowl of chicken pho, pho and chicken are not necessarily important ingredients. The most important thing is still the seasoning that creates delicious chicken noodle soup, stimulating people to eat.
See more: How to cook chicken noodle soup with standard seasoning packages of 3 regions of the North – Central – South
3.6 Five spice powder
The next list o
f vegetarian spices
you cannot miss the
five flavors
. Five flavors are a fine powdered spice used to season dishes. Called five flavors, surely the 5 main ingredients used are:
Dried Cloves
Cinnamon
pepper
Tran Bi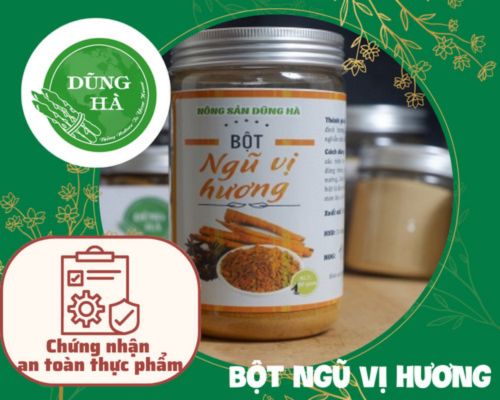 These 5 ingredients are carefully selected. Through a modern drying process, when combined, they create a perfect marinade for baked and fried dishes.
Currently, the price of Dung Ha five flavors is selling for 140,000 VND/box of 500g.
3.7 Fish sauce
The last list of vegetarian condiments today, make sure you don't skip soy sauce. Soy sauce is also known as soy sauce. This is a delicious Chinese dipping sauce.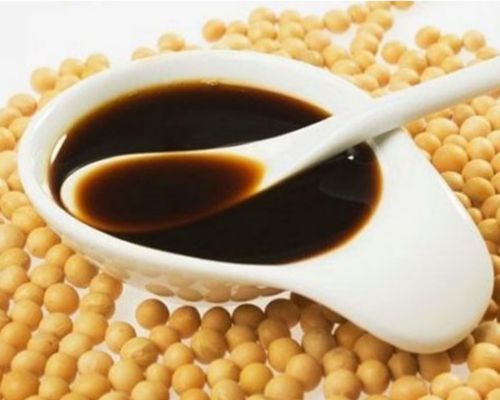 If fish sauce is made from fish and salt as the main ingredients, soy sauce is made from
soybeans
,
cereal flour
, water and salt. Soy sauce with dark brown color, gravy, just enough salt, not too harsh. The delicious, fatty taste of each soybean seed.
Soy sauce is often used mainly in braised eggplant dishes, stir-fried mushrooms, mushroom soup,… or used as dipping sauce directly.
4. Nutritious vegetarian dishes when using vegetarian spices?
4.1 Tofu in tomato sauce
Ingredient:
3 – 5 tofu covers
3 tomatoes
Cooking oil
Green onions, finely chopped
Seasoning: seasoning, main noodles
Perform:
Buy tofu, you use a knife to cut them into small square pieces just enough to eat
Put cooking oil in a pan and heat it
When the oil is hot, put the tofu in and fry until golden brown on all sides
Take out the fried tofu on absorbent paper, drain the oil
Wash tomatoes, cut tomatoes into thin slices and put in a pot to simmer for 10 minutes
Tomatoes are ripe, add 300ml of pure water to boil with tomatoes
Put spices + seasoning seeds + main noodles into the tomato pot. Stir well until seasoning dissolves
Put the plate of fried tofu into the tomato pot
Cook on medium heat for 30 minutes until the water dries up
Sprinkle scallions, gently stir
Season food to taste
Turn off the stove, scoop out into a bowl, eat immediately when hot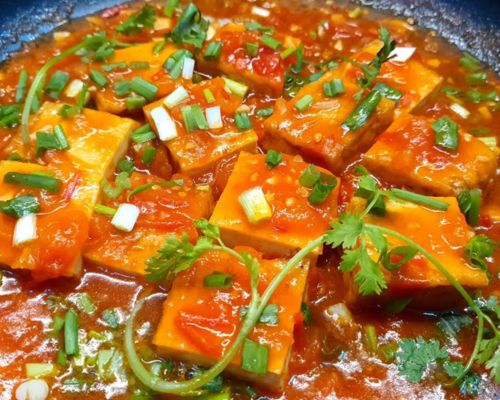 4.2 Vegetarian stir-fried needle mushroom
Ingredient:
500g enoki mushrooms
200ml soy sauce
1 teaspoon white sugar
Green onions, finely chopped
Garlic, minced
Seasoning seeds, main noodles
Perform:
When you buy an enoki mushroom, you need to cut off the black part of the mushroom's legs
Cut the mushrooms into small pieces and wash them thoroughly to remove dirt and impurities
Let the mushrooms dry and drain
Put in a bowl including: soy sauce + seasoning seeds + monosodium glutamate. Stir until dissolved
Put cooking oil in a pan and bring to a boil
When oil is hot, add minced garlic and fry until golden brown
Add the enoki mushrooms and sauté them with minced garlic for 5 minutes
Pour a bowl of soy sauce sauce into the pot and cook with enoki mushrooms for 10 minutes
Season the food to your taste
Sprinkle finely chopped scallions, stir well and turn off the heat
Scoop the sautéed shiitake mushrooms onto a plate and serve immediately when hot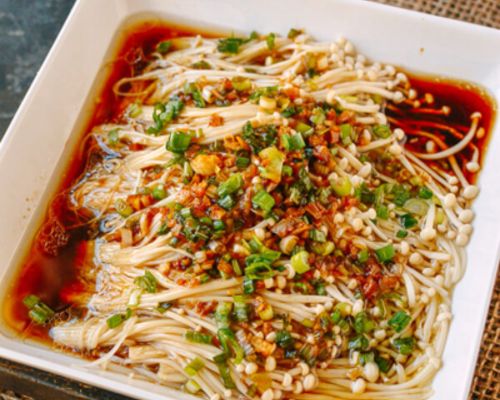 See more: What are the delicious dishes made of needle mushrooms? [Details] 10+ enoki mushrooms
4.3 Vegetarian mushroom soup
Ingredient:
Perform:
When you buy an enoki mushroom, use scissors to cut off the black mushroom's legs
Separate the mushrooms and wash them thoroughly to remove impurities
Let the mushrooms dry and drain
Shiitake mushrooms soak in warm water for 5 minutes
Using scissors, cut off the leg of the shiitake mushroom
Pick up the mushrooms, rinse them with clean water. Let the mushrooms drain
Buy tofu, you cut mushrooms into small squares just enough to eat
Put 1 liter of pure water in a pot and bring to a boil
Boiling water, add enoki mushrooms + shiitake mushrooms and cook for 10 minutes
Add tofu and cook with mushrooms for 10 minutes
Put spices + seasoning seeds + main noodles + fish sauce into the soup pot
Gently stir to dissolve the seasoning
Season to taste
The soup is just right, turn off the heat and take it out to a bowl as soon as it's hot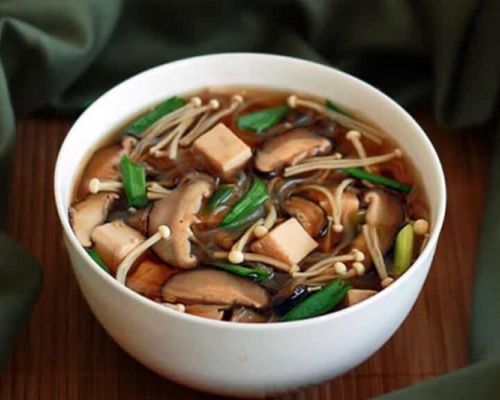 See also: How to make lotus seed mushroom soup for the traditional Tet 2023
5. Conclude
Above is a detailed article that answers 7 popular vegetarian spices for weight loss dieters that Dry Agricultural Products has shared with readers. In addition to creating a delicious and stimulating flavor for dishes, the above spices are also easy to find in the market, cheap and bring many health benefits to people who are following a weight loss diet. Hopefully, with the above sharing will help you have more useful things and have delicious vegetarian dishes.
Thank you so much for taking the time to read this post!
If you want to order a vegetarian diet for weight loss, please contact us via Hotline: 1900 986865.
Or visit the product directly at the following address:
CH1: No. 11 Kim Dong – Hoang Mai – Hanoi
CH2: A10 – Alley 100 – Trung Kinh – Cau Giay – Hanoi
CH3: No. 02/B, Quarter 3 – Trung My Tay 13 Street – District 12 – HCMC