Picking up perilla is very simple, it only takes about 15 minutes. Can you believe this? Perilla is a kind of herbs, spices used very familiar in Vietnamese cuisine. In addition to being used in cuisine, perilla is also used by many women in beauty recipes. To have for yourself delicious food or the best face masks, you definitely cannot skip the first step of preparing the ingredients. The following article of Dung Ha Dry Agricultural Product will explain in detail how to pick up perilla vegetables simply and quickly, the clumsy girl can do it in a flash.
What is perilla vegetable?
Perilla is a raw vegetable, spices can be eaten raw directly. This vegetable has a characteristic aroma, slightly spicy taste and warmth. Perilla is native to India. In Vietnam, perilla vegetables are grown quite a lot. The most important is still the perilla vegetable with green leaves on the top, purple underneath.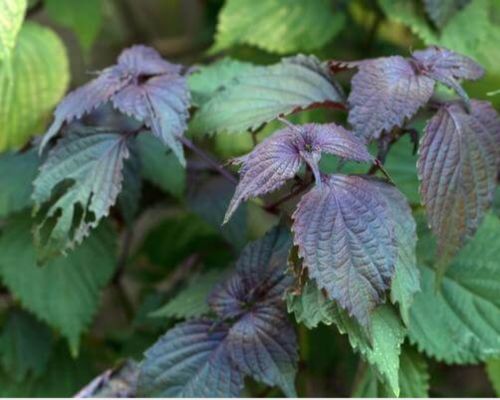 As a raw vegetable, perilla is usually planted all year round throughout the month. This vegetable is relatively easy to grow, requires little effort to fertilize, and is quick to harvest. The trend of growing domestic herbs at home is being directed by many city women. And perhaps, perilla is a vegetable that you should grow at home. All it takes is a little loose soil and a nice little styrofoam box, and you'll have your own mini perilla vegetable garden right at home.
In addition to being used in cuisine, perilla is also really good for women. Many women use perilla vegetables in skin beauty recipes, skin rejuvenation is extremely effective. Perilla can be used directly, or ground into a powder and used. Extremely convenient and economical.
So, what is the effect of perilla vegetables that so many people grow and buy? Let's continue to learn together.
The effect of perilla?
Perilla contains a lot of highly antibacterial essential oils, vitamins and minerals that are beneficial to health. According to the World Health Organization (WHO). In 100g of perilla, it contains:
40kcal
7g carbs
2.9g protein
3.6g fiber
0g fat
190mg calcium
3.2g iron
13mg vitamin C
5520mcg Beta-carotene
That is the entire nutritional value of perilla leaves. Perilla is not just a herb to create a delicious dish. When you eat perilla vegetables, perilla vegetables will also bring you a lot of good health benefits. Specifically:
Protect the heart
Vitamin C in perilla is like an antioxidant. This substance has an important task for the cardiovascular system. Helps the heart maintain a stable beat, preventing cardiovascular complications such as heart attack, stroke, …
Studies in perilla also show that perilla can help control bad cholesterol levels and at the same time increase good cholesterol levels.
Boost immunity
Vitamin C in perilla is an important antioxidant that helps strengthen the body's immune system. Protects cells from damage caused by free radicals.
Beta-carotene in perilla has an important role in the development and functioning of immune cells. This substance will protect the mucous membranes of the respiratory tract and digestive system.
Good for the brain
The beta-carotene in perilla is a powerful antioxidant. This substance helps protect brain cells from free radical damage. Protecting brain cells from oxidative stress can help maintain the health of the brain system.
Vitamins and minerals in perilla play an important role in maintaining brain function and improving memory.
Relieve stomach discomfort
Perilla is healthy and soothing. This substance can help soothe an irritated or inflamed stomach lining.
Perilla has antibacterial properties, which help control the growth of harmful bacteria in the stomach.
Prevent cancer
Antioxidants in perilla like Vitamin C or Beta-carotene have the ability to protect cells from damage caused by free radicals. Protecting cells from oxidative stress will help your body reduce the risk of cancer.
The fiber in perilla has the ability to reduce inflammation. This is a factor associated with gastrointestinal cancer.
Slow down the aging process
The powerful antioxidants in perilla will help protect skin cells from damage caused by UV rays and other aging factors.
Vitamins and minerals in perilla help provide essential nutrients for the repair and maintenance of skin health.
Perilla has the ability to reduce inflammation. This helps reduce swelling and inflammation on the skin. This is an important factor in maintaining youthful, white skin.
See more: [Tips] How to make super-smooth perilla powder, treat melasma, freckles
How to pick up perilla vegetables simply and quickly, can the clumsy girl do it?
How to choose quality and fresh perilla vegetables
Before you want to learn how to pick up simple perilla at home, you need to know how to choose the freshest and best quality perilla. Here is a simple and quick way to choose perilla vegetables for you to refer to:
Find a place to buy quality perilla vegetables: Perilla vegetables can be found in many places on the market. You can buy perilla vegetables at local markets and supermarkets such as: WinMart, Bach Hoa Xanh, Dung Ha Agricultural Products,… to be sure of the quality of vegetables.
Check the appearance of vegetables: Quality perilla vegetables must be fresh green vegetables, leaves are not rotten, diseased or bruised. Touching the branch, the branch must be hard, not soft.
Scent test: Perilla has its own distinctive aroma. Do not buy perilla plants that have a strange smell, difficult to smell.
Buy perilla in the right season: To get fresh, quality, pest-free perilla,… it's best to buy them at the right time. Perilla can be grown all year round. But the best quality of vegetables falls in October to March next year.
After choosing for yourself a fresh, quality perilla vegetable. Let's try to find the most effective way to pick up perilla vegetables.
Materials and tools to prepare to pick up perilla vegetables
1 bunch of perilla
Scissors (knife)
Vegetable basket
Grain salt (water to wash excess rice)
Wash vegetables
Treatment of perilla roots
If you buy perilla directly at a vegetable garden or a local market. Perilla roots will adhere to a lot of sandy soil. Use a knife (scissors) to cut off all the perilla roots
If you choose to buy perilla at the supermarket. Vegetables have been cleaned of soil, sealed bags, labeled and stored in the refrigerator. Use scissors (knife) to cut off the roots of jute vegetables
Divide the tops of young perilla
Using your hands, grasp the young, beautiful perilla leaves to the basket
Remove all the tops and leaves of perilla with wilted, rotten, pests, … discard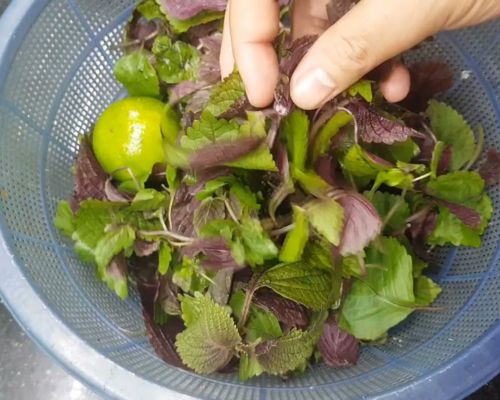 Wash perilla vegetables clean
Rau tía tô say khi đã cắt bỏ rễ, loại bỏ lá rau hư thối, héo úa, sâu bệnh đi. Việc tiếp theo bạn cần làm đó chính là rửa sạch rau tía tô 2 – 3 lần với nước sạch
Rau tía tô trong quá trình gieo trồng sẽ không thể tránh khỏi việc phun thuốc trừ sâu. Vậy nên, trước khi đem chế biến thành những món ăn. Bạn cần tiến hành ngâm rau tía tô với nước muối loãng (hoặc nước vo gạo dư thừa) trong 15 phút để loại bỏ bụi bẩn và hóa chất
Ngâm rau xong, vớt rau lên, rửa lại rau tía tô lần cuối dưới vòi nước sạch
Vớt rau đay lên, rửa rau dưới vòi nước sạch. Để rau tía tô khô, ráo nước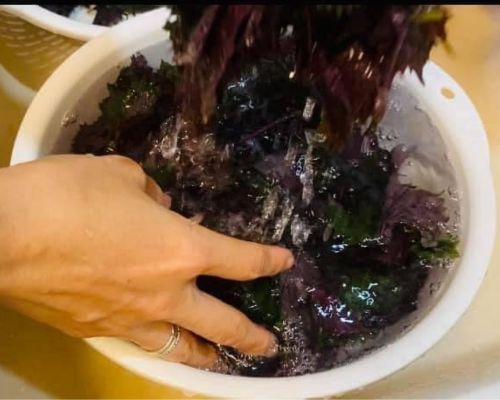 Note: In the process of washing vegetables, you need to gently drain the water and use your hands to wash the vegetables very gently to avoid crushing the vegetables, losing their taste, and not being aesthetically pleasing.
See more: How to pick up gotu kola fast, the latest 2023 is extremely simple
Conclude
Above is the whole experience and
how to pick up simple perilla vegetables
, the clumsy girl can also do that Dry Agricultural Products has shared with readers. It can be seen that picking up perilla is very simple, not difficult at all. This is also the step that must be done before processing perilla powder into dishes or facial beauty recipes. Hopefully, with the sharing through this article, it will help the girls have more confidence to conquer their mother-in-law!!!
Wish you always success. Thank you very much for following this article.
Maybe you are interested: